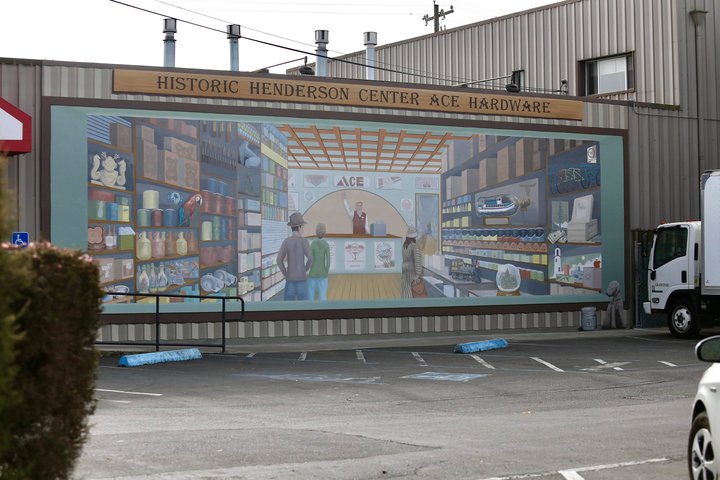 If you fancy yourself a Eureka expert or a "Where's Waldo" master, you might want to treat your eyes to a scavenger hunt of local imagery in the large mural on the side of the Henderson Center Ace Hardware, recently completed by Bayside-based artist Ben Goulart.
Goulart started the mural during this year's Eureka Street Art Festival — which invited a batch of artists to beautify Eureka's Henderson Center — and after two and a half months and over 500 hours of work, he just recently finished up the project. And it's not surprising that it took Goulart a while to complete his mural — not only is it the largest work from this year's festival, it is also filled with over 50 smaller images related to local businesses and Eureka icons.
"Eureka has some amazing and rich history, with timeless icons and local legends," Goulart wrote in an email to Outpost. "I really wanted to capture some of this local magic in a mural centered around Henderson Center…This mural also has a 'find Waldo' style scavenger hunt of Eureka icons, businesses and hidden images to find."
Some of the images are literal, while others seem to be more of a symbolic representation of a certain person or business. Some notable Eureka figures included in the mural are the Carson Mansion, the Madaket and Eureka cheerleader and past city council candidate Jeannie Breslin. Goulart also gives a nod to another local mural artist Duane Flatmo, and even included a shout out to the Lost Coast Outpost with the famous LoCO lighthouse in the bottom right corner. (We're blushing!)
You can scroll down to find the a key of all the images provided by the artist (we cut the image in half to make it more readable.) But to see all the details, you'll need to visit the mural in person at Shaefer's Ace Hardware on the corner of Henderson and E Streets.