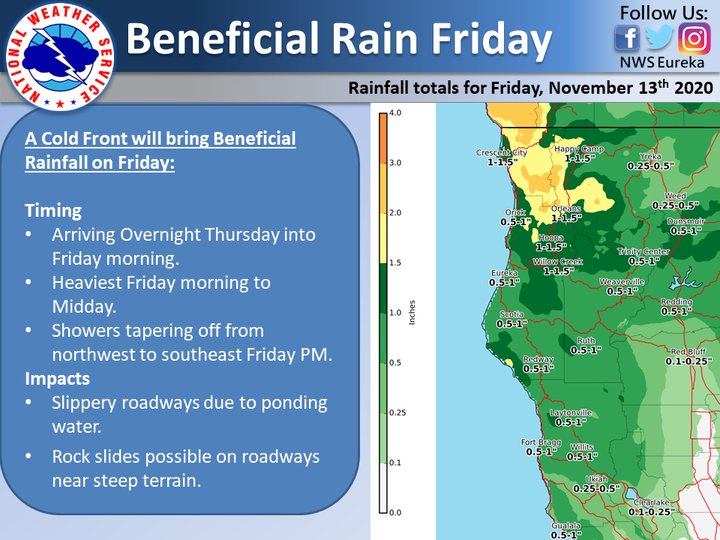 ###
Batten down! We're gettin' some rain tonight and tomorrow, according to forecasts from our good friends and yours at the local National Weather Service office on Woodley Island.
This'll be the first good rain of the season, so be ready for slick roads. The first rains of the year always loosen up the accumulated grit and grime, and a higher-than-usual number of crashes is all but guaranteed.
Forecast discussion from the National Weather Service:
A strong storm system is forecast to move across the region during Friday. Widespread beneficial rainfall will be likely, along with gusty south winds and mountain snow. Additional periods of rain will be possible through the weekend into early to middle portions of next week.

DISCUSSION

A strong upper-level westerly jet was evident in water vapor imagery early Thursday afternoon. A shortwave trough embedded within the jet over the Gulf of Alaska is forecast to move across coastal WA/OR during the next 24 hours. As that takes place, the southern extent of a zone of strong ascent will spread across NWRN CA late tonight through Friday afternoon, with associated rainfall developing along the Del Norte and Humboldt coasts by 4-7 AM Friday…Trinity County by 7-10 AM…and Mendocino and Lake Counties by 10 AM-1 PM.

Rainfall totals by Friday afternoon are forecast to range from 1 to 2 inches along west facing ridges in Del Norte and Humboldt Counties, to around 0.5-1.0 inch in the vicinity of Humboldt Bay, as well as Trinity and Mendocino Counties. Lower amounts from 0.25 to 0.75 inch are expected in Lake County.

A coastal barrier jet is also forecast to develop ahead of an approaching frontal boundary Friday morning and afternoon. That jet will favor southerly winds gusting to 50 mph across exposed coastal areas and ridges…including Crescent City. A wind advisory has been issued as a result. In addition, south winds over the Central Valley will encounter the Trinity Alps Friday morning and afternoon, which will aid in upslope cooling over the mountains resulting in snow levels locally lowering to 4000 feet. Snowfall totals from 4 to 6 inches will be possible at Scott Mountain Summit, with locally higher amounts expected across the surrounding mountains. Reference the latest winter weather advisory for additional information.