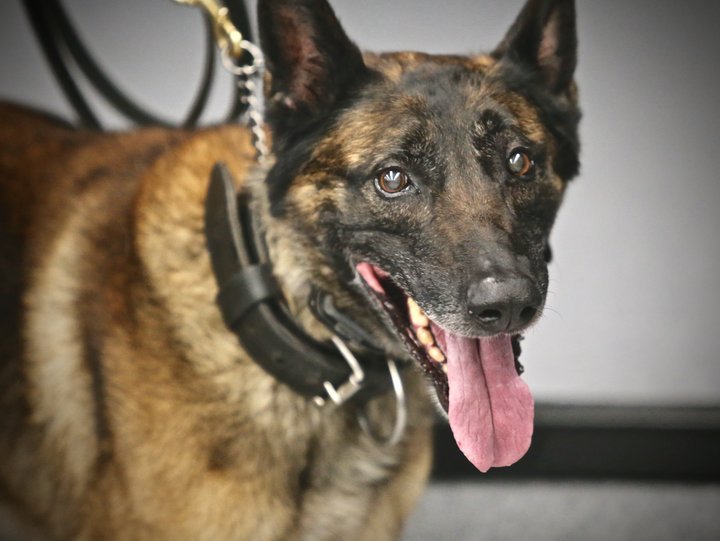 A special message from the Eureka Police Department:
It is with a heavy heart that we announce the passing of our EPD K9 Vex. Vex passed on Nov. 7, 2020 with his loving family by his side. On behalf of all of us at the Eureka Police Department, thank you to the La France Family and thank you Vex for your dedicated service and commitment to keeping Eureka safer! Vex will always have a very special place in many hearts.

The definition of a working dog is "a dog of suitable breed or training kept for its practical use, rather than as a pet or for showing." The Belgian Malinois "have a great deal of stamina and truly enjoy working. They are intelligent and very active dogs that excel at many tasks." Patrol K9s are used to locate and assist in the apprehension of serious and violent criminal offenders.

With his handler, Sgt. La France, Vex served the Eureka Police Department as a Patrol K9 from August 2010 to April 2019. He was deployed 754 times and assisted in the arrest of 146 suspects, 94% of which chose to surrender with just the sight of Vex. Vex was not only a force multiplier but also an expert in de-escalation. During his years of service, he showed a strength of character and continued working despite falling through a ceiling, being violently assaulted, and being injured on other occasions.

Larger than life, Vex always made his presence known whether he was searching for a suspect or if someone simply walked by his car. While working, Vex didn't need commands. Once he was placed on leash, he knew his job and knew it well. When he was needed to search, he knew to move towards odor. When needed to cover a suspect being taken into custody, he was relentless, laser focused and deafening. When searching, he led from the front. When in the back of the patrol car, he watched officers' six. If a violent suspect needed to be captured, he was always willing and capable.

The bond between handler and K9 is like no other. This was very true for Sgt. La France and Vex. They spent endless hours on walks and training together. Vex often vacationed with his family as well and spent adventures in downtown San Francisco and Phoenix, AZ. Each daily event with was teamwork and Sgt. La France and Vex could read each other. Vex appeared to tell when his handler's pulse and heart rate elevated, he knew when a priority call was coming in, and his handler could tell a suspect was near based on Vex's leash pressure, the position of Vex's ears, eyes, and nose.

Even with his intensity and controlled ferocity, Vex had a soft side; he provided emotional support to his handler during emotionally draining calls. At times, when Sgt. La France returned to his patrol car, holding back tears, Vex would extend his muzzle through his patrol car's cage. Vex was a good listener as many one-sided conversations were had within their patrol car.

Memories of Vex are not only scattered across the City of Eureka, but throughout almost all parts of Humboldt County. Vex was loved by his family, respected by those he worked with, and feared by those who desired to harm members of our community.

Vex, you will be missed by most! Thank you for your service. Rest easy.
# # #
Please join LoCO in remembering some of Vex's greatest hits: