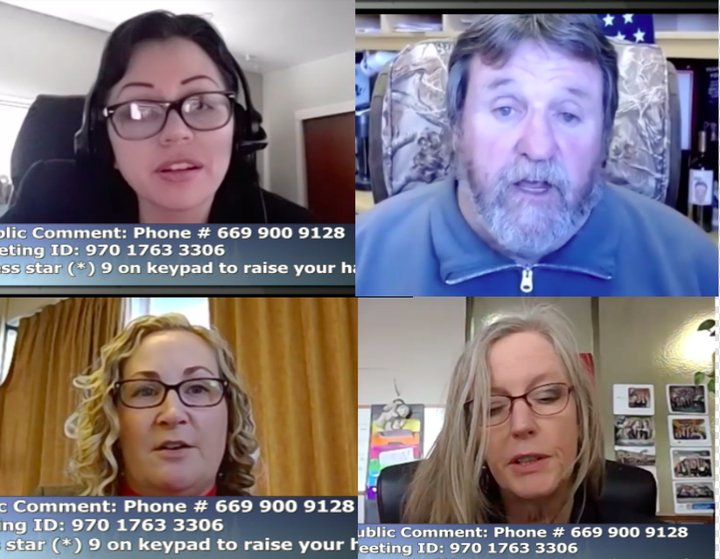 ###
In a contentious, messy, jargon- and emotion-filled marathon of a special meeting on Monday, the Humboldt County Board of Supervisors conducted an emergency intervention, of sorts, into the money management practices of Auditor-Controller Karen Paz Dominguez.
Supervisors Rex Bohn and Virginia Bass, who make up the board's ad hoc budget committee, called the meeting to address operational gaps in the county's financial reporting — gaps they say could result in the loss of millions of dollars in reimbursement from the state and federal governments.
Delayed payments, late fiscal reports and looming deadlines could have "massive implications, including service reductions, staff furloughs and/or lay-offs," according to a staff report.
Paz Dominguez, who learned of today's meeting when the agenda got posted late Friday afternoon, found herself the target of scrutiny and desperate pleas, not only from the supervisors but also from multiple department heads and leaders of community agencies.
In response, Paz Dominguez quoted extensively from state government codes while arguing that her office's numerous delays in fiscal reporting are the result of serious understaffing and her diligent adherence to the letter of the law.
At the top of the meeting, Bass and Bohn said they've been fielding desperate calls from local vendors and special districts regarding late reports and lack of communication from the Auditor-Controller's Office. Bass highlighted internal reporting issues that are causing problems and potential loss of revenue, such as earned interest apportionments.
"To have a real frank and honest discussion is hard in public, but it's what we have to do here," Bass said. "I am hoping we can find a way to move forward with this that keeps us out of financial harm."
County Administrative Officer Amy Nilsen read into the record a lengthy report that laid out a host of unmet Auditor-Controller responsibilities, including posting of financial records, reconciling cash and investment accounts, closing the books on the 2019-20 fiscal year, distributing cash and interest payments and more.
A major point of contention was the question of whether it's okay for the Auditor-Controller to post certain charges based on estimates and forecasts or whether they need to be based on substantiated records of expenses. Nilsen said the former is standard practice in the industry, and a partner is a prominent accounting firm was on hand to second that assertion.
But Paz Dominguez insisted that she could not post charges to the State Controller's Office unless they were verified as actual expenditures eligible for reimbursement from the state and federal governments.
Over the course of the morning, a series of representatives from local agencies called in to the Zoom meeting to voice frustration over delays from the Auditor-Controller's Office.
"[Y]ou simply don't hold back the money to special districts while specific in-house issues are addressed," said Dennis Mayo, who serves on the McKinleyville Community Services District. "This is a problem that's ongoing."
Mary Ann Hansen, executive director of First Five Humboldt, said that until last year, the Auditor-Controller's Office was timely in providing the documents necessary for the agency to perform its own audits, but both this year and last those documents have been late.
"We understand that workload and staffing shortages are hard on everyone … but we have to keep the work going," Hansen said. She also offered to help. "I want to very sincerely offer any assistance to Auditor-Controller's Office so that we can meet our deadlines."
Marcella May, executive director of the Humboldt County Association of Governments, said there have been significant delays in payments to local transportation agencies, adult day health care operators, city governments and other agencies.
Nicole Johnson from the Arcata Fire District said delays have prevented her organization from closing monthly, quarterly and annual records on time.
Glen Senestraro, superintendent of the Fortuna Union High School District, had a tone of desperation in his voice. "The Auditor-Controller's Office is over a month behind in posting cash receipts, which messes up our books," he said. Likewise, property taxes haven't been posted on time, which causes funds to go into the red. 'The state is looking at deferring our payments, and we may have to do some borrowing." He said he's just hoping the negative receipts don't hurt the district's credit rating, impacting their ability to borrow the money necessary to keep the doors open.
County department heads also weighed in. Sheriff Billy Honsal said his department's plans are in limbo because the board hasn't been able to allocate funds for the first fiscal quarter.
Connie Beck, director of the Humboldt County Department of Health and Human Services, said late claims are affecting her department's ability to run programs effectively.
And Tom Mattson, director of Public Works, said his department desperately needs to have the books closed for last fiscal year. "We need it to be done this week," he said. "Otherwise we will be in big financial hurt. We are willing to do whatever it takes."
Given a chance to respond, Paz Dominguez delivered a lengthy PowerPoint presentation in which she took issue with many of the statements from the meeting's staff report. In a series of slides, she identified statements she considered "erroneous," then offered what she said were the "true and correct" facts along with "evidence," which was frequently in the form of quotes from government code or county documents.
She also said blame should be spread in many directions, including the COVID-19 pandemic and adversaries on county staff.
"We need departments to stop submitting non-urgent requests marked as 'urgent,'" she said. "We need your board to stop interfering with our independently elected operations. … We need the CAO [Nilsen] to stop undermining our authority. … We need the County Counsel's Office to stop interfering … and forcing us to participate in unwarranted investigations. … And we need for all requesters to honor our deadlines and schedules."
The day's most emotional testimony came from the county's generally mild-mannered treasurer-tax collector, John Bartholomew.
"It really pains me to be in front of the board today talking about this stuff," he began. He then proceeded to challenge a number of the assertions and allegations Paz Dominguez made in her presentation, particularly the implications that county staff wants to take shortcuts or "rubber stamp" operations at the expense of fiduciary responsibility.
"I find it offensive that you take this approach, and that you use social media to make these claims against county operations," Bartholomew said, referring to Paz Dominguez's frequent posts on Facebook. "You wrap yourself in the veil of trying to watch out for the taxpayers. For one thing, we are all taxpayers," he said. "Everyone I know tries their best to provide services to taxpayers … . It just boggles my mind, frankly, that you take this type of approach."
He said that he and his staff have sent numerous emails to her and gotten no response. He commended Paz Dominguez as very smart and articulate, saying she's done an excellent job in many areas. "But some of the decisions you've made that pertain to interdepartmental procedures, you change [them] without understanding the ramifications in other departments," he said.
At the end of his comments, Bartholomew apologized for what he called his "emotional outburst."
Board Chair Estelle Fennell said that this "airing of issues" was needed, and it continued for close to seven hours. There was a great deal of back-and-forth from various department heads, board members and Paz Dominguez herself.
During the public comment period, a number of employees from the Auditor-Controller's Office spoke in defense of Paz Dominguez and reiterated the need for more staffing, as did union rep Drew Redden. "I think there's been a lot of growing pains with an Auditor-Controller who wants to do things by the book, to be accountable and transparent," he said.
Leila Roberts, director of the North Coast Small Business Development Center, called in to speak as a voter and friend of Paz Dominguez, saying she's turned to her for advice on management and accounting issues. She said Paz Dominguez had made significant improvements while "under a constant barrage of resistance and criticisms." Roberts described the meeting as "railroading," which Bass, for one, took exception to.
"It's not like we haven't been communicating that we needed certain things done," Bass said, and she added that public criticism comes with the territory of being an elected official.
Third District Supervisor Mike Wilson spoke up for everyone on county staff and working in special districts, saying they're all trying to deliver services to the community. But he emphasized that certain financial postings must be made almost immediately because they're critical "critical to getting funds released so we don't run into pretty significant cash flow issues."
Fifth District Supervisor Steve Madrone argued that the staff report was crafted in such a way that it laid too much blame on the Auditor-Controller rather than on the county's financial accounting systems generally. "We all have some responsibility in this conflict," he said.
Madrone argued against a suggestion to conduct a staffing study, saying the county should instead provide Paz Dominguez with the extra staffing she has requested.
Bass weighed in on the Facebook issue, saying the social media platform tends to have an inflammatory effect. "I would ask all of us to not play this out on social media, because it is winding this up to where people are really hateful," she said.
Bass and Human Resources Director Linda Le suggested conducting a staffing study and bringing in the independent firm MGO to help in the Auditor-Controller's Office, but Paz Dominguez said the public funds would be better used to simply hire the extra employees she's requested.
Bohn was repeatedly critical of this notion, saying there have already been three employees added to her department since she started. Is the county just supposed to keep throwing people at the problem? he asked.
Gradually it emerged that the most urgent need is to close the books for fiscal year 2019-20 so that the Public Works Department can meet a looming deadline for reimbursement of state funds. "I'm looking at having to lay off the entire department if can't get the cost plan done," Mattson said. "What else can I do to get this done?" he added. "Anything!"
In the end, Wilson wound up making a lengthy five-part motion in which the Board of Supervisors agreed to assume shared responsibility for the accuracy of financial reports submitted to the State Controller's Office. Paz Dominguez, meanwhile, agreed to close last year's books for the Public Works Department by Friday. And department heads were asked to provide the Auditor-Controller's Office, by year's end, with federal rewards letters that document which charges are eligible for reimbursement. And lastly, staff will potentially conduct a staffing study and look at reclassifying some positions in order to alleviate the staffing shortage in the Auditor-Controller's Office.
Though Bohn was hesitant, the motion passed unanimously.