Though many of the usual Thanksgiving festivities can't happen this year due to the pandemic, our local meal-serving nonprofits have been working hard to make sure free dinners are still available to those in need. And while several groups — such as Arcata House Partnership, the Eureka Mission and the Betty Kwan Chinn Foundation — already handed out holiday meals earlier this week, there are still at least a couple of places you can still get your turkey and fixins on Thanksgiving Day.

Eureka

The St. Vincent de Paul Society will be hosting its usual free meal on Thanksgiving Day at the dining facility on 35 West Third Street in Eureka.

A volunteer told the Outpost today that the meal will be served from 11 a.m. to 1:00 p.m. or possibly later and will include turkey, yams, mashed potatoes, ham and salad.

Because of COVID restrictions, folks will receive their meal from volunteers at the window and will need to eat outdoors on Third Street.

Fortuna

The River Life Foundation will be hosting its annual Thanksgiving Day dinner at the Fortuna Veterans Hall — 1426 Main Street, Fortuna — from 1:00 to 3:00 p.m. Though the group will not be able to host an indoor seating, prepared meals will be available for drive-through style pickup and for delivery.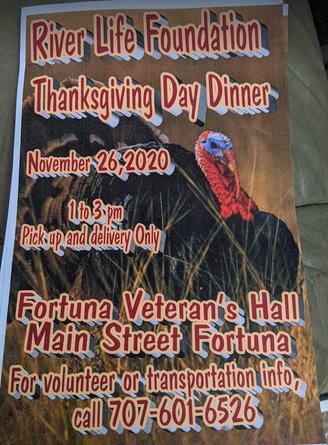 River Life volunteer Ginny Rose told the Outpost that meals will be prepacked in containers and that folks will get "a little bit of everything," including turkey, mashed potatoes, sweet potatoes, ham, green beans and your choice of pecan, apple, or pumpkin pie. If you're planning to drive up, all you have to do is get in line and you wont need to get out of your car. Walk-ups will also be welcome, Rose said, but folks will have to eat outside because of COVID restrictions.
For those who can't make it there in-person, the foundation will also deliver to anywhere in Fortuna, Rose said. All you have to do is call (707) 601-6526 to place your order by Thursday at 1:00 p.m.

Rose said that contact will be minimal and volunteers are taking all the necessary safety precautions, including wearing masks and gloves. "It's the first time we've ever done it like this," Rose told the Outpost. "So we're expecting chaos."
###

If you know of another organization offering a free Thanksgiving meal, please email the information to news@lostcoastoutpost.com and we will add it to this post.