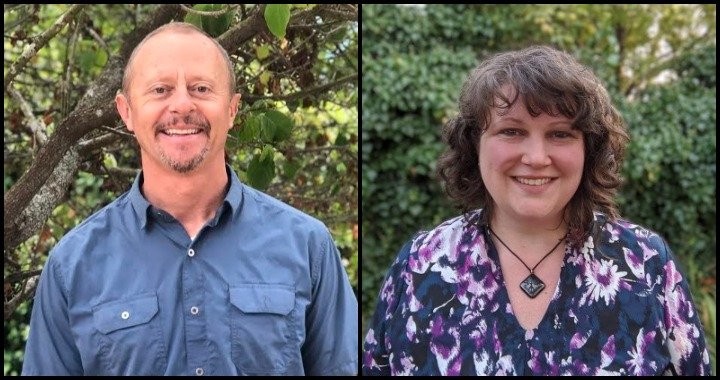 ###
As we've been noting all morning – not a lot can yet be said for sure about the results of the election here in Humboldt County. Still, the results so far in the county's most populous town are more lopsided than they are elsewhere, and the City Council candidates with the most votes are feeling good about their position.
"I feel confident that I'll prevail and get a chance to serve," Fourth Ward Candidate Scott Bauer told the Outpost this morning. "It's a great day."
EUREKA, WARD FOUR
SCOTT BAUER
829

43.86%

EDDIE MORGAN
220
11.64%

MATTHEW OWEN
178

9.42%

WILLIAM TUTTLE
302

15.98%

LIZA WELSH
361

19.10%

In a five-way race for the Fourth Ward seat, Bauer currently has more than double the vote of his closest competitor — fellow left-of-center candidate Liza Welsh — with an unknown number of votes in the race left to count.
Bauer credited his door-knocking campaign for the big lead. He estimated that he visited 80 to 90 percent of the homes in the ward, which encompasses the east side of the city, from the Bridge District to the hospital to Sequoia Park.
The experience was fantastic, he said — just meeting his neighbors and hearing their concerns was worth it. And through it all, he developed respect for his competitors.
"I really appreciate all the candidates," Bauer said. "They all genuinely care about the city, want to serve their community."
EUREKA, WARD TWO
LUCINDA JACKSON
284

22.67%

KATI MOULTON
526

41.98%

TAMAR SHIRLEY
88
7.02%

DOT WENTWORTH
355
28.33%

The lead is comfortable but not quite as strong for Kati Moulton in the Second Ward, which includes the neighborhood around Winco, Highland Park and the southern stretch of Broadway. She is currently 171 votes ahead of Dot Wentworth, her nearest challenger.
"I'm getting congratulations, but I'm cautious about celebrating," Moulton said this morning. "It's a crazy year."
When asked if she will be preparing to take office eventually, Moulton said that she's been doing that work for months now, as part of the campaign — meeting with constituents and hearing their concerns, and studying up on city government — and she doesn't plan on slowing down on that work now.
Still, she said, she's "totally fine with waiting until there is real, official call" before declaring victory.
In a way, city government itself was on the ballot this time around. Measure H, an ambitious 1.25 percent sales tax dedicated to city services, currently has an impressive 67 percent lead in the votes counted so far. It needs only a simple majority to pass, and city leaders are feeling optimistic.
"Our residents are well-informed, and we thank them for participating in the election," wrote Interim City Manager Miles Slattery in a message to the Outpost this morning. "Measure H continues locally controlled funding that cannot be taken by the County or State for our local fiscal stability and essential services the community has identified as important."