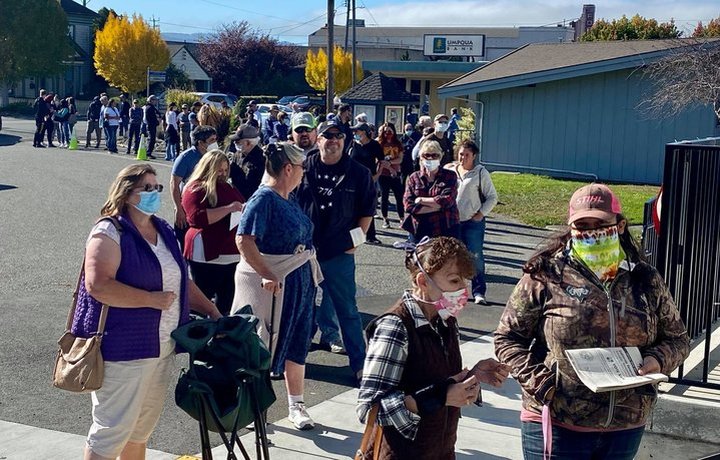 ###
PREVIOUSLY:
###
The Humboldt County Elections Office posted its final election night report at about 3:20 a.m. this morning, and about the only thing it told us for sure is that there are a whole lot of votes that still need to be counted in this unprecedented election.
A total of 41,869 votes were tallied before election workers hung it up in the very wee hours. A total of 47,214 mail-in or drop-off ballots had been received by the Elections Office as of Monday morning, with several thousand likely arriving since Monday morning, or still working their way through the post. Untold thousands of people voted at Voting Assistance Centers yesterday. And then there are the unknown numbers of provisional ballots, conditional (or same-day registration) votes.
We don't know how many votes are still out there, but we know that there's a lot of them. The consensus seems to be that this was a record turnout election. Four years ago, in the 2016 general election, 60,983 total votes were tallied. So it's fair to guess — but only to guess — that there are somewhere in the rough neighborhood of 20,000 left to count. Maybe less, probably more.
In a normal year, we'd still know a lot about where the vote is headed, because the waves of votes have a somewhat roughly predictable patterns. Early absentee votes — those included in the first report of the night — skew a little bit more conservative, because in a usual Humboldt County year a greater percentage of conservative people vote by mail, and early. Later reports skew more progressive, because a greater proportion of more progressive people vote at the polls, or get their absentee ballots in late. So if a progressive-leaning candidate is a little bit ahead at the end of the night — or even just a teensy bit behind! — that candidate is looking sharp. In a normal year. (See here for charts and graphs and such.)
Obviously, none of that is the case this year. We don't know what sorts of people voted when, or when they were counted. All we have is a very rough guess at the number of votes left to count.
So what do we know? We know that two candidates for Eureka City Council — Scott Bauer and Kati Moulton — are in a very strong position, relative to their rivals, and that a few candidates in those races are looking pretty hopeless.
EUREKA, WARD TWO
LUCINDA JACKSON
284

22.67%

KATI MOULTON
526

41.98%

TAMAR SHIRLEY
88
7.02%

DOT WENTWORTH
355
28.33%

EUREKA, WARD FOUR
SCOTT BAUER
829

43.86%

EDDIE MORGAN
220
11.64%

MATTHEW OWEN
178

9.42%

WILLIAM TUTTLE
302

15.98%

LIZA WELSH
361

19.10%

We also know that Measure H, the Eureka sales tax, and Measure C, ranked-choice voting, are looking very strong.
MEAURE H — EUREKA SALES TAX
YES
5,116

67.27%

NO
2,489

32.73%

MEAURE C — EUREKA RANKED CHOICE VOTING
YES
4,501
61.41%

NO
2,829

38.59%

As a side note: If the above numbers hold, the conservative skepticism about ranked-choice voting is shown to be a little ironic — if it were in place today, Dot Wentworth or Lucinda Jackson might be looking quite a lot stronger in the Second Ward race than they do right now.
We know that the race for Humboldt County Second District Supervisor is quite close.
SUPERVISOR, DISTRICT TWO
ESTELLE FENNELL
3,705

51.67%

MICHELLE BUSHNELL
3,466

48.33%

We know that the Arcata Fire District's special tax measure looks a lot stronger than it did when the district last put it forward, in the spring election, but that it could still fall below the required 2/3 margin if late-counted votes turn against it.
MEAURE F — ARCATA FIRE DISTRICT TAX
YES
9,294

75.45%

NO
3,024

24.55%

We know that the incumbents in the Arcata City Council race are both looking weak — Paul Pitino more so than Michael Winkler. Three seats are open and Winkler is currently running fourth.
ARCATA CITY COUNCIL
STACY ATKINS-SALAZAR
2,235
17.05%
CAMILLA ZAPATA
1,282
9.78%
EMILY GRACE GOLDSTEIN
1,844
14.37%
ORYAN PETERSON-JONES
320
2.44%
PAUL PITINO
1,277
9.36%
SARAH SCHAEFER
1,825
13.92%
NICK MATTHEWS
750
5.72%
COLLIN YEO
780
5.95%
KIMBERLEY WHITE
1,117
8.52%
MICHAEL WINKLER
1,688
12.88%
And we know that Dean Glaser, the — uh, firebrand? — Fortuna incumbent is way, way behind.
FORTUNA CITY COUNCIL
TAMI TRENT
2,056

40.30%

MIKE LOSEY
2,041
40.00%

DEAN GLASER
1,005

19.70%

Those are the major races on our radar, and what we know about them adds up to a whole lot of some, but not much. Let's let them count votes!
Oh, that reminds me. At least as far as Humboldt is concerned, we're at…
PRESIDENT OF THE UNITED STATES
JOE BIDEN
28,123
67.97%

DONALD TRUMP
12,208

29.51%