Murder suspect Demetrius Coleman waited until he'd seen and heard all the evidence, the prosecuting attorney told jurors Thursday, and then concocted a story that would fit.
Deputy District Attorney Carolyn Schaffer said Coleman, interviewed three months after he allegedly shot and killed Johnny Mack Renfro, could have told Rio Dell Police Chief Jeffrey Conner that it was another man who was driving Coleman's car and fired the fatal shot. Instead, Schaffer said, Coleman waited until his trial to claim that a man named Dread was the actual culprit.
"Dread doesn't exist," Schaffer said. If he did, "you can bet your boots" that Coleman would have told law enforcement immediately.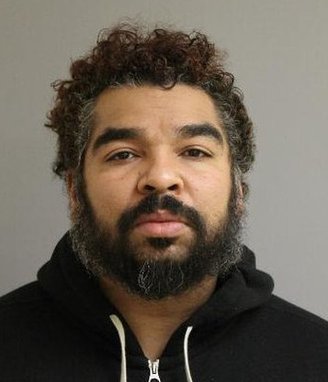 Three eyewitnesses who saw Coleman's green Honda after the shooting gave descriptions of the driver that fit Coleman. During his testimony, he claimed he was hiding behind the driver's seat when Dread shot Renfro.
Only one witness, Colette "Coco" Niles, said she saw two people in the Honda. But she described the person in the back seat as a petite woman with her hair in a ponytail. Coleman reportedly had his hair in a "man bun" that day, but he is a large male.
Schaffer asked if it was even physically possible for Coleman to hunker down in the space behind the driver's seat. Video surveillance of the shooting shows the seat "pitched back at a 45-degree angle," she said. Why, she asked, didn't the defense find out whether Coleman could have fit in that space, and if so present that evidence to the jury?
She also questioned why the defense hadn't called Coleman's girlfriend, Alma Ahumada-Mendoza, to testify. Ahumada-Mendoza was in the car behind the Honda and "could have corroborated everything he said," Schaffer said.
The prosecution believes Ahumada-Mendoza participated in the shooting, handing Coleman the gun shortly before.
Coleman testified that while at 20/30 Park in Eureka a few hours earlier, he was attacked and robbed by several black men who stole his marijuana and pistol-whipped him, with the gun going off when it struck his head. During that confrontation there was a lot of yelling and screaming.
But according to the Eureka Police Department's custodian of records, there was no report of any disturbance at the park, which is in a residential neighborhood. Coleman left the park with the gun, which he says the robbers abandoned when they fled.
After Renfro's killing Coleman was on the run for several months, finally being arrested in North Dakota. In text messages to a friend, Coleman asked for help and money. He also sent the friend a link to a local news article naming him as a person of interest in the homicide.
Schaffer noted that Coleman never texted anything like "They've got the wrong guy" or "I've been set up."
Instead, she said, he told the friend that robbers had laid him on the ground, put a gun in his mouth and stole a large quantity of marijuana.
Defense attorney Andrea Sullivan, in her closing argument to the jury, said the police investigation was sloppy and prosecution witnesses were lying.
She targeted Mariah Acosta, the woman who was riding with Ahumada-Mendoza, as a jealous and vindictive person who was out to get Coleman.
"I can't figure out why she wants to hurt him so bad, but she does," Sullivan said.
The defense attorney argued that Acosta lied when she claimed she hadn't met Coleman until the day of the shooting. Text messages show they had contact days earlier. Furthermore, Sullivan said, Acosta is jealous of Ahumada-Mendoza because Acosta once had a business and sexual relationship with Coleman.
But phone records seem to verify that Acosta didn't know Coleman, because she texted her daughter asking for the name of "Alma's man."
Acosta testified that when she and Ahumada-Mendoza came out of WalMart the day of the shooting, Coleman was indicating that someone had just driven by and told them "Follow me." Phone records show Renfro was heading south on Highway 101 at that time.
As they drove south toward Rio Dell, Acosta said, Coleman was on the phone with his girlfriend saying "Stay back, you know what to do."
In reality, Sullivan said, Coleman was saying "I don't know what to do" because Dread was driving and wouldn't let him out of the car.
Dread, who witnessed the alleged robbery at the park, took over driving shortly after Coleman left Wal-Mart, Coleman says. Dread announced he was going to drive, saying he knew who the robber was. He reportedly pointed a gun at Coleman and told him to "Shut the fuck up."
Sullivan told jurors Acosta was obviously an unreliable witness, because she claimed Coleman and Ahumada-Mendoza tried to kidnap her mother on a day when Coleman was in Sacramento. Acosta did not witness the incident but said she believed her mother's account.
Sullivan provided some examples of what she called poor investigative work. She said law enforcement should have searched the Alton home where Coleman left his car after the shooting. Coleman claims he was cut by flying glass when Dread shot the back window out of his car. If the vacuum cleaner used to clean the car had been examined, Sullivan said, blood may have been found in the broken glass.
Also, DNA samples were taken from the driver's seat but were never tested because it was assumed Coleman was the driver. Schaffer pointed out, however, that the defense could have had the DNA processed but never did so.
One damning bit of evidence against Coleman was provided by the Alton couple, who testified about something Coleman said when he left his car at their home: "If three people know a secret, it's best if two of them are dead."
Sullivan told jurors that after watching Coleman testify and observing his demeanor, they should know he's not the type to make that kind of threat.
"I think it's unlikely that he strung that sentence together," she said, "but that's up to you to decide."
As for not calling Ahumada-Mendoza as a defense witness, Sullivan said police had harassed Ahumada-Mendoza during a traffic stop, accusing her of lying and threatening to arrest her and have her children taken away.
"The best place for Ms. Ahumada-Mendoza to be is as far away from this train wreck of a trial as possible," Sullivan said.
The jury began deliberating Thursday afternoon and was expected to resume this morning.
###
Previous coverage at this link.