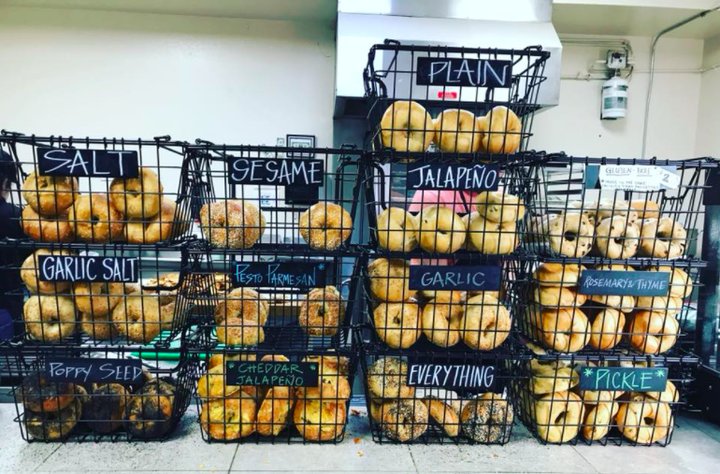 ###
In an emotional video posted to Facebook Wednesday morning, Frankie's New York Bagels founder and proprietor Frankie Baker announced that he'll be closing the shop at the end of the year, bound for "a different journey."
Unlike other recent restaurant closures, this one's not tied to the COVID-19 pandemic. Reached by phone, Baker said "personal and professional" reasons led to his decision.
"I started it by myself," he said of the business, which for the past four years has operated out of a commercial kitchen at Redwood Acres Fairgrounds in Eureka. Having grown up in Rochester, Baker said that after moving to Humboldt he craved the specific texture of a New York bagel — "a crispy outer layer and soft & chewy inside," as he describes in on Facebook.
"I never had worked in a kitchen in my life, but I knew the community needed it," he said. He researched recipes and taught himself how to make the kind of bagels he'd grown up eating. "I'm really glad I did," he said "I'm proud, but it's time to move on to a profession that's more sustainable."

Because he works alone he can only make so many bagels, he said, but he's confident that someone with a business partner and more resources could divide the labor more evenly and keep the business afloat. "The demand is there, and there's definitely room for expansion," he said.
He said anyone interested in taking over the business can contact him via Facebook or Instagram.
Over the years Baker has expanded his menu to include a wide variety of flavored cream cheeses, plus bagel dogs, bagel chips, bialys, pizza and desserts such as lemon bars, cheesecake and donuts.
In this morning's video, Baker said, "My love for bagels runs deep, but I have found the most joy in the personal connections I have made with my customers."
He plans to stick around in Humboldt, at least for the time being.