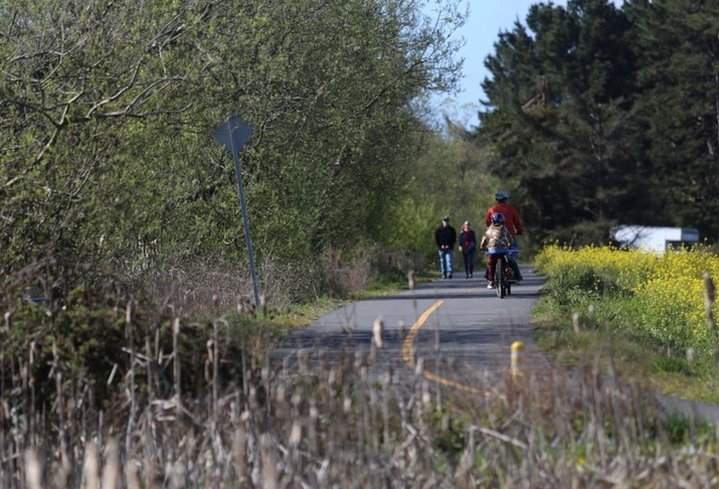 ###
From biking in the Arcata Marsh to hiking in the Community Forest, enjoying local parks and open spaces has continued to be a favorite pastime and, luckily, one that has been permitted and encouraged amid the pandemic.

That's why Arcata High School seniors Zoie Andre and Vivian Gerstein have recently been dedicating their free time to promoting Arcata's Measure A, which proposes a special tax to help fund the preservation, maintenance and expansion of the city's parks, trails and open spaces. As co-captain of the Humboldt Composite Mountain Bike team and the Arcata High Cross Country Team, Gerstein said that maintaining the spaces is very important to her, especially recently.

"It's been my escape in all this COVID craziness," Gerstein told the Outpost in a phone interview Thursday. "I think it's very important we preserve our outdoor recreation opportunities."

MEASURE FOR MEASURE

• MEASURE D: South Bay Union School District Wants to Modernize its Campuses and Build a New Preschool
• MEASURE F: Arcata Fire District Again Proposes a Special Tax Increase to Help Fund Operations, But Some Say It's Asking Too Much
Measure A — which needs a two-thirds majority to pass — asks Arcata voters to approve a $37 property tax to help fund the preservation, maintenance and expansion of the city's parks, trails, forest and agricultural lands. The tax revenue would be placed into a special fund for use of activities such as construction of new trails, acquisition of new open space property, habitat restoration and maintenance of existing park facilities.

As co-chairs of the Friends of Arcata Parks and Open Spaces for Measure A, Andre and Gerstein say that the tax is critical and will not only benefit Arcata residents by preserving the spaces that they enjoy, but also by maintaining the appeal of the area to tourists and folks who may want to relocate here.

"One of the reasons people move here is for outdoor spaces," Andre — daughter of Mark Andre, head of the city's environmental services division — told the Outpost. "It will help boost our economy by making this a more desirable place to live."

But the Humboldt County Taxpayers League argues that funding for trails and parks is already provided through timber harvest as a part of the city's Forest Management Plan, and says that the details on how Measure A funds would be spent are vague.

President of the league Uri Driscoll says that it is up to the city to appropriately use the funds it has, rather than burden Arcata property owners with another tax.
"If these trails, as they keep saying, are an attraction for tourists, then it would be more appropriate to have a sales tax," Driscoll added in a recent phone interview with the Outpost.

But proponents of Measure A argue that a sales tax would be more regressive than a parcel tax, and would likely have more of an impact on low-income individuals. And, although funding for open space preservation is provided from timber harvest, this tax would help supplement that funding without "overburdening the forest" by relying heavily on timber harvest for funding, Andre said.

The city does also receive grant funding to preserve and maintain parks and trails, but often the grant agencies ask that the city be able to match the funding, Andre said. So, if Measure A were to pass, the city would then be eligible for more grant funding.

Driscoll says that, like with Measure R, it is too much to ask of the taxpayers, especially when many people in the community have been financially impacted by COVID-19, and after the city recently approved water and sewer rate increases.
The proposed tax also has no sunset. So if Measure A were to pass, it could only be amended or reversed by the passage of another ballot measure.
But Andre and Gerstein feel that $37 per parcel annually is "not outrageously high" for the benefit it can provide, adding that preserving parks and open spaces helps maintain the value of properties in the area.

"Everyone will be able to benefit from this measure in some way," Andre said.