Murder suspect Demetrius Coleman says he had a business and sexual relationship with the key prosecution witness who implicated him in a fatal drive-by shooting in Rio Dell.
Coleman, who took the stand Thursday in his own defense, says both he and prosecution witness Mariah Acosta were brokering marijuana deals, and twice "ended up smashing in my truck." He explained smashing means having sex.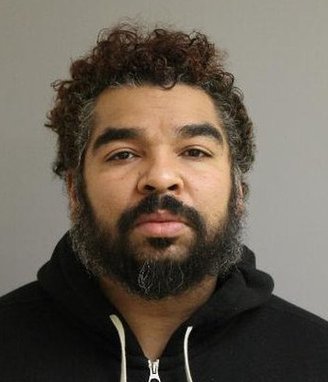 Acosta testified earlier in the trial that she had met Coleman briefly one time, the day before he allegedly shot Johnny Mack Renfro to death on Monument Road in Rio Dell. She said Coleman was a stranger; she didn't even know his name.
Coleman, 40, was released from prison in early 2017 and was paroled to his home town of Oakland. While still on parole he began making trips to Humboldt County, seeking "opportunities" in the thriving marijuana business. After moving here, he began brokering transactions, earning $100 for every pound of product he sold.
Testifying under questioning by his attorney, Andrea Sullivan, Coleman said he was taking in about $200,000 a year, tax-free.
Coleman said he met Acosta at Deb's restaurant in Redway in the Spring of 2018.
"She had samples, and I did business with her," he said. … ''We started working together. I would call her phone; she would call me. At first it was just professional."
"When was the first time you interacted with her unprofessionally?" Sullivan asked.
Coleman said he had completed a deal and his buyer had left. He and Acosta were "hanging out" on the back patio of "The Lost Frenchman" and ended up having sex in his truck. That happened "probably one more time" in his truck, Coleman said.
"I wasn't attracted to her," he said. "I was just trying to get the bag (of marijuana)."
He stopped calling Acosta, Coleman said, when she began telling him how to run his business and how he should make money.
In April 2019 he met Alma Ahumada-Mendoza, 17 years younger than he, and "she was just like the sun shining on a rainy day."
Four months later, Coleman allegedly murdered Renfro after following him from Eureka to Rio Dell. Ahumada-Mendoza and Acosta were in a car trailing Coleman. The two women were acquainted through Acosta's teenage daughter.
Acosta went on to implicate both Ahumada-Mendoza and Coleman in the killing. Ahumada-Mendoza was charged with being an accessory to the murder, but charges were dismissed after a preliminary hearing.
On Thursday Coleman also said he'd had a profitable business relationship with an Alton couple, Regina Osenbaugh and Jovan Ignjatovic, who both testified they had known Coleman for only a short time when the shooting occurred.
But Coleman said that on two occasions, he paid the couple $1 million in cash for the marijuana they provided.
Osenbaugh and Ignjatovic claimed they had never completed any transaction with Coleman.
Coleman is expected to testify he was in his green Honda coupe when it drove past Renfro and the driver opened fire. But he says he was in the back seat of the car and someone else was driving and shooting.
Only one witness says there were two people in the car, but her testimony Thursday was not helpful to the defense.
Coco Niles, who lives up the street from the house where Renfro was shot, described the driver of the car as a dark-skinned man who was heavy-set and had a round face. That is a fair description of Coleman. Niles said the person in the back seat was a lighter-skinned thin female with her hair in a ponytail.
Coleman, wearing slacks and a white dress shirt, came across as an untroubled and relaxed witness. He smiled often and sometimes chuckled as he answered questions from his attorney.
He is expected to continue testifying this morning before Judge Kelly Neel, who is presiding over the trial.