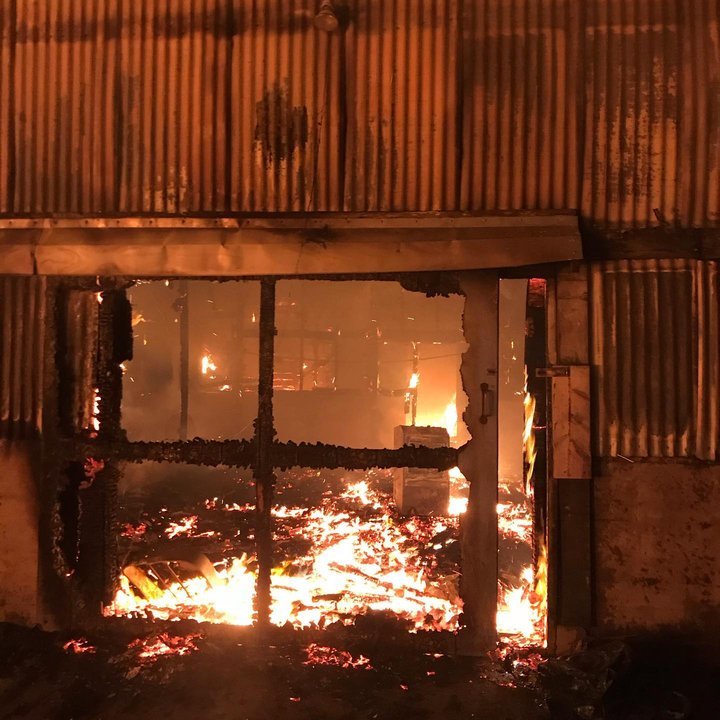 The Humboldt County Sheriff's Office Marijuana Enforcement Team is actively investigating a potentially illegal marijuana grow that was discovered at the scene of Sunday's barn fire on the 2,000 block of Mad River Road in the Arcata Bottoms.
Arcata Fire District Battalion Chief Sean Campbell told the Outpost that firefighters called authorities to the scene at approximately 4:30 a.m. after finding evidence of a marijuana grow inside the burning barn.
"Sunday's fire was the result of something going wrong in an indoor marijuana grow," Campbell said. "The report we got from law enforcement was 20 to 30 people fled the scene."
Humboldt County Sheriff's Office spokesperson Samantha Karges told the Outpost that deputies found approximately 30 growing marijuana plants, multiple drying marijuana plants, numerous containers of marijuana trim and equipment consistent with the cultivation and processing of marijuana on scene.
In an adjacent barn, firefighters also found a converted living area filled with a multitude of tents and mattresses, which made the situation especially dangerous for firefighters, Campbell said.
"There was only one way out of that barn," he said. "Our first priority is life safety and that creates an issue for us. That's a game changer. Now we have to risk a lot. If that barn was on fire it would have been dangerous if not deadly."
The cost of damages is unknown at this time, but the burned barn is considered to be a complete loss.
"The structure completely turned to ash," Campbell said. "We took no suppression action on those parts of the barn because we were trying to protect the house and barn that were threatened. The fire was spreading into the vegetation and eucalyptus trees so we had our hands full. Everything was just collapsing and burning."
The fire occurred approximately one week after another barn fire ignited on the 800 block of Mad River Road near Tyee City. The short string of fires created concern among some Humboldt County residents that a barn arsonist was on the loose in Arcata. However, Campbell said that the fires are an unrelated coincidence.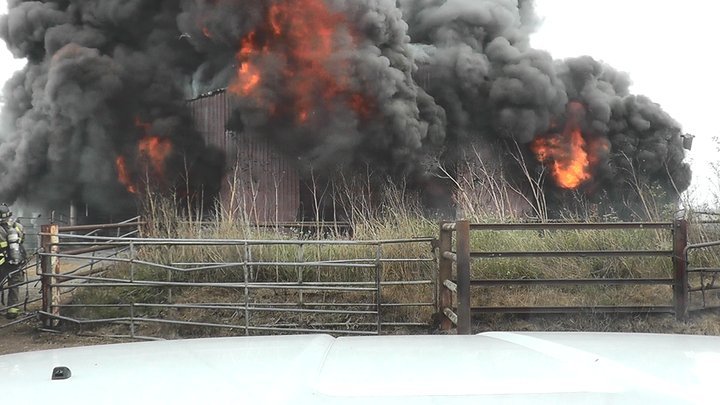 "These fires are not arson," he said. "It's a coincidence that we had two barn fires back-to-back. They're completely unrelated. One was a spontaneous combustion of hay and yesterday's fire was the result of something going wrong in an indoor marijuana grow."
Campbell, who said that he used to buck hay on one of the properties in his younger days, added that the spontaneous combustion of hay is fairly common in the ranching industry.
"If hay gets wet after it's baled or dried out, when the hay is bunched up tight, that moisture can expedite the decomposition process," he said. "That creates heat. Ranches are aware of it. They take every precaution to prevent it, but sometimes things just happen."
The barn fire that occurred on Aug. 23, was also a complete loss. Firefighters estimate that the fire caused $1,157,524 in damages to the 14,400-square-foot barn. Campbell said that $40,000 worth of hay and equipment were also destroyed.
To add more fuel to the unwarranted arson rumors floating around social media, a third fire that was also hay related occurred Sunday afternoon on Highway 96 near Hydesville.
However, Fortuna Fire Department Safety Officer Jim Hinrichs told the Outpost that the Highway 36 fire started inside of a pickup truck that was hauling hay, and not inside of the hay itself.
"The driver stated that he saw smoke coming from the passenger's side of the trailer," Hinrichs said. "His wife said she saw flames. The cause of fire [had] something to do with the wheels or tires. Possibly a wheel bearing, but an under inflated tire can get hot as well."
Firefighters estimate that the truck fire caused $54,000 in damages.