WARNING: This story relates accusations of extreme violence.
###
PREVIOUSLY:
###
Bail was set at $2.39 million today for a Hoopa teen who allegedly chased down Julius Barthel Tripp and attacked him with a hatchet, then finished him off with an assault rifle.
Judge Larry Killoran set bail after hearing arguments from Deputy District Attorney Trent Timm and defense attorney Russ Clanton, who is representing 18-year-old Bronson Moon Lewis Jr. on charges that could put him prison for 51 years to life.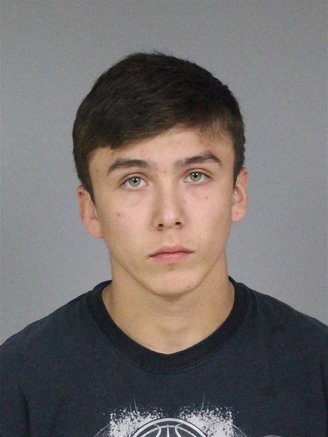 Timm, quoting statements from eyewitnesses to the killing, said Tripp was hunted down after Lewis, driving along state Highway 96 with three other teens with him, rammed Tripp's truck from behind as it was parked in a turnout.
Timm said the teens thought the truck was abandoned, but it turned out Tripp was sleeping inside. He woke up, understandably angry, Timm said, and there was "a little bit of a kerfuffle."
Tripp, 42, then started running south on foot toward Hoopa, Timm said. But Lewis, who had been heading north to inspect his marijuana grow, turned around and pursued the fleeing man. When the teens caught up with Tripp he ran over a bank. Lewis, according to witnesses, kept saying "Where's my hatchet?"
He got the hatchet and went down the bank, reportedly striking Tripp in the head, neck and arm.
"I think I might have chopped off his arm," he allegedly told the other teens.
Tripp was left down the slope, in "excruciating pain" and begging for help, while Lewis drove somewhere to get a firearm. Then, carrying an AR-15 rifle, he walked down to where Tripp was lying.
"The witnesses heard one or two shots," Timm said, and Lewis came back to say "I finished him off."
Afterward, Tripp's truck was pushed over a bank. It was found on July 24, and family members reported him missing two days later. Tripp's body wasn't discovered until Aug. 20, and shortly afterward the Sheriff's Office obtained a warrant for Lewis's arrest.
According to Timm, Lewis set his own truck on fire to cover up evidence. And he allegedly told the other teens he would kill them, their family members and anyone else who "talks to the cops."
Timm asked for bail of $5 million, saying his main concern was protecting the three young witnesses.
Clanton, responding that bail should be reasonable, said Timm recited what are supposedly facts but could be "finger-pointing" by the other teens involved.
"There's a significant amount of finger-pointing going on here," Clanton told the judge, "by individuals who may or may not have reasons for finger-pointing."
After the warrant was issued, Clanton said, Lewis and his father came to his law office, and Lewis agreed to be taken into custody there. Lewis was "unusually cooperative," Clanton said. He also pointed out that Lewis has no history of violence and is a lifelong resident of Humboldt County.
Clanton criticized the bail system, saying it makes it impossible for destitute people like Lewis to post bail.
"It's essentially no bail and that's unconstitutional,'' he said.
Timm responded that "I don't believe he's destitute for one second."
Lewis was driving a nice "modded-out" truck and was on his way to inspect his illegal marijuana garden when he encountered Tripp, the prosecutor said.
Killoran assured Clanton he wasn't going to do anything unconstitutional. The main concerns with setting bail are flight risk and public safety, the judge said, and the bail schedule lists $1 million for murder.
Timm pointed out that the special firearms allegation charged could mean a second life term. Plus Lewis is charged with use of a hatchet. Killoran eventually set bail at $2.39 million.
Lewis watched the hearing from the jail's video conference room, wearing a mask. After the hearing, he buried his face in his hands and cried. He kept shaking his head as if in disbelief. Lewis's preliminary hearing is scheduled for Sept. 9.