Shouldering the responsibility of creating reopening plans, school boards in particular face a unique election this November. Every year, the League of Women Voters of Humboldt County, a nonpartisan organization that encourages informed voting, hosts a series of virtual forums to help voters navigate local races. Its first forum was last Friday evening, and candidates vying for open seats on the McKinleyville Union School District board were invited to participate.

The MUSD school board serves 999 students with three schools — Dow's Prairie, Morris Elementary and McKinleyville Middle School. Two seats are up for grabs, and four candidates are campaigning to win them — incumbents Manuel Fonseca and Nicholas Som, and challengers Rachelle Hicks and Chelsey Rios.
ON COVID
Reopening was the most revisited topic during Friday's forum, and the candidates' opinions were split down the middle. Candidate Rachelle Hicks, a business owner who relocated her three kids to a private school this year because MUSD isn't offering in-person instruction, cited distance learning as her primary motivation to run for school board.
"I believe our current board has silenced our parents' and community members' input. I believe that since March, when the schools shut down due to the pandemic, the schools have had ample time to prepare for reopening schools but have failed to do so," Hicks said during the forum. "A vote for me is a vote to open up our schools."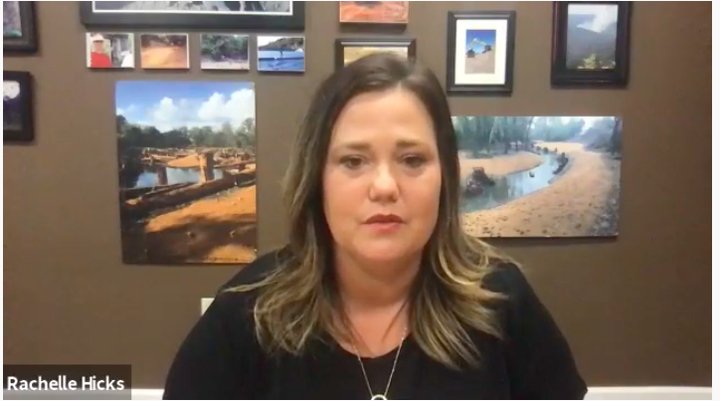 Candidate Chelsey Rios, a project manager and mother to an 11-month-old, echoed Hicks and said that by following Centers for Disease Control and Prevention guidelines, McKinleyville schools can reopen safely.
CDC guidelines for schools that choose to reopen recommend assigning students to small groups, alternating and staggering schedules, closing communal spaces such as playgrounds and cafeterias, disinfecting all surfaces frequently, and enforcing diligent hygiene, social distancing and wearing masks. While the CDC states that "in-person learning is in the best interest of students, when compared to virtual learning," they also warn that "the many benefits of in-person schooling should be weighed against the risks posed by COVID-19 spread." According to the CDC, the only risk-free option is virtual learning.
For Hicks and Rios, the main concern is providing an education that is available to socio-economically disadvantaged students, which they feel cannot be done virtually. "Students, I feel, are being left behind," Rios said. Hicks added that the district has "lost over 125 kids due to the reopening plan."
MUSD Superintendent Heidi Moore-Guynup did confirm with the Outpost that the district has 149 fewer students this semester, however, only 39 of those students parted with the district following the board's official decision to carry on with distance learning, which happened at the August 12 meeting. Of those who left, 35 were kindergarten students, which Moore-Guynup noted are not technically exits, but rather parents opting for non-compulsory attendance this year. The other 110 students who are no longer in the district left before the board confirmed that learning would be remote. Of those, 27 left the county, 17 moved out of the district, 33 transferred to private schools, 20 relocated to charter schools, seven opted for homeschooling, five were interdistrict transfers, and one returned to their home district outside of MUSD.
The superintendent also said that based on surveys distributed to families and staff, overall feedback has reflected that remote instruction is preferred.
The August 12 MUSD board meeting, which ultimately resulted in a unanimous decision to start the year with remote instruction, saw 22 speakers appear for public comment during that item. Of those, 14 speakers endorsed virtual learning, based on the meeting minutes. Eight MUSD staff spoke, and seven said in-person learning would be unsafe, while the other supported virtual learning less directly. Hicks was one of six community members who urged the board to resume school in-person.
Discussions about COVID-era learning are ongoing, and the board plans to revisit reopening conversations every six weeks.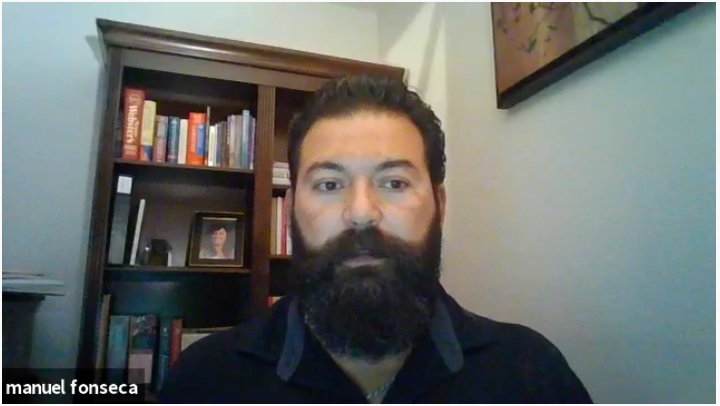 Candidate Manuel Fonseca, a utility worker who has already briefly served on the board after being appointed this year following the vacancy of another board member, said that he personally made the motion at the August 12 meeting to start the year virtually. At the forum, Fonseca said that he stands by that decision. "Of course I am open to any new information available to us, however, I also believe that whatever the CDC has to offer is not particularly applicable to us as a small community," he said.
Candidate and incumbent Nicholas Som, a statistician who has three kids going to school in the district, also voted for remote learning. Som said that he wishes "we were in a situation where all indicators pointed to a secure and safe environment for in-person instruction, and we just aren't getting those signals from local health officials."
Contradicting concerns of Hicks and Rios, Fonseca said that "all children are being taken care of within the district to the district's full capacity."
ON EQUITY AND INCLUSION
Hicks revisited COVID here, wondering aloud how distance learning and equity are intertwined. She wants to do equity trainings and implement strategies to ensure that all students feel welcome.
Rios agreed that the district could support socio-economic disadvantaged children more in regards to distance learning.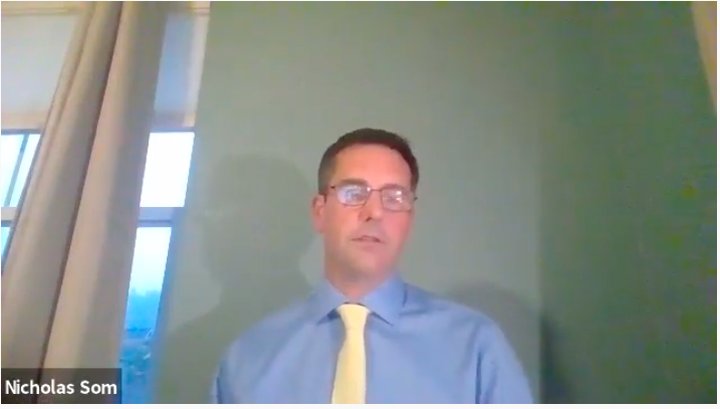 Som, who said he's worked on making sure that students have access to devices and internet, also amplified the importance of addressing equity gaps. "Dealing with equity and inclusion — they're kind of catchy phrases, but really what it starts with is listening," he said. "Being aware, knowing what kinds of questions to ask, and more so creating an environment where people feel comfortable expressing what they need so that we can actively start effectively dealing with both of these issues."
On a phone call with the Outpost, Moore-Guynup confirmed that the district has been able to supply Chromebooks to every family who indicated they needed one. The district also received 70 internet hotspots on Tuesday, which will be distributed shortly. Free meals are provided by the district and are available to all children in the community.
ON PROP 15
Candidates were asked for their position on Proposition 15, a split-roll amendment that would tax commercial and industrial properties (except those zoned as agriculture) at market value while continuing to tax residences based on purchase price. The proposition is related to education because the 8 to 12 billion in annual revenue would go toward California schools and communities.
Som, who repeatedly said that the state neglects rural schools in terms of funding, supports the proposition. "If we can find ways to increase revenues for schools that don't impact families per se, and certainly don't impact middle and low income families, then I think those are things to consider," he said.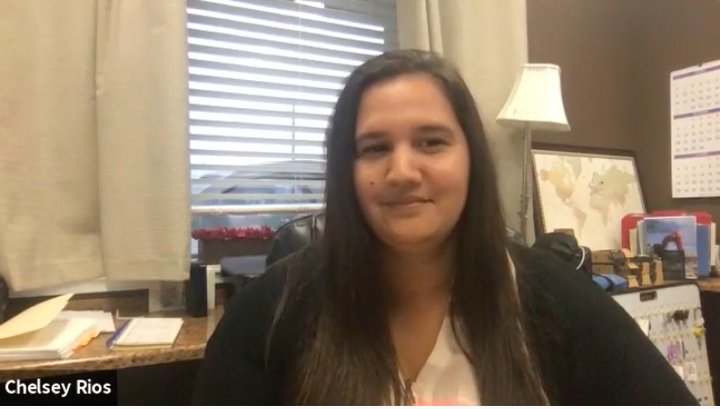 Rios said that "any kind of funding is great for the schools in general," but expressed concerns that "this tax is going to hurt people within agriculture."
With the video's posting, the League of Women's Voters of Humboldt County clarified in the comments that Rios' concerns aren't entirely warranted, because farmland is exempt from the proposition and won't suffer any taxation changes. Across the state, Prop. 15 is actually a widely contested issue between educators and farmers, because although farmland would be exempt, buildings and improvements on that land might not be.
Hicks and Fonseca were both unfamiliar with the proposition.
ON DEALING WITH BUDGET CUTS
The four had similar strategies for facing budget cuts. Rios and Hicks promoted the importance of diverse committees, and Fonseca promised transparency with stakeholders in making budgetary decisions.
Som agreed, and added that a useful strategy is planning ahead. "It starts with having a very clear vision and set of goals for your district, 'cause you can really use those to help drive where your priorities are and where you have room to make cuts," he said
AND MORE!
Elsewhere in the forum, all four praised the district's dual-language program, agreed that board members should serve as liaisons between the district and community and voiced student-first mentalities.
The candidates had their own unique visions for the district, too, including Fonseca's desire to install solar panels to move toward a more energy autonomous district, and Som's idea to implement local indigenous culture and history into education.
While school board members at MUSD are entitled to participate in the district's medical insurance program, they need to cover 100% of the cost. The position is purely volunteer.