WARNING: This story relates accusations of extreme violence.

###
Bronson Moon Lewis Jr. must stand trial for the alleged July 20 murder of Julius "Jules" Tripp, Judge Kelly Neel ruled at the end of a preliminary hearing Wednesday.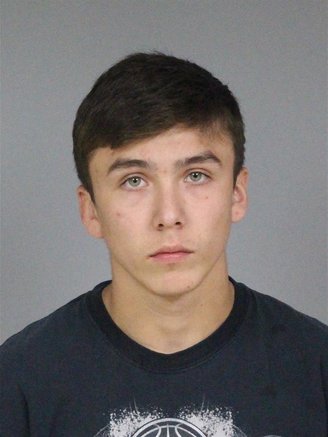 Neel explained to the 18-year-old Lewis that "this is not a finding of guilt" but simply a determination that the crimes charged were probably committed and that he was the person who probably committed them. His arraignment is scheduled for Oct. 1.
According to testimony Tripp, 42, was first stabbed and later shot with an AR-15 rifle as he lay down a slope off state Highway 96 between Hoopa and Weitchpec.
The main witness today was K-lynn Dowd, one of four teens who were with Bronson in his Toyota pickup truck after a party that began July 19 and ended in the early morning hours of July 20. The five were heading toward Weitchpec when they encountered Tripp's old Chevy pickup truck and camper in a turnout on the highway.
At the time Dale Mabry, 19, was driving Bronson's truck, and Mabry pulled off the road and ran into the back of Tripp's vehicle.
"Dale decided to bump it," Dowd said under questioning by Deputy District Attorney Trent Timm.
"Did anyone ask Dale?" Timm asked.
"Dale decided it on his own. That's what I remember."
After the bump, Tripp emerged from the camper said something like "What the hell are you doing?" Dowd recalled. Then, she said, Tripp picked up a tire rim and hurled it at Lewis's truck, shattering the windshield. At that point, Lewis and "Daniel" got out of the truck, with Daniel carrying a large knife that he handed to Lewis. Tripp began running south toward Hoopa, with Lewis and Daniel in pursuit.
Tripp went over a bank, Dowd said, and the two teens followed him down. She could hear Tripp's screams.
"He was yelling for help. I just remember him screaming at the top of his lungs, yelling for help."
When Lewis and Daniel returned to the truck, Lewis announced "I cut his hand off," Dowd recalled. Lewis had blood on his hands, she said, and there was blood on the knife. She did not look at Daniel.
Lewis tossed the knife "way down the hill," Dowd said. The knife has not been found. Next, Dowd said, Lewis said "we had to finish him," and that he had a gun at his cousin's house in Hoopa.
"Why did you go to his cousin's house?" Timm asked.
"Because he wanted to finish (Tripp). Him and Daniel."
Daniel and Lewis spent a couple of minutes in the house on Shoemaker Road, then came out with Daniel carrying a large rifle. They drove back to the spot where Tripp had gone over the bank. Mabry was still driving. Asked if Lewis and Daniel said anything about their plans, Dowd said "just that they have to kill him because he saw their faces."
She could still hear Tripp, Dowd said. He was panting "pretty loud."
Then Lewis and Daniel went down the bank and she heard two gunshots. She later clarified that to "one or two."
When the teens returned, Lewis was carrying the gun and both he and Daniel were "shaking," Dowd said.
"Then somebody, I think it was Dale, said 'We need to make it look like it's an accident.' And that's when we pushed (Tripp's) truck over the bank."
She and her cousin were warned not to say anything about the incident, she said, and they drove back to Hoopa and dropped off the rifle.
"I was just panicking," Dowd said. "I just put my head down and was just praying to the Lord."
Despite her panic, Dowd and her cousin stayed in the truck when Lewis drove to Eureka and to "the dunes," where he got his truck stuck in the sand and had to have a relative come and pull the truck free.
"Bronson wanted to get a hotel room to hide out," Dowd said. They went to a motel in McKinleyville, but left because the smashed windshield and Lewis's scratched-up arms and legs were attracting too much attention. They then drove to Lewis's cousin's house in McKinleyville. While Lewis and Daniel were out of the truck, the girls used a cellphone map to figure out they were about six miles from their aunt and uncle's house. They got out and walked the six miles.
"At that point I didn't give a crap what they (Mabry, Lewis and Daniel) were doing," she said.
Timm asked whether she went to the police.
"No, I was scared. If he could do that to someone, what could he do to us?"
Under cross examination by defense attorney Russ Clanton this afternoon, Dowd acknowledged she had been drinking Crown Royal at the party, but she denied she was drunk or that other partiers had to help her walk.
Clanton has implied, through his questioning of witnesses, that Tripp was carrying a pistol and fired it.
"Did Jules Tripp have a pistol in his hand?" Clanton asked Dowd.
"No, he did not."
Two earlier witnesses also said Tripp had no gun.
Tripp's truck was found over the bank on July 24, but his remains weren't found until Aug. 18, after witnesses contacted law enforcement.
Sheriff's Detective Mark Peterson testified Wednesday the remains were scattered over an approximately 50-yard radius. Searchers discovered a skull, various bones and "a large chunk of skin." The skin, from the front of the torso, bore the tattoos "Tripp," and "Hostile Native."
Under cross-examination, Peterson said no shell casings were found in the area. Tripp allegedly was shot with an AR-15, which ejects casings when fired.
Lewis's truck was found near Orick, "completely burned," the detective said. At one point someone named Bronson Lewis stopped at the towing yard and inquired about the truck, but it's unknown whether that was Lewis or his father, who has the same name.
Daniel was never called as a witness, although he may have made a statement to law enforcement.
Tripp's remains were found at milepost marker 17.87, or 17.87 miles north of Willow Creek. His truck was found at milepost marker 18.10.