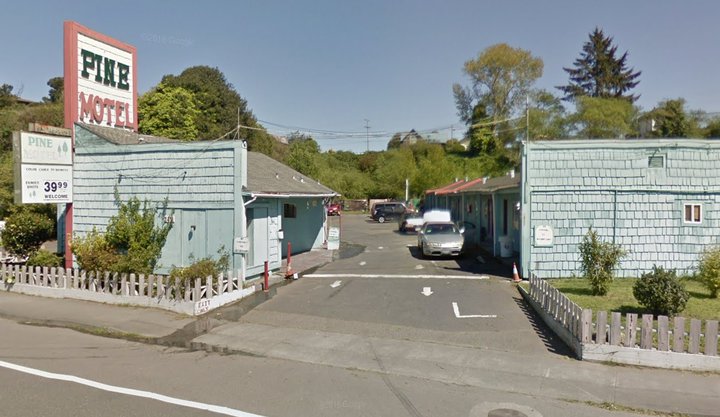 The City of Eureka is looking to convert the Pine Motel on Broadway into a transitional housing facility for homeless individuals who are at risk amid the COVID-19 pandemic and has applied for a $1.5 million state grant to fund the project.

Plans include the conversion of the motel into a 15-unit housing facility and with on-site services provided by Eureka's Uplift and CAPE programs and the Betty Kwan Chinn Foundation would manage the property.

Eureka Community Services Supervisor Jeff Davis told the Outpost that the housing would be available for the chronically homeless, the most vulnerable community members with the highest needs. People would live in the rooms temporarily, while staff worked to secure them with long-term housing.
Davis said this would be the first interim housing facility in the city that follows the "housing first" principles, meaning there would be no barriers — such as drug testing — between the housing and the people who need it. "There would be no hoops for them to jump through," Davis said.

Funding for the project would come by way of the California Department of Housing and Community Development's Homekey program — a $600 million fund to help local entities secure housing for homeless individuals impacted by COVID-19. The Homekey program is the state's latest phase of Project Roomkey, an emergency effort to secure hotel rooms as shelter for the homeless during the pandemic.

Davis said that staff looked at several different location possibilities for the housing and one of the reasons the Pine was chosen is because it does not contribute very much transient occupancy tax to the city. The motel is cheap and primarily occupied by long-term renters and the owner was also very open to selling the property to the city of Eureka and was supportive of the project, Davis said.

In addition to the purchase of the motel, the grant money would cover renovation costs and the relocation of the current occupants. Additionally, funding would go to covering two years of operation expenses, Davis said.

The Eureka Police Department's Community Safety Engagement Team (CSET) would be in charge of community outreach, identifying the homeless individuals who are in the most vulnerable and placing them in housing as quickly as possible. One of the requirements of the Homekey program, Davis said, is that at least 50 percent of the rooms must be occupied within 90 days of acquiring the property.

Davis said that the city should know by next month if its grant proposal was accepted, adding that he is optimistic that Eureka will receive the funding it needs to move forward with this very important project.

"The need is so great," Davis said. "Even before COVID we were having a housing crisis."