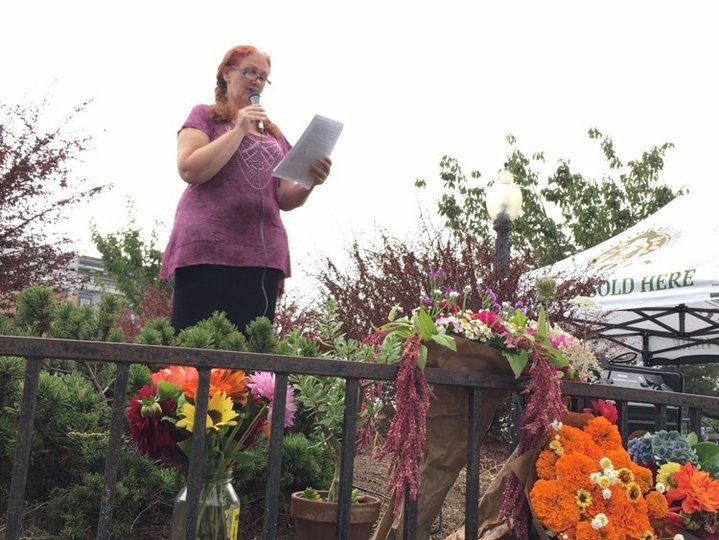 Beverley Steichen stood in front of a crowd in the center of the Arcata Plaza Saturday afternoon to share the tragic story of her son Aaron, who was fatally stabbed in her home early last week, and his brother Jacob, who was booked for the murder.

"My family is very private and we do not stand in the middle of public plazas and make ourselves seen. It's not our thing," Steichen began. "But when a tragedy happens like happened in our family, even in a beautiful town and community like this, the vultures begin to circle. And the vultures have circled on our family. And I am standing here today, on my 60th birthday, to tell you the stories of my sons."
Steichen then shared stories of her first-born son, Aaron's, life. As the oldest of four, Aaron was present at all of his sibling's births, Steichen said. He was a protective brother, a history buff, a social justice advocate and a talented artist. Aaron worked many odd jobs from a young age, his mother said, and eventually was able to live his dream by becoming a professional tattoo artist. "There are many pieces of Aaron's work in the crowd today," Steichen said.

Shaking, Steichen then spoke of Aaron's brother, Jacob, and his struggle with schizophrenia. The family had been concerned about Jacob for some time, Steichen said, and surrounded him with love and support. Jacob's situation had recently worsened and the family was working very hard to get him the help that he needed, reaching out to various agencies, including Humboldt County Mental Health Services and Arcata Police Department. But mental health care was "practically impossible to find," she said.
"Everyone we spoke to agreed that Jacob was gravely disabled and desperately needed swift mental health intervention," Steichen said, adding that these phone conversations with various local health care and law enforcement agencies began in July.

Eventually Jacob's mental health had deteriorated to the point where he locked himself in his room. He had paranoid delusions that those around him were a danger to him and he was frightened, Steichen said. By last Sunday night — the night of the stabbing — Jacob had been locked in his room, refusing to come out, for nearly five weeks, Steichen said.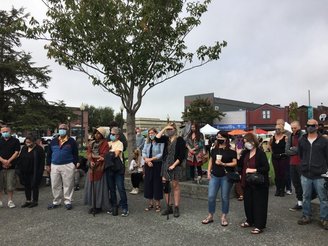 Jacob engaged in various disturbing behaviors while locked in his room. He screamed threats to his mother, lit fires, hammered on an electrical outlet causing the lights to go out, threw burning pieces of garbage out the window. Through multiple phone calls to the police and a few wellness checks, no public agency would bring Jacob out of the room, Steichen said.

Steichen urged the public to not judge her family, saying that local law enforcement had told her repeatedly not to force entry into the room. "We were told 'it is best to let it escalate," she said. "We asked the Arcata Police Department, the only agency available to us, if that was enough to get him out of his room and they said 'no.'"

On Thursday, September 17, Steichen said, authorities recognized that this was an emergency and she was told that a mental health team would come out next Wednesday to "get Jake the help he needs." The family was relieved, though concerned that they had to wait for almost another week.

On Sunday, all of Steichen's children came over to hang out and play board games, she said. Steichen left the house briefly and while she was gone, Jacob dashed from his room into the kitchen, "where he stabbed his brother in the heart with a knife."
According to the Arcata Police Department's press release Humboldt County Department of Health and Human Services (DHHS) Crisis Negotiators responded to assist and "after approximately one hour, the suspect surrendered without further incident."

Steichen said she is angry that this is what it took for local law enforcement and health care agencies to finally take the situation seriously, adding that if they had responded with this kind of concern earlier, "my first born son would be alive and my son Jake would be getting the help he needed instead of being a felon, who just murdered his brother."

In sharing this story, Steichen added, it is her hope that serious changes will be implemented to the current system for responding to a mental health care crisis.

"This is my 60th birthday and what I want for my birthday is change to our healthcare system" Steichen said. "What I want for my birthday is to change our mental health care system. What I want for my birthday is no mother ever, anywhere to ever feel the way that I am going to feel every day for the rest of my life."