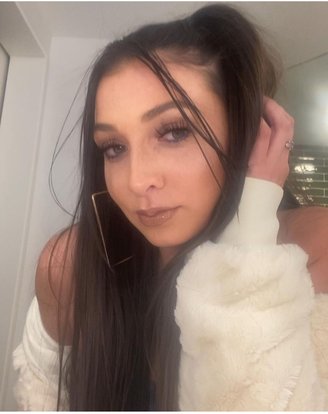 And if you ceased to exist? Oh, the Universe would notice. The mess that would make. The hearts that would break."

Larissa Ann Qualls was born on April 5, 1995 at Redwood Memorial Hospital to her parents Alicia Johnston and Jeremy Qualls. Larissa passed away unexpectedly on Sunday, March 21, 2021, in Los Angeles, California. To say our hearts are shattered does not begin to describe the loss. Larissa was incredibly beautiful, free-spirted, sassy, strong, giving, and loyal to a fault. She was so full of life and is gone way to soon from our lives.
Larissa graduated from Eureka High School in 2013 and moved to Sacramento for six months, where she attended Paul Mitchell Beauty School. She then decided beauty school was not what she wanted to do and followed her life-long dream of moving to Los Angeles. Larissa attended West LA Community College where she was just a couple credits shy of getting her AA degree in Business Administration. Larissa was a talented athlete who loved to play sports, including softball and basketball. She played on recreational and school teams growing up and won free throw shooting contests in Hoopsters. As an adult, her love for basketball continued and you could often find her shooting hoops by herself or with friends during her free time. Larissa was a cheerleader, loved the beach, enjoyed going to the river and loved attending Giants baseball games with her mom and family. Her unwavering passion and love for the San Francisco Giants and San Francisco 49ers, is something she shared with her mother Alicia. Larissa and Jaxon loved to video chat, spending endless hours laughing and playing with different filters. At the end of every call, they would race to say, "I love you too da moon and back, talk to you later, Bye". She was a sweet, kind, loving girl, a true loyal friend, and a bright light. She was so very smart and excelled in school, competing in spelling bees and math competitions. Larissa was regularly found at the beach or lounging by the pool, working on her tan, blunt in hand, enjoying the good life.
Larissa is survived by her best friend and mother Alicia Johnston and her spouse Jeremy, the absolute loves of her life, baby brothers Jaxon (bubbas) and Zayden (papas); her father Jeremy Qualls; her grandma Martha Stephan and her boyfriend Robert; her grandpa Leonard Stephan and his wife Kathy; her grandpa Terry Qualls, her aunt Tonya Martin, Uncle Ira, cousins Austin, Preston and Mira; aunt Tammy Qualls and cousins Vanessa, Jocelyn and Trevor; her aunt Tara Qualls and her spouse Michael, cousins Ani, Jaxon, Addyson and Trace; uncle Tracy Qualls, cousin Torryn; uncle Shawn Shelton, uncle Ben Rodriguez and cousins Alyssa and Michael; Uncle Joe Rodriguez and cousins Joselyn and Jasmine; uncle Richard Steele his spouse Shauna, cousins Sophia and Linkoln, and many more family members that are so loved but too numerous to mention. She also had a wonderful group of best friends including Mallory, Jenny, Hailey, Paige, Carissa and Emma. Over the years, even as they became adults, this group of friends always managed to stay in touch with each other by a text or phone call and be there for one another, despite physical distance.
Larissa was predeceased by her loving great grandparents Raenelle Fowler and Richard Bones (Pops), great aunt Kay Sanchez, great aunt Cindy Gilbertson, grandma Marion Qualls, great grandparents Arvil and Mayne Qualls.
A graveside service will be held Wednesday, April 7, 2021, at 2 p.m. at Cremation Garden at Oceanview Cemetery. There will be a celebration of life held for Larissa in the summer, with more details to come later.
We want to thank everyone who has come together to donate or support the family in anyway during this difficult time to make it more manageable.
"I love you too da moon and back! Rest in peace and love my perfect baby girl." ~ Mommy
###
The obituary above was submitted on behalf of Larissa Qualls' loved ones. The Lost Coast Outpost runs obituaries of Humboldt County residents at no charge. See guidelines here.