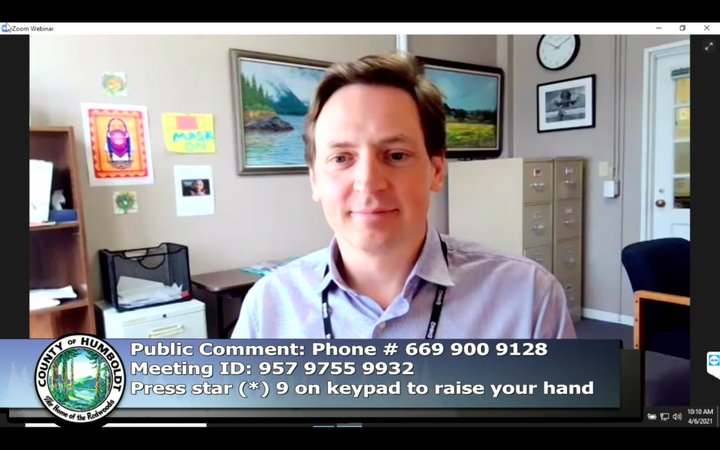 ###
We're not out of the COVID woods yet, but state and local numbers for new infections and vaccinations are good enough to move Humboldt County from the red tier to the orange tier, further loosening public health restrictions and allowing more activities to resume, Public Health Officer Dr. Ian Hoffman announced Tuesday morning during a meeting of the Humboldt County Board of Supervisors.
Just two weeks after the state lowered our status from the most restrictive purple level to the second-strictest, red, we're being allowed to open our doors a bit wider thanks in large part to progress made across California in vaccinating people who live in the most vulnerable areas.
In early March, Governor Gavin Newsom announced a statewide equity initiative, devoting more resources to reach people living in zip codes that score lowest on a range of health metrics, including income level, education level, access to health care, distance from amenities and more. These measurements are captured in a ranking system called the Healthy Places Index (HPI).
Just this morning, Hoffman said, the state announced that it has reached its goal of vaccinating 4 million residents living in zip codes that score in the lowest quartile of the HPI. As he explained two weeks ago, reaching that goal means the state will move the goalposts for each tier in the Blueprint for a Safer Economy system.
Humboldt County's daily case rate dropped last week from 4.5 per 100,000 residents to 3.5 per 100,000, Hoffman said. The cutoff for reaching the orange tier had been 4 per 100,000, and we'd need to accumulate at least two weeks below that to reach orange. But with the success in the equity initiative, the cutoff now moves to 6 cases per 100,000, a mark we have achieved.
As of this writing, the state's website still lists Humboldt in the red tier, indicating "substantial" risk, but Hoffman said he expects an announcement later today placing us in the orange "moderate" risk tier.
What does that mean? Well, starting Wednesday, bowling alleys and family recreation centers can finally reopen, at 25 percent capacity. Indoor retail can operate with no capacity limits. Restaurants can allow indoor dining at 50 percent capacity, up from 25 percent in the red tier. More details on what's allowed in the orange tier can be found on the state's COVID website.
The California Department of Public Health recently issued updated guidance on outdoor events, including youth and adult sports, graduations, rodeos and racetracks. Indoor venues will be allowed to reopen with limitations starting April 15.
That means Humboldt Crabs games are a go. Under the current guidelines, a Crabs game with no restrictions on attendees' vaccination status or testing results could have a crowd of 33 percent capacity. If the game were only open to people who've been fully vaccinated or who recently tested negative, the crowd could be up to 67 percent capacity, Hoffman said.
Summer may not look entirely normal, given that we're still being encouraged to wear masks and maintain social distancing, "but it's a far cry from the last 13 months," Hoffman said.
The key to getting all the way back to normal is continued focus on the vaccination effort, Hoffman said. More than 36,000 county residents have received at least one dose of vaccine. That amounts to about 38 percent of the eligible population age 16 and up. Vaccine supply has been inconsistent and erratic, Hoffman said, but production could double by early May.
The county announced Monday that it has transitioned to the state's "MyTurn" platform for vaccine sign-ups. Meanwhile, businesses including Costco, Walgreens and CVS pharmacies are offering COVID vaccines through a separate, federal supply, and Safeway is offering vaccine appointments through Blue Shield.
Hoffman noted that people are still being admitted into local hospital intensive care units almost daily, and we still have a ways to go with vaccinations.
"So do your part," he said. "Get your vaccines." He encouraged business owners to grant time off for employees to get their vaccines and said everyone should encourage friends and family members to get theirs.