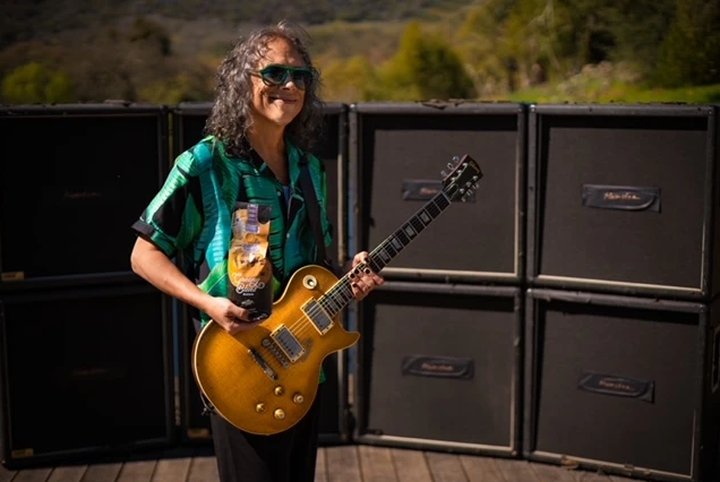 ###
Coffee — arguably the most metal of morning beverages, due to its dark color and invigorating effects — has just become even more metal, at least locally. McKinleyville-based Muddy Waters Coffee Company recently released a new blend at the request of the legendary lead guitarist of Metallica, Kirk Hammett!

Hammett is apparently a big fan of the local roasters and had a member of his team reach out to Muddy Waters late last year to see if the company would be interested in doing a coffee collaboration.
"They emailed me and said 'Kirk loves your coffee,'" Chris Nichols, owner/operator of Muddy Waters told the Outpost this afternoon. "I said 'yeah, let's make this happen! How could this be bad for me?'"

The blend, which was released last week, is called "Greeny Blues" and is inspired by Hammett's iconic guitar, Greeny — a 1959 Les Paul that was made famous by Fleetwood Mac guitarist Peter Green. When Nichols was asked to create a blend for Hammett and his famous axe, he started experimenting with different combinations of dark roasts (Hammett's favorite, of course) and mailing them for Hammett and his team to sample. The end result is a full-bodied dark roast, a combination of Indonesian and African beans.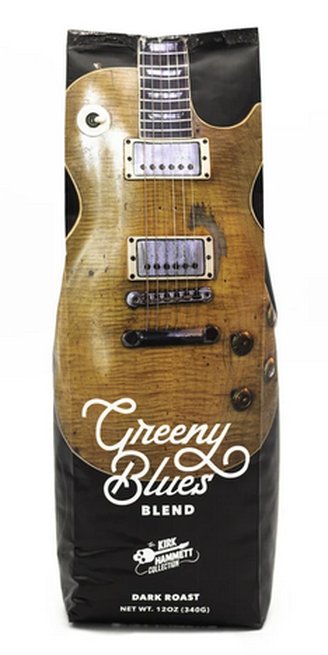 Currently the "Greeny Blues" blend is only available online and it ain't cheap — $20 for a 12-ounce bag — but that hasn't stopped fans from flocking to the stuff and Nichols says he has shipped bags of the Hammett-endorsed coffee to countries all over the world. "I scared the Arcata post office by dropping off about 700 orders this morning," he said.

Nichols added that he and Hammett's team are working out the details for expanding the release — designing a package that will work better on grocery store shelves and possibly coming up with a lower price-point — and that folks should look out for the "Greeny Blues" blend in stores in the next three to six months. Hammett has also already expressed interest in doing another release with Muddy Waters, Nichols said, which he is very excited about.

How exactly Hammett became such a fan of Muddy Waters' roasts, Nichols is not entirely sure, but he knows that this isn't the first time the multi-millionaire rock star has done a coffee collaboration. The guy just really loves his coffee.

"People love coffee," Nichols said. "Don't underestimate how crazy people will go for it."