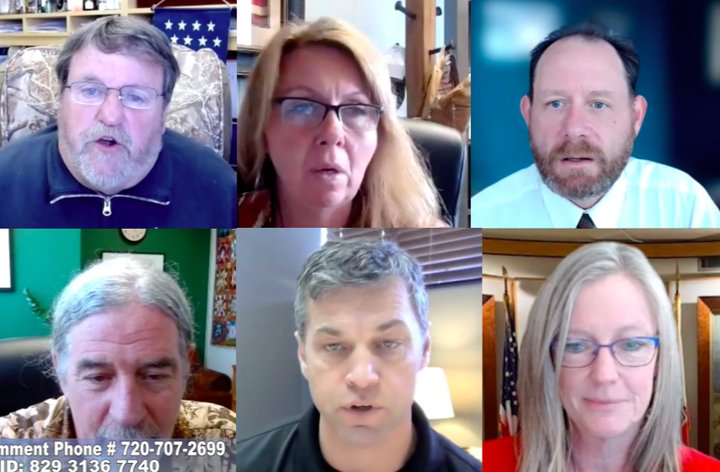 ###
Tuesday's Board of Supervisors meeting had a relatively thin agenda, and Kent Sawatzky, the county's most insatiable public commenter, was absent, which combined to make for one of the shortest meetings of the year.
After summarily dispatching with the consent calendar via unanimous approval, the board moved quickly down the agenda, starting with Third District Supervisor Mike Wilson bringing forth a draft letter to the California Citizens Redistricting Commission.
Wilson spoke briefly about the importance of redistricting — that decennial chore of redrawing local, state and (some) national political boundaries to reflect the latest Census numbers — and he encouraged locals to participate in that process.
More specifically, Wilson's draft letter advocates for maintaining the rough shapes of the North Coast's existing Senate, Assembly and Congressional districts, all of which include Del Norte, Humboldt, Trinity and Mendocino counties along with some of Sonoma County while the latter two also include Marin County.
"Our area shares a similar economic base that unites our region," the letter says. "Working lands are important to our economy, with timber, ranching, dairy, cannabis, and wine as large parts of our economy. Particularly on cannabis, Humboldt shares a cultural legacy together with Mendocino and Trinity Counties as part of the 'Emerald Triangle' and together our three counties are trying to adjust and adapt to new cannabis regulations."
First District Supervisor Rex Bohn questioned whether representatives of the other counties in this union have been asked whether they, too, would like to remain together. He noted that Trinity County is right next to Shasta and said its residents resent being thought of as a mini-Humboldt.
Wilson said the letter is only intended to speak for Humboldt, and the other counties can speak for themselves.
Bohn suggested reaching out to the other counties and submitting a joint letter or unified statement.
After some discussion and public comment, the board settled on adding one sentence to the letter stating, "We look forward to discussing this issue with our neighboring counties." With that addition, the letter was approved unanimously.
###
Later in the meeting, the board unanimously approved a new Water Quality Improvement Grant Program. The goal of the program, as the name suggests, is to improve water quality — specifically in watersheds that have been negatively impacted by cannabis activities.
The formation of this program was part of a settlement agreement between the county and local environmental group Friends of the Eel River (FOER), which in 2018 filed a lawsuit against the Board of Supervisors for making changes to the Cannabis Cultivation Land Use Ordinance that failed to adequately protect native fish and waterways.
Here, in brief, is how the program will work: Applicants, including road maintenance associations and licensed cannabis professionals, can apply for money from the county's new "Mitigation and Remediation Fund" to finance sediment reduction projects on roads serving cannabis grow sites.
Funds up for grabs in the program's first year include $1.1 million from the county's general fund. Moving forward, funding will come from a percentage of fines and penalties the county collects via cannabis civil enforcement actions, with more money potentially coming from grants or other sources to be determined.
The county's staff report notes, "[G]rants will be awarded for improvements to public and private roads for the specific purpose of protecting water quality in streams, creeks, and rivers. At least eighty percent (80%) of funds will be used for physical road improvements."
In a press release issued today, Friends of the Eel River Executive Director Alicia Hamann said, "We absolutely want to encourage cannabis cultivators to take advantage of this program. Everything we do to help keep dirt out of the creeks and water in the streams helps protect our salmon and steelhead from the terrible crisis they are facing."
During his staff report, Michael Richardson, a supervising planner with the county, said priority will be given to projects aimed at improving water quality is Redwood Creek and Sprowl Creek. Other priority waters are located in the Van Duzen, South Fork Eel and Mattole watersheds.
Applications will be due by October 31 each year through 2024 and considered at public hearings. As FOER's press release notes, Richardson is the primary contact for this program. He can be reached at mrichardson@co.humboldt.ca.us or (707) 268-3723.
###
Humboldt County Sheriff William Honsal made an appearance at the meeting to present the most recent data for his office's interactions with U.S. Immigration and Customs Enforcement (ICE), as mandated by the Humboldt County Sanctuary Ordinance, a voter-approved measure that took effect in December 2018.
According to the report, the county received a total of 16 administrative retainer requests from ICE from June 2020 through May 2021, only two of which had qualifying offenses, and 13 were released prior to receiving the requests. No one was turned over to ICE, the report states.
According to Honsal, even prior to implementation of the sanctuary ordinance the county didn't hold anyone at the request of the federal agency, "so the ICE detainers actually mean nothing to us," he said.
###
The meeting ended on a poignant note as Board Chair Virginia Bass adjourned it in memory of her mom, Shirley Bass, who died last week.
Bass was clearly emotional as she read some prepared remarks about her mom's life, noting that she moved to Eureka at age 18 and worked for Lloyd Bridges, Sr., before meeting her future husband, "who just happened to own a restaurant."
As any Eureka old-timer can tell you, her dad owned and operated O-H's Townhouse, a beloved local steak joint that closed in 2008.
"While his name was on the marquee," Bass said today, her voice cracking, "truth be told, she was the glue that held it together. … She was smart, strong, shrewd and she was stubborn — traits I'm pretty certain she handed down to her children."