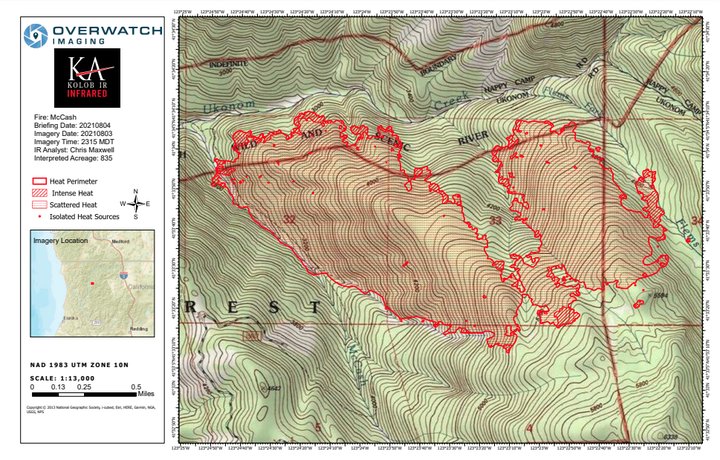 U.S. Forest Service press release:

The McCash Fire on the Orleans Ranger District has burned 835 acres as of early Wednesday morning as shown by an Infrared (IR) flight overnight. It is burning near Ten Bear Mountain and McCash Creek, west of the Marble Mountain Wilderness in Siskiyou County.

The fire, which started on Saturday evening, is burning in timber understory, brush and grass. It is currently 1% contained.

Lightning caused this fire In addition to providing more accurate acreage, the IR flight provided the forest with topographic and orthographic maps which show a more accurate footprint of the fire as well as flanks of the fire producing the most heat. In the IR photos from the flight, the most activity shows on the southeastern edge of the fire.

There is potential for smoke impact to the areas around Ti Bar, Somes Bar, and Orleans from the fire. No towns are near the fire, though Somes Bar is the nearest town located on Highway 96.

Smoke impacts are likely partially due to this fire, but the bulk of the smoke is from the other fires burning within the Klamath and Salmon River watersheds. According to the National Weather Service, there is a possibility of smoke from area fires drifting north and northwest tomorrow across Trinity, inland Humboldt, and Del Norte counties early tomorrow with winds tending to be steered steadily more eastward from the fires through the late week. People with smoke sensitivity and health issues should stay indoors during these smoky periods.

Firefighter and public safety remain paramount in the fire suppression effort. To date, there have been no reportable injuries. The forest's firefighting strategy is to implement full suppression tactics of confine and contain. Personnel assigned to the fire is 145 as of this morning. A quick overview of the types of resources assigned to the fire include a group of smokejumpers, hotshots, hand crews, helicopters, engines, dozers, fixed-wing air attack, a wildland suppression module, and overhead personnel.

There are many values at risk that are currently threatened by the McCash Fire including many cultural and archaeological sites, McCash Creek Geological Area, Ukonom Lookout, several homes and structures within the Ti Bar area, Marble Mountain Wilderness and trails. Indirect threats include, aquatic fisheries and cold water refugia for salmon as well as bald eagle habitat and highly valued public timber and other forest resources also exists.

Traffic may be heavier than usual along Highway 96 before or after Somes Bar due to emergency vehicles traveling to the fire area. Please slow down, watch for any fire signage, and personnel directing traffic.