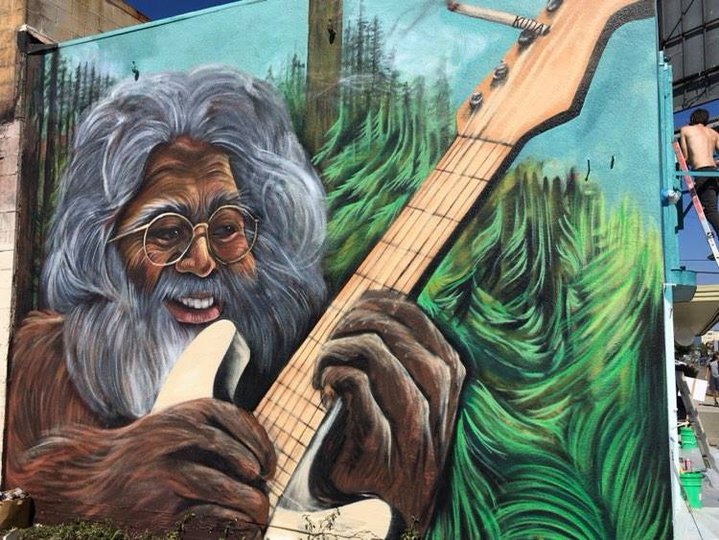 Many artists were painting and sweating in the Eureka sunshine Saturday afternoon, the official first day of the fourth annual Eureka Street Art Festival. And while the section of town around Highway 101 (Fourth and Fifth streets) between A and I was mostly filled with unfinished murals, one new piece — on the corner of Fourth and A, next to Dick Taylor Chocolates — is already complete and attracting a bit of attention.

The mural — painted by Arcata artist Julia Morgan — depicts a large creature that is quite clearly a cross between Jerry Garcia and Bigfoot, smiling and playing the guitar in the redwood forest.
"I have to give complete credit of the idea to my fiancé, Grayson," Morgan told the Outpost, while standing next to her piece. Initially, Morgan said, she wanted to paint her fiancé as Bigfoot, but it just didn't look right. "So we decided to go with someone more universally beloved. And he's a mythical character — both the Jerry and the Bigfoot. It kind of plays to people who are super Deadheads…who believe that Jerry never died and he's just in the woods, playing guitar."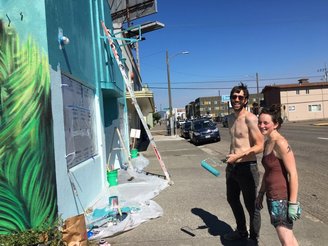 To be clear, the Bigfoot Jerry mural is not actually a part of the Eureka Street Art Festival and was not approved by the festival or the City of Eureka. Morgan designed and is painting another mural — her official contribution to the festival — on the Fourth Street facing side of the building. With permission from the business owners (the building houses a soon-to-open cannabis distribution company named Kuda) Morgan painted the finished mural over the last few days. Morgan said she has always been bothered by that blank wall and was happy to get the chance to paint something there.
Like so many pieces of public art in our community, Morgan's mural has already sparked a bit of controversy. On Friday, a photo of the mural was shared on the "Humboldt County, California in pictures, old and new" Facebook page, and comments — both positive and negative — began rolling in almost immediately.
"Why did she make Jerry Garcia look like a Bigfoot? I don't like it," one person commented.
"She is honoring Bigfoot. I like it," another commenter responded.
One commenter even gave the mural a clever name — "Hairy Garcia" — which Morgan said she absolutely loved and could not believe she hadn't thought of herself. Morgan has now decided that is officially what she's calling her creation, she said.

Of course the truly devoted Deadheads could not resist pointing out the inaccuracies in Morgan's depiction of Garcia. "Awesome but he needs that middle finger nub to be more authentic," wrote one commenter.
Morgan said that a few people have commented on how the mural fails to capture that Garcia was missing his right middle finger. Morgan admits that she was a little rushed and overlooked that detail. Of course, Morgan also mentioned, that is not really Jerry Garcia, but a combination of Garcia and Bigfoot. She added that she does appreciate the fans sharing their knowledge.
"There's definitely been a lot of uproar about his middle finger not being short enough," Morgan said. "And I'm like, 'I respect that.'"