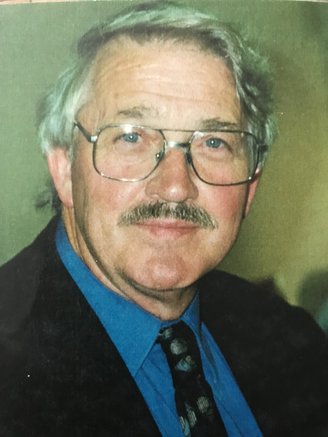 George Patterson Miller passed away in his home on Saturday, November 27 at 10:20 a.m. At his side were his wife, Sharon, and a couple of family members who were singing favorite hymns and reading the bible out loud. It was one day before he and Sharon's 67th anniversary.

George was born on the Victorian house on 'L' street in Fortuna. He grew up as the youngest of seven on the family ranch in Holmes, where he thrived in a free-roaming and hard-working atmosphere. He prided himself on his aim with the slingshot and his ability to get vehicles unstuck from the river bar. He thought he would like to become a veterinarian.
George graduated from Fortuna High in 1954. While himself a student there, George had the responsibility of driving the school bus, delivering the students on the southern route. In those days the buses were equipped with governors on them to control their speed. After dropping off the last student, George was known to intentionally break the governor by over-revving the motor while on a down-hill run, thus enabling him to drive the speed he wanted to – at least until the problem was noted and was repaired.
George had a good friend who had been invited to a birthday party but alas he had no way of getting to it. He invited George to the party because he had a car. Even though George didn't know the birthday girl, he bought a gift for her that he thought was useful. The young lady's name was Sharon Caples and her boyfriend was pretty proud of the personal gift he had gotten for her – a pillowcase. Cheeks were glowing red when George's gift was opened – a pair of underwear!
After graduating, George was working at the mill up Bull Creek when he noticed a very industrious young lady painstakingly washing the windows of her parents' home – everyday, the same time he was off work. It was the girl from the party. They decided to marry but there were two problems. Sharon was just entering her senior year at South Fork High. George had to promise her father that she would finish high school. Secondly, George was too young to get a marriage license so they had to take his father with them to apply. The two were married on November 28, 1954.
Soon after their marriage, along with a group of several young men, George lined up at the recruiting station to serve his country. To his disgust, before his name was called, the office closed for lunch, telling the young men who were left to "come back later." George never did.
March 24, 1956, their first child — Sandra — was born in the Scotia Hospital. Second child Stephen followed on April 19, 1958. He holds the title of being the last baby born in the Scotia Hospital. On August 25, 1961, their final baby was born – Christopher, in Redwood Memorial.
After trying his hand at a few jobs, George settled on being a faller of "the big trees" for gyppo loggers. He continued in this career for 28 years. On several occasions through these years, during the summer months, the family could be found camping near where George was working.
George and Sharon joined the Fortuna Seventh-Day Adventist around 1958. They have been faithful members since. The family was fully involved the church's Pathfinder Club for young people.
George, with his many abilities, became the head deacon of the church. The purpose of this job is to keep up the facility and to be helpful to members with specific needs.
In the early 60s, the family settled on Bellview Avenue in Rio Dell. They stayed here for about 10 years before settling permanently on three acres in Fortuna. It was here that George thoroughly enjoyed having room to raise a few cows, sheep and bees. He planted numerous fruit trees and every year grew a big garden.
To keep his small family cared for and in private Christian school, and because he was a jack of all trades and a work-a-holic, George took on many extra jobs which included but weren't limited to making 'split stuff' on the beaches, doing any type of home repairs for people, auto mechanics, rental manager, straightening pond bars and guard rails, to name a few. George had his own shops in which any number of projects could be found. Later in life, because his keen eye detected maintenance and improvement needs in the facility of the Fortuna Adventist Community Service Center, he was offered the maintenance job, which he filled for many years.
It was around 1980 that George did a 360-degree career change. He started working for a local dentist manufacturing dental implants and dental tools. His perfectionism and ingenuity shone in this profession, in which he continued for over 30 years. George was frequently called back to falling for friends and acquaintances and this he enjoyed greatly.
George is survived by his wife Sharon J. Miller, his children Sandra D. (and Mike) Riley, Stephen A. (and Tammi) Miller, and Christopher L. (and Deborah) Miller. And by his brother Gerald (and Glenda) Miller, six grandchildren and too many great grandchildren, nieces, and nephews to list.
A memorial will be held on Saturday, January 8, 2022 at 3:30 p.m. at the Fortuna Seventh-Day Adventist Church in Fortuna.
In lieu of flowers, please consider a donation to the Fortuna Volunteer Fire Department, 320 S. Fortuna Blvd. because their lift assist team was called to the house on many occasions, or to the wonderful people at hospice with whom we were just getting acquainted.
###
The obituary above was submitted on behalf of George Miller's loved ones. The Lost Coast Outpost runs obituaries of Humboldt County residents at no charge. See guidelines here.