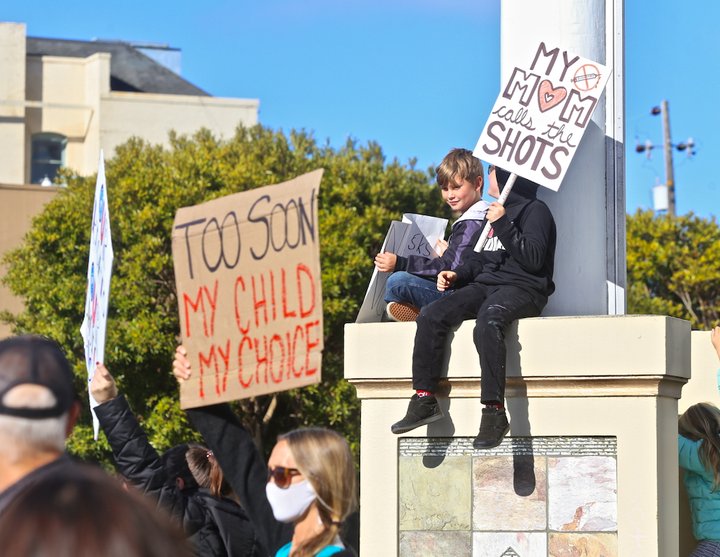 ###
Though California's impending COVID-19 vaccine requirement for all in-person students comes as a relief to many parents, it's no secret that others are appalled with the mandate. Humboldt has its fair share of such folks.

Three local parents are building their own "Learning Center," called Novae Terrae Alliance, for the children of parents who oppose current mask mandates and impending vaccine mandates for California students. A since-deleted Nov. 20 public Facebook post by parent Sara Autumn-Breeze Smith detailed plans for the center.

"Novae Terrae Alliance is a Private Member Association, where all of our members constitutional & birth rights are put first. Medical Freedom and Sovereignty are a priority at Novae Terrae!" the post read.

According to the post and subsequent comments, Novae Terrae's founders recently signed a lease and received keys to the center's location, a former church in Eureka. They've hired two credentialed teachers and plan to start offering a mandate-free "K-5th grade education program" Monday-Thursday in January. "Planning recreational classes for Friday Fundays and Parent Night Out events on weekends/evenings!" the post said.

According to a GoFundMe page for the center, launched this week with a goal of $50,000, the space will accommodate 30 children. Comments from the original Facebook post said that the founders are considering expanding the grade range to preschool through 12th grade, and intend to open more Novae Terrae Alliance locations around Humboldt County.

In October, California became the first state to announce that the COVID-19 vaccine will be added to the list of required shots for all students attending public or private schools in-person. The mandate will likely take effect on July 1, 2022, depending on how soon a vaccine is fully approved by the Food and Drug Administration; right now, the Pfizer vaccine is under emergency use authorization for people aged 5 to 15. Once in effect, regular testing will no longer be an alternative option to vaccination in schools.

Novae Terrae Alliance cannot legally be a school — in part because even private schools are subject to the state's vaccine mandate. Instead, the center is a private membership association, faith-based organization and a nonprofit, its founders say. The organization is not currently registered in California as a 501(c)(3) (but getting nonprofit status can take a while).

Because the center is not technically a school, it is unclear how enrollment will legally work. All students in California must be enrolled in public or private school, or be homeschooled.

We reached out to Smith to ask that question and others, like whether the center will have a COVID-19 outbreak protocol. Smith declined an interview, but did say: "Novae Terrae Alliance is a Private Membership Association & our private business is for the purpose of conducting all manners of private business with the association or its members & not disclosed to the general public. Anyone who is interested can contact us directly @ Novae.Terrae.Alliance@gmail.com."

Alexandria Madrid, who, with Smith, is an admin of a Novae Terrae Alliance Facebook Group, didn't respond to an interview request.

Humboldt County Superintendent of Schools Michael Davies-Hughes hadn't yet heard of the center when the Outpost reached out.

"I can't speak to the specifics of how such a learning center would be set up, but I can say that any indoor classroom-type setting where students are in close contact for extended periods of time unmasked is not in alignment with current mandates from CDPH and Humboldt County Public Health," Davies-Hughes said. "One of our primary responsibilities as a county office of education is to support Humboldt County school districts in providing a safe and healthy learning environment for all students."

"I wonder if this new learning center will require students to be tested regularly for COVID-19."
Public Health continues to urge vaccination for all eligible age groups, and maintains that the vaccine is the best protection against a serious case of COVID-19. The Centers for Disease Control and Prevention continues to recommend that unvaccinated folks older than 2 mask in public or crowded indoor spaces.