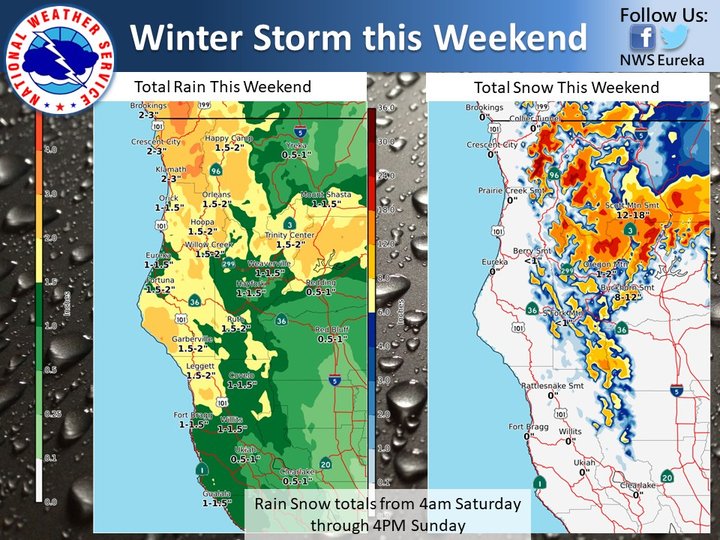 Rain, wind and snow are in the weekend forecast.

Eureka's National Weather Service predicts that rain will fall across the county throughout the day on Saturday, with the heaviest rainfall occurring on Saturday night and Sunday.
"A period of moderate to heavy rain and mountain snow are forecast for this weekend," the NWS said. "Additional rain, wind, and snow are expected early next week."


Most of Humboldt County is expected to receive 1 to 2 inches of rain between Saturday and Sunday. Lower mountain passes like Berry Summit are expected to see less than an inch of snow. Higher elevation areas in trinity County like Buckhorn and Scott Mountain Summits could see between 8 and 18 inches of powder.
"The potential for heavy rain will increase this weekend for the remainder of the area," the NWS said. "The rain will generally be beneficial, however brief heavy rain will reduce driving visibility and traction. Make your travel plans this weekend accordingly."
Winds are also expected to increase through the day on Saturday. Eureka is forecast to see winds as strong as 35 mph. Gusts up to 49 mph will be possible around Prairie Creek Redwoods State Park and Crescent City.