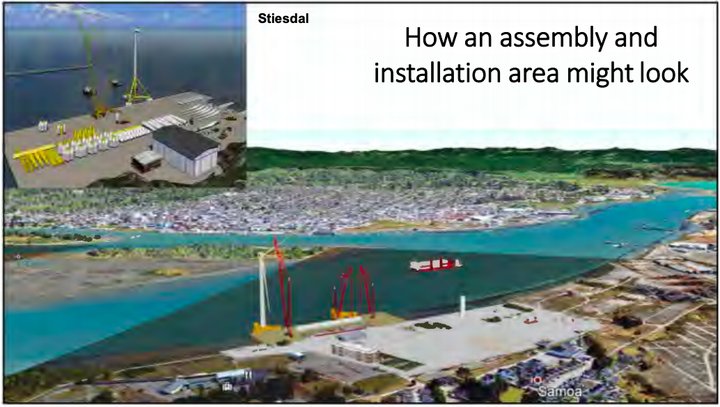 ###
The Port of Humboldt Bay, once a bustling shipping hub for the region's timber industry, may soon get a wholesale overhaul, complete with modern port facilities designed to support a major offshore wind energy project.
Granted, that project doesn't exist yet. While the Redwood Coast Energy Authority (RCEA) is pursuing a commercial offshore wind lease from the federal government, details for such a major development have yet to be proposed, much less approved.
But on Thursday evening, the Board of Commissioners for the Humboldt Bay Harbor, Recreation and Conservation District will consider hiring local engineering firm LACO Associates to develop a conceptual master plan for a completely reimagined port — one with a modern, seven-acre dock capable of handling large cargo vessels and assembling offshore wind platforms, turbines and blades.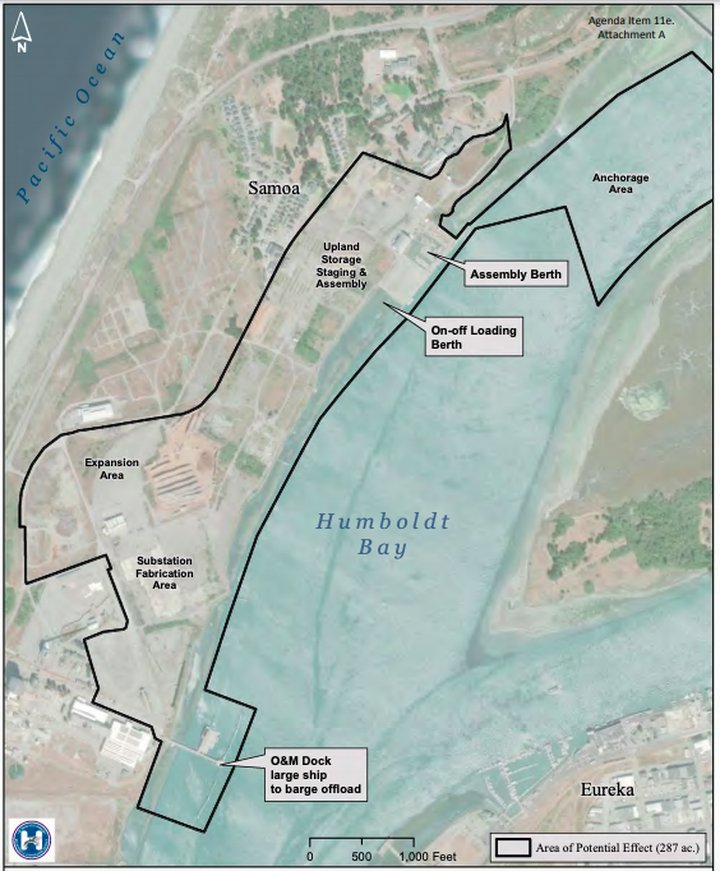 The air blowing off the North Coast is considered one of the best wind resources in the world, and the federal Bureau of Ocean Energy Management (BOEM) has established a 207-square-mile "Call Area" for potential wind energy projects. An upcoming commercial lease auction will determine which bidder(s) can develop what could be the first floating wind farm in the United States. Industry professionals say Humboldt Bay could become the West Coast hub for research and development in the emerging offshore wind industry.
The Harbor District is aiming to be prepared for such an opportunity. According to a staff report, the agency recently received a $65,000 grant from the Headwaters Fund to prepare the port for exactly that prospect. The Harbor District has committed $30,000 in matching funds for the effort. On Thursday, the commissioners will be asked to authorize a contract with LACO Associates for up to $37,500, plus a 15 percent contingency fund of $5,625.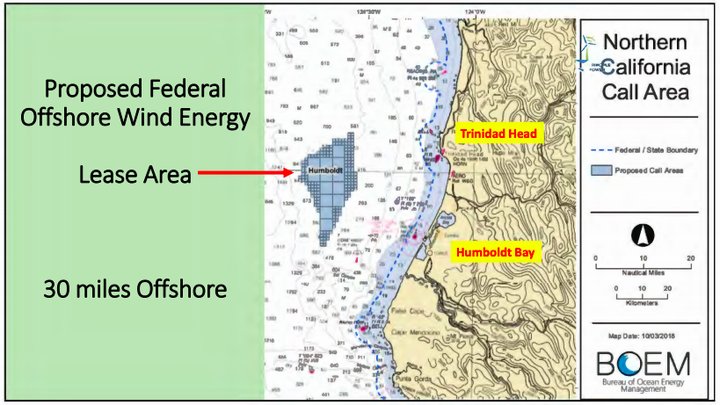 Harbor District staff says Humboldt Bay is "ideally positioned" to host a turbine assembly facility and serve as a deployment port to the proposed BOEM lease areas.
"Coastal Humboldt County has world-class offshore wind resources and the Samoa Peninsula has under-utilized Coastal Dependent Industrial (CDI) lands that are perfectly situated to support the operations necessary to assemble, deploy, repair and maintain wind energy turbines," the staff report states.
If constructed, the new port facilities would replace the existing Redwood Marine Terminal I — an 1,800 foot-long dock whose wood pilings are eroding — with a reconfigured, seven-acre, cement-pilings dock capable of handling up to three large, heavy cargo vessels at a time.
If LACO Associates gets the contract, they will also conduct a "site opportunity and constraints analysis," exploring everything from tribal cultural resources and greenhouse gas emissions to geology, noise, aesthetics and hazardous materials.
Port redevelopment would include adaptations for sea level rise. Specifically, district staff says approximately one mile of coastal-dependent industrial shoreline will need to be elevated, and design features could be included to incorporate a "living shoreline" that would soften the current hard barriers. The district also aims to protect the bay's eel grass while ensuring that the port is compatible with maritime shipping, coastal dependent heavy industries and aquaculture operations such as Nordic Aquafarms' proposed land-based fish farm.
Of course, the offshore wind energy prospects are still far from reality. Any such developments would be subject to extensive public review. In community meetings held over the past couple of years, plenty of locals have expressed concerns about potential impacts to the environment and the region's fishing industry.
Reached Monday, Jennifer Kalt, the executive director of local environmental nonprofit Humboldt Baykeeper, said the Harbor District appears to be looking a ways into the future.
"I would say that this plan will be years in the making," she told the Outpost. "Early and frequent consultation with various stakeholders, including tribes, commercial fishermen and environmental groups, will be critical for such a major project to succeed."

Jennifer Savage, California policy director for the nonprofit Surfrider Foundation, noted that the district's plans depend on unapproved projects as the anchor industry, and they call for further industrialization atop coastal dunes and wetlands that protect against sea level rise.
"We hope that in the pursuit of renewable energy to replace our dependence on fossil fuels, the Harbor, Recreation and Conservation District ensures its own plans are sustainable and supportive of the critical coastal habitat, recreational opportunities and existing economic resources in and along Humboldt Bay," she said in an emailed statement.
Is the Harbor District counting its eggs before they hatch? The Outpost on Monday left a voicemail for Harbor District Executive Director Larry Oetker, seeking more information about the timeline and the possibility that offshore wind energy projects could fall subject to the same fate as Terra-Gen's rejected wind energy project. The voicemail was not returned by the time this post was published.
The regular session of the Harbor District meeting will be held via Zoom (link here) and is scheduled to begin Thursday at 6 p.m.
###
UPDATE, 5:12 p.m.: Oetker reached us shortly after this post went up. He said that, as part of the district's role in developing the port for maritime commerce, master planning efforts such as this one aim to take advantage of the area between the Samoa Cookhouse and the former pulp mill property, which is all zoned coastal-dependent industrial (CDI) and owned by the Harbor District, the Town of Samoa Co. and the Snyder family.
While the main focus of this conceptual master plan is the potential offshore wind project, Oetker said such planning will not go to waste. "If offshore wind doesn't happen, we'll look for the next compatible user," he said.
Shipping companies all want modern docks and "a big, flat area where they can load or unload things," Oetker said, "It doesn't matter if it's wind energy or we're shipping solar panels. … We're really looking at this far into the future, looking at developing the facilities that will be with us for the next 100 years."
He also said that there will be ample opportunity for public input. If the board approves the contract with LACO Associates, the Harbor District will likely have conceptual designs by May or June, at which point they can be circulated to the public for review.
We want to get something on paper that's not finalized so we can have conversations with tribes, fishermen and other people around the bay," Oetker said. "It's always the dilemma: People say you should have started the public process early. [But] for the most part, until you put something on paper, it's hard to comment on something."