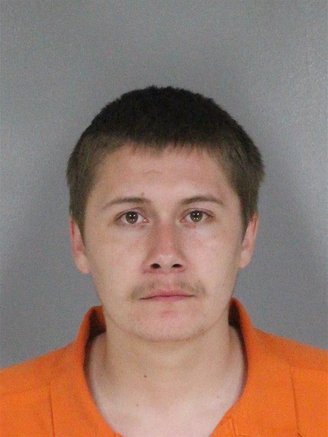 Murder suspect Wesley Lee Starritt will be re-evaluated to determine whether he is still mentally incompetent to stand trial, Judge Timothy Canning ruled this morning.
Canning issued the order at the request of Starritt's attorney, Deputy Public Defender Luke Brownfield, who said Starritt may not be fully competent but "is much better." Starritt was found mentally incompetent shortly after his May 26 arrest for the alleged murder and torture of an elderly Eureka man and the attempted murder of a 38-year-old woman who was stabbed multiple times.
The judge also signed an order today saying Starritt can be forced to take anti-psychotic medication if he refuses to do so. Brownfield said Starritt has been taking medication willingly "but does not want to be forced."
Heather Cooper of the Humboldt County Counsel's Office requested the order for involuntary medication, citing both Starritt's safety and the safety of others in Humboldt County Correctional Facility.
Starritt, 22, should have been transferred to a mental hospital months ago, but there is a moratorium on transfers because of the Covid-19 pandemic.
He is accused of three bizarre, unprovoked knife attacks on strangers. A broken knife blade was left at each crime scene.
Starritt is charged with murdering and torturing 84-year-old Roger "Mitch" Clark, whose body was found May 20 in his home on Campton Road. A week earlier, Starritt allegedly approached a woman in the Cooper Gulch area and stabbed her repeatedly.
And just a few weeks before that, Starritt reportedly stabbed a 43-year-old man who was walking near the 1900 block of Holly Street in Eureka.
In both cases the victims were "gravely wounded," Eureka police said at the time of the arrest. And in both cases the stabbing ended only when the knife blade broke.
Starritt faces assault and weapons charges for the Holly Street attack. That stabbing, reported on April 20, occurred less than two months after Starritt was released from a Los Angeles correctional facility. He served a little more than two years for stabbing a man on Third Street in Eureka.
As with the other attacks, EPD said, Starritt "walked up to the victim and began stabbing him without saying anything."
Starritt did not appear in court today. Inmates generally appear via Zoom from the jail's video conference room.
His next court date is Feb. 16, when the doctor's report is due.
PREVIOUSLY: