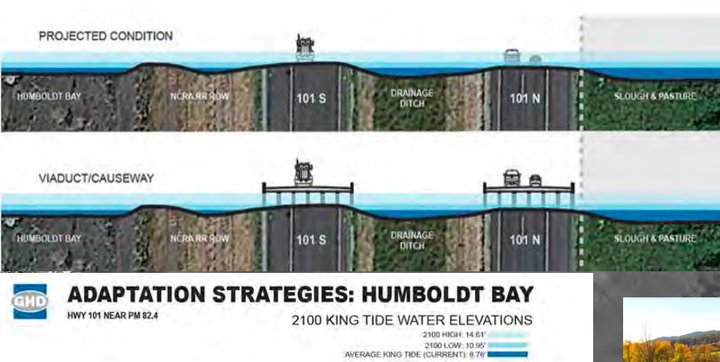 PREVIOUSLY: Coastal Commission Approves Eureka-Arcata Highway 101 Corridor Improvement Project
###
Motorists of the future may find themselves driving between Arcata and Eureka atop a causeway suspended over the waters of an expanded Humboldt Bay.
A raised roadway one of several potential adaptation measures being considered for this six-mile stretch of Highway 101 that runs mere feet from the rising waters of Humboldt Bay.
On Wednesday, employees with Caltrans (the California Department of Transportation) appeared before the California Coastal Commission to deliver an update on the agency's long-term plans to deal with sea level rise on this thoroughfare.
Clancy De Smet, Caltrans's Climate Change Adaptation Branch chief, told the commission that he'd just visited the railroad prism separating the freeway from the bay to check out the king tide.
"I was out there yesterday, and there was a lot of water," he said.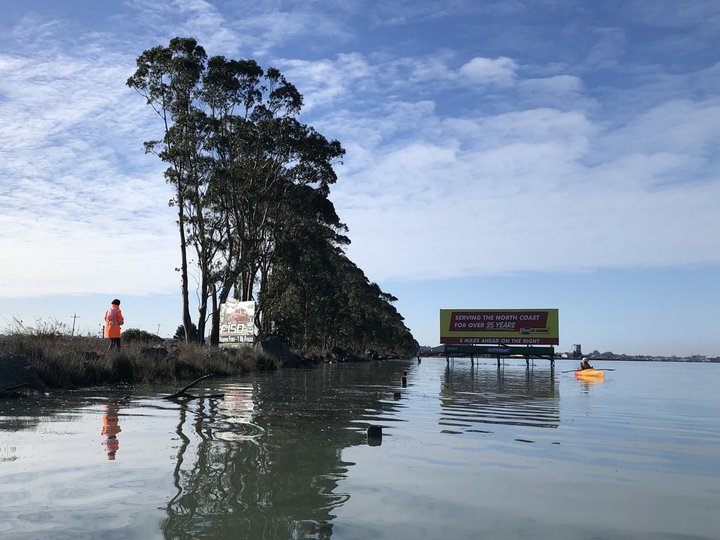 ###
When the Coastal Commission approved Caltrans' Eureka-Arcata Corridor Improvement Project in 2019, staff and commission members alike noted that while traffic safety hazards are a pressing concern, an even bigger threat to the roadway is approaching inexorably: sea water.
Both Executive Director John Ainsworth and former Chair Dayna Bochco referred to the six-mile stretch of highway as "ground zero" for sea level rise on the West Coast, noting that the surrounding terrain is subsiding while the oceans rise. As a result, the area surrounding Humboldt Bay has the highest relative rate of sea level rise anywhere on the west coast of the United States.
In its concern, the commission attached a few conditions of approval to the Coastal Development Permit that Caltrans was seeking in order to complete the Corridor Improvement Project. For one, the agency must monitor and report on the rising water and coastal flooding at numerous points along the project site. Secondly, it must develop a comprehensive adaptation and implementation plan. (Another condition: the removal of 179 acres of invasive spartina grass from Indian Island, aka Tuluwot.)
De Smet on Wednesday delivered a PowerPoint presentation that included images showing where the water level is projected to be by 2100 (note the semi-submerged vehicles at the top of this post) along with illustrations of three potential adaptation alternatives: a causeway (or viaduct), raised roads or a protective berm — like the existing railroad prism only higher.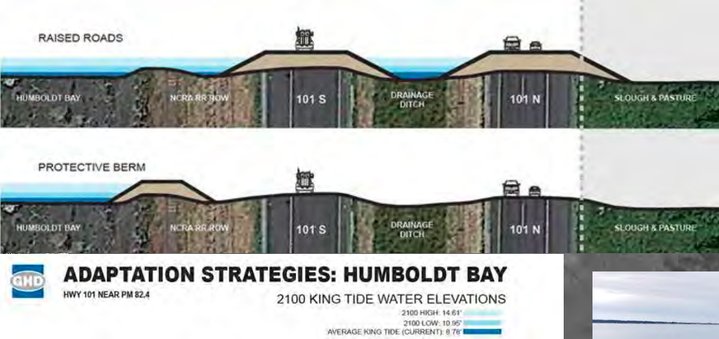 None of these projects will be seen in the near future. The Comprehensive Adaptation and Implementation Plan isn't even scheduled to be completed until December 2025.
"It's not something that Caltrans ignored," De Smet told the Outpost in an interview Thursday. "But we compete with all the other districts for adaptation monies, and I think District 1 was the last to get adaptation marching orders from headquarters."
Environmental activists say such planning is urgently needed. "It's definitely past time to be looking at building a causeway, because the sea level is rising," Jennifer Kalt, executive director of the nonprofit Humboldt Baykeeper, told the Outpost Thursday. "There's not going to be any way to stop it, so we need to be able to figure out ways to live with it."
Some sea level rise projections have shown that sections of Hwy. 101 north of Eureka could see monthly flooding by 2023 if adaptation measures aren't taken.
At Wednesday's Coastal Commission hearing, Jennifer Savage, California policy manager with the nonprofit Surfrider Foundation, criticized Caltrans for failing to include adaptation measures in the Corridor Improvement Project from the beginning.
"This project could have been a great example of how to do things," she said. "Instead, it's just one more in a long list of projects reluctantly approved despite being, as Chair [Steve] Padilla said, 'wholly inadequate.'" [Disclosure: Savage is a friend of mine.]
Jeff Pimentel, Caltrans project manager for the Eureka-Arcata Corridor Improvement Project, told the Outpost Thursday that while the agency hasn't funded — or even identified — sea level rise-adaptation projects for this area of 101, collaborative planning measures are underway. They involve not only Caltrans but the public, business interests, utilities and local municipalities, such as Arcata and Eureka.
The conditional use permit for the Corridor Improvement Project also includes a provision that will require Caltrans to speed up its timeline for developing adaptation measures if the highway gets flooded four times in a 12-month period.
At Wednesday's hearing, Coastal Commissioner and Humboldt County Supervisor Mike Wilson asked De Smet whether Caltrans is considering a mix-and-match approach to adaptation planning, and he argued that agency employees should consider that "programmatic behavioral changes" in society may be called for.
Regarding the causeway, Wilson asked whether a piece of infrastructure that size, with four lanes of traffic, is really necessary. Or should humans start to rethink their assumptions about cheap, convenient and always-available transportation when it may come at the expense of the planet?
"We seem to be on track of, 'We must have 100 percent of our current construct of access forever,'" Wilson said. He suggested maybe downsizing the concept to two lanes of causeway, even if it means that some of the road goes underwater during extreme high-tide events. "We're trying to adapt the technology that, quite frankly, is the cause of sea level rise," Wilson said, referring to fossil fuels. "Maybe we can adapt our behavior a bit."
De Smet agreed enthusiastically, saying that while safety is Caltrans's No. 1 priority, he, too, believes that humans need to change their behavior.
Wilson had used the pandemic as an example of an event that convinces people to make dramatic behavioral changes en masse, and De Smet concurred. "I hardly get in the car anymore," he said.
The Corridor Improvement Project is partly finished, and construction on the remaining major elements will begin later this year. Pimentel said high-tension cable median barriers have been installed, as have replacement tide gates along the bay. The southbound Jacoby Creek bridge has been replaced, and bridge rail replacement for both the Gannon Slough and Jacoby Creek bridges are set to begin later this year.
In late fall, construction will begin on the Indianola under-crossing — raising the highway so that traffic on Indianola can pass beneath (creating a structure that critics have dubbed "Mount Indianola") — as well as a half-signal at the Airport Road intersection.
Caltrans is collaborating with a Humboldt State University graduate student to develop a geohazard analysis for this section of Hwy. 101, with funding from the California State University Council on Ocean Affairs, Science and Technology (COAST). And De Smet said Caltrans is now planning responsibly for the coming environmental shifts.
"As an agency we care about sea level rise and climate change and we take our role and responsibility seriously," he said. "And I think we're going to do the best we can with the resources we can marshal to put out a product that actually looks at the feasibility and alternatives. And we try to make the right decision."