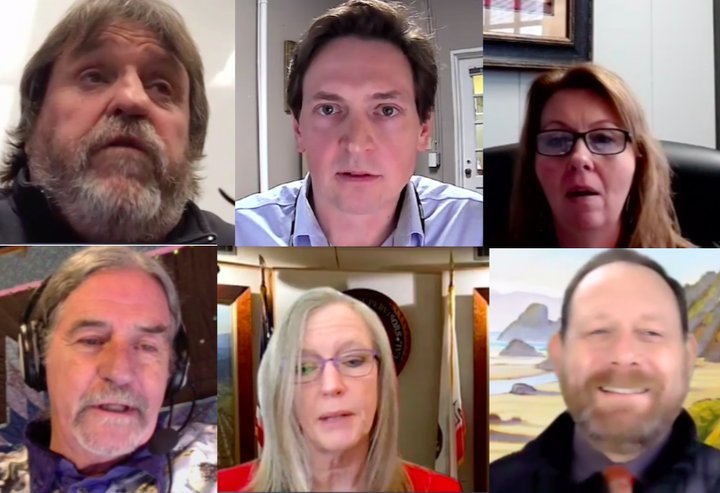 ###
Tuesday's virtual meeting of the Humboldt County Board of Supervisors offered a snapshot of the various trials and tribulations facing the community in early 2021, from the messy national rollout of COVID-19 vaccines to a corporate media beef that's robbing local customers of local programming to continuing internal drama surrounding fiscal management.
Below you'll find a summary of the major topics discussed.
Early in the meeting, Humboldt County Health Officer Dr. Ian Hoffman provided his latest update on local COVID 19 conditions, saying the virus is widespread in our community and vaccination efforts are not going as smoothly as hoped.
While the state has lifted regional stay-at-home orders (which were never triggered here in Northern California), Hoffman said Humboldt County's epidemiological data puts us firmly in the purple tier, indicating widespread COVID-19 infections, and we're likely to remain at that level for several weeks.
"We've been seeing many outbreaks across all sectors of Humboldt County," Hoffman said, indicating that these outbreaks are "almost always associated with gatherings," including those at workplaces, churches and, increasingly, schools. He reminded locals that with so much COVID-19 in the community, any gathering is risky.
As for the vaccination effort, Hoffman said the supply coming into the county has been "variable and very limited," with only 1,000-2,000 first doses arriving weekly "despite promises we will get more." (Both the Pfizer-BioNTech and Moderna vaccines require two doses, administered weeks apart. Hoffman said the county is getting enough second doses to ensure nobody is left hanging after receiving the first.)
The county and its public health partners — including hospitals, pharmacies and primary health care providers — now have significantly more capacity than vaccines to administer, Hoffman said, and county staff has gone back to the drawing board on its vaccination plan. They're now moving toward a mass-vaccination effort, looking to set up sites to inoculate large numbers of people in short periods of time — in some cases via drive-through clinics.
"It is a challenging time, for sure," Hoffman said. "We're all working extraordinarily hard to get this vaccine out. We will continue to have to change and pivot. Hopefully in the future we'll have a solid, stable plan that won't change from week to week."
The subsequent Q-and-A between Hoffman and the supervisors got a bit testy. First District Supervisor Rex Bohn and Second District Supervisor Michelle Bushnell, in particular, peppered Hoffman with questions, and his replies were sometimes curt.
Bushnell wanted to know exactly how many county residents have been vaccinated to date and Hoffman couldn't provide the answer. "We're working hard to figure that out," he said, explaining that the state's database has not been tracking vaccinations accurately, so the county has been attempting to collect the information from its various vaccinating partners. But he could only hazard a guess. The county has finished moving through phase 1A, which consisted of 10,000 people (not all of whom received the vaccine, though a majority did, he said) and has now moved into phase 1B, which contains about 7,500 people.
Bushnell alleged that teachers have been moved down the county's vaccine priority list, but Hoffman strongly denied that, first by interjecting "Not true" and later by reading directly from the county's website.
Bohn, who said he was merely repeating the questions that get asked of him, pressured Hoffman to say when local teachers can expect to receive their vaccine shots. Hoffman said that given the variability in supply he was hesitant to give an exact date.
"We were told we'd get more vaccine in February, [but] that's not happening," he said. "We see what we have and then plan the clinics accordingly. … I do feel confident we'll have the teachers [vaccinated] in the [coming] weeks."
Third District Supervisor Mike Wilson and Fifth District Supervisor Steve Madrone attempted to lower the temperature a bit, with Wilson noting that the pandemic has created "a pressure cooker" of anxiety while Madrone said the end is in sight.
"This is the exact time to take a deep breath and realize that help is coming," he said.
Cable Company Squabble
Local cable subscribers have been up in arms lately after contract negotiations between two media conglomerates resulted in both KIEM (the local NBC affiliate) and KVIQ (the local CBS affiliate) getting removed from the channel lineup, blacking out local news broadcasts, NFL playoff games and other programming.
Deputy County Administrative Officer Sean Quincey and Access Humboldt Executive Director Sean McLaughlin were on hand to provide background on the situation, which cable companies Suddenlink (parent company: Altice) and Cox Media Group blame on each other.
Quincey explained that a 2014 state law called the Digital Infrastructure and Video Competition Act left local governments mostly powerless to intervene in such cases.
The board wound up approving two letters — one to be sent to California Senators Dianne Feinstein and Alex Padilla, the other to be sent to Rep. Jared Huffman — calling for action from both the media companies and Congress.
"We call upon those corporations to consider the impact on local communities," the letters state. They go on to argue, "Ultimately, these absentee corporations are negotiating a cost that will be born by local cable subscribers in our region."
The letters point the finger at media consolidation, suggesting that corporate profits have come at the expense of local control and healthy competition.
"Ultimately," the letters read, "we need our federal and state policymakers to recognize the essential role that local media play to meet local needs for: public health and safety; education; economic and community development; culture and arts; and civic engagement. Local governments and our communities stand ready to take back local media and rebuild our information ecosystem to secure competition, diversity and localism in the marketplace of ideas."

Budget Review and Outlook
Staff does this every year — prepares a review of the previous fiscal year's budget along with a look forward to the upcoming year's and brings them to the board for review and approval. Recently, though, every fiscal issue in the county seems to center on Auditor-Controller Karen Paz Dominguez, and the staff report for these budget items does just that.
The report notes that as of last Thursday, the Auditor-Controller had yet to close the books on fiscal year 2019-20, making it difficult to plan for the coming year and costing the county hundreds of thousands of dollars in state and federal funding, among other repercussions.
The report also says the Auditor-Controller's Office has yet to submit a Cost Allocation Plan to the state for approval, which threatens to cost the county another $15.5 million in state and federal reimbursements.
"This would place the county in a self-made financial crisis, one that could result in service reductions … to the public and lay-offs of county staff," the report states.
Paz Dominguez has complained publicly on numerous occasions that her office has been chronically understaffed. The board recently approved two new accountant positions for her office.
The board spent most of it's budget-talking time discussing how to distribute the nearly $800,000 that remained unclaimed in revenue from Measure Z, the half-cent sales tax earmarked for public safety and essential services.
That dollar amount doesn't include more than half a million dollars from the fund balance that staff recommended be carried forward for previously approved projects, including:
$364,208 for local fire chiefs to complete projects

$127,882 for Orleans Volunteer Fire to complete the construction of a fire station

$18,259 for KMUD to complete an emergency broadcast upgrade, and

$17,155 for the county to finalize its Measure Z audit
After a lengthy discussion, the board settled on the following expenditures:
$353,996 to the county's Public Works Department for road repairs
$200,000 to Public Works and the City of Eureka for resurfacing and repairs on Harrison Ave.
$80,000 to Public Works to remove illegal dumping on county properties
$7,600 to pay a security person at the Garberville Town Square
$1,748 to Access Humboldt for a backup system and telephone link for power outages and emergencies
$10,000 to New Directions for safety gear and homeless encampment cleanup
$7,900 to the College of the Redwoods Foundation to fund courses for the Community Emergency Response Team (CERT) Coalition
$46,100 to the 2-1-1 Humboldt Info & Research Center for various equipment
$33,488 to Rio Dell for police department clerical support, and
$58,498 to the Fortuna Police Department for a Drug Task Force agent
After the board had assembled this list of expenditures, a member of the Measure Z Community Advisory Committee, Ernie Branscomb, called in to say that he and his fellow committee members worked hard to develop a ranked list of recommendations, which the board had deviated from somewhat.
Both Bohn and Wilson agreed with his argument and initially voted "no" on a motion to accept the above list, which required four-fifths approval to pass. Wilson wound up changing his vote to "yes" in order to move the matter along but suggested giving greater deference to the advisory committee next time around.