PREVIOUSLY: Beloved McKinleyville Peacock, a 'Neighborhood Mascot,' Found Dead After Craigslist Ad Ordered the Hit

###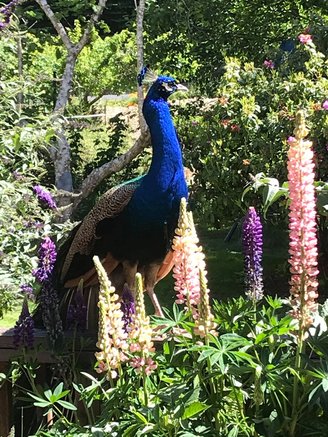 The Humboldt County Sheriff's Office has identified a potential suspect in the killing of a beloved neighborhood peacock whose bloody body was discovered last week after a Craigslist ad sought someone to eliminate the bird "by any means necessary."
The strange tale of the potential peacock assassin has been picked up by the Los Angeles Times, SFGATE and various talk radio shock-jocks, but as far as we can tell the fowl slaughter remains unsolved.
Kelsey Radant, whose father was among the residents in McKinleyville's Azalea Heights neighborhood who enjoyed regular visits from Azul/Mr. P./Peony (as he was variously known), reported to her on Sunday afternoon that law enforcement vehicles had just left the residence of Ragen Tilzey, the man whose house appeared to be inadvertently indicated in the Craigslist ad.
In an interview with the Outpost last week, Tilzey declined to say whether or not he'd posted the ad.
Humboldt County Sheriff's Office spokesperson Samantha Karges told the Outpost via email that a potential suspect has been identified by deputies and a search warrant was served at a residence on Hewitt Road.
No arrests have been made, but Karges said potential charges include animal cruelty and conspiracy to commit a crime.
Other crimes could yet be charged in the investigation. Karges told the Outpost last week that the perpetrator could face charges of discharging a firearm near a residence. Today she explained, "If further evidence is found supporting the firearms charge, that could potentially be added."