Daniella Patricia Moore must stand trial for the alleged murder and torture of 19-year-old Hannah Hayhurst, whose mutilated body was found two years ago in a parking lot at the foot of Hilfiker Lane in Eureka.
Judge Kaleb Cockrum held Moore to answer on all charges this morning, the third day of her preliminary hearing. Her arraignment is set for July 20.
Attorneys, presenting their arguments before Cockrum made his ruling, focused not on the murder charge but on the special allegation that Hayhurst was tortured. Assistant District Attorney Stacy Eads pointed out that Hayhurst was conscious and aware as she was being stabbed repeatedly all over her body. It's possible she was still alive when the attacker removed vital organs from her body, Eads said.
"Ms. Moore's intent was to inflict pain and suffering," she said.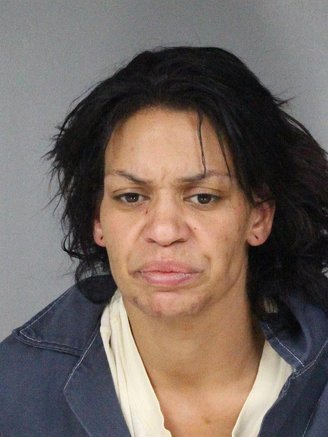 Deputy Public Defender Casey Russo said what happened to Hayhurst was undoubtedly "a violent, brutal, grotesque attack." But he said the prosecution had not established the killer's specific intent was to inflict pain and suffering.
Earlier in the preliminary hearing, forensic pathologist Dr. Mark Super testified the fatal assault could have lasted hours. But as Russo noted this morning, Super also said it could have been over in minutes.
Also, he said, why would Moore want to inflict pain on Hayhurst?
"There's no evidence that Ms. Moore knew Ms. Hayhurst," Russo said. "There's no proof of motive, no reason to think it was for revenge."
Shortly before the killing, Moore's boyfriend abandoned her and their twin babies. But there has been no evidence Hayhurst was involved in the breakup.
As to whether the two women knew each other, video surveillance at a Shell service station and minimart on July 3, 2019, shows Hayhurst entering the Myrtle Avenue store about 10:45 p.m. on July 3, 2019. This morning former Eureka police Senior Detective Ron Harpham, who viewed video evidence in the case, said Moore drove up and ran into the store "and started talking to Hannah."
Then, Harpham said, both Moore and Hayhurst left in Moore's car.
Earlier the same night, Moore allegedly attacked another woman, Misty Miller. She told police she was a passenger in Moore's car when Moore stopped the vehicle and began attacking her.
"For no reason the person (she later identified her as Moore) started punching at her with something hard in her hand," Harpham said.
Miller described her attacker as making "weird animal noises," and with a look in her eyes that made Miller believe she was trying to kill her. Miller escaped but had head injuries, including one that required stitches. Later Miller's purse was found in a trash can near Moore's home on Myrtle Avenue. Video shows Moore driving up to the area, and a passenger in her car dropping something in the trash can.
Moore, 42, has pleaded not guilty and not guilty by reason of insanity. Several witnesses either testified about her strange behavior or told law enforcement about it.
A few hours after she allegedly murdered Hayhurst, Moore showed up in Garberville. At a Chevron station she attempted to pay for her purchase in money splattered with blood. Her car also was covered in blood, and Moore made no attempt to clean it up.
She went to the Blue Room tavern, where at least one patron concluded she was either on drugs or crazy.
Harpham said Moore asked one woman at the bar "Am I still dead?'' She also was speaking to an invisible person she thought was sitting to her right.
Hayhurst's father was in the courtroom today, wearing a shirt that said "Black Lives Matter."
###
PREVIOUSLY: