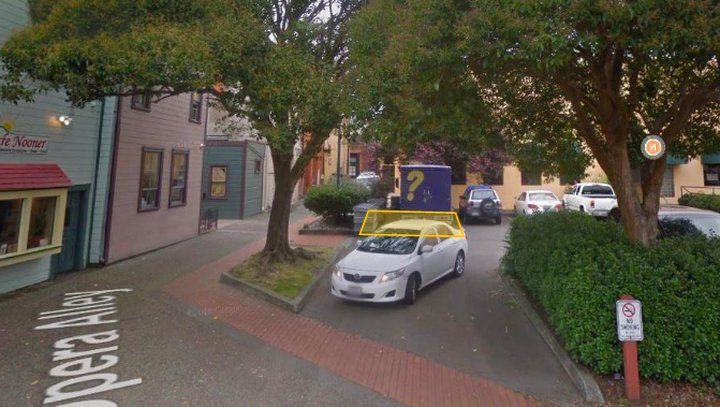 ###
Dumpsters, while often necessary, tend to not be the most attractive vessels in the community and the ones in public places can even become a bit of a nuisance. They get dirty, they attract vermin, they become illegal dumping sites (in more ways than one) and they are also a popular target for arson. Sorry, dumpsters. Seems like it kinda sucks to be you.

This is why the City of Eureka is proposing the Opera Alley Dumpster Consolidation Project — a proposed solution to address the ugliness and misuse of some of the dumpsters in Old Town, by consolidating them into an enclosure and possibly decorating that enclosure with some beautiful art.

"We've had a lot of complaints of misuse in the area," Christine Tyson, economic development coordinator for the City of Eureka, told the Outpost in a recent phone interview. "We've had a couple of dumpster fires. People go to the bathroom in between [the dumpsters.] Our goal is to alleviate all of that."

The project targets the block of Opera Alley between E and F Streets, which Tyson said contains seven dumpsters, many of which do not get regularly filled. The City hopes to move a few of those dumpsters into a locked enclosure and remove the others from the alley. The enclosure would sit in the neighboring parking lot between E and F Streets, and would take up two parking spaces. The City also plans to have a local artist paint a mural on the enclosure, to help it match this art-filled section of Old Town. If this pilot project goes well, Tyson says that the City may try something similar in other areas.
Tyson said the dumpster project is still in planning stages and the City is in the process of reaching out to all the neighboring property and business owners. But the people the City has talked to so far seem to be on board, Tyson said, and she is hopeful that the project can be complete by the end of this summer. If all goes to plan, the City will be putting out a call for dumpster mural artists in the next couple of weeks.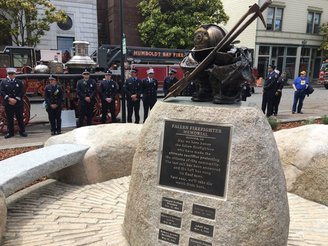 Finding a more attractive way to store garbage is just one of many ways the City has been ramping up its efforts to beautify Opera Alley and Clarke Plaza and promote the use of the plaza as a social gathering place. Recently Humboldt Bay Fire partnered with the City to erect the Fallen Firefighter Memorial on Clarke Plaza and soon the City will be adding tables to the plaza, so people can eat takeout food there.

If you're excited about all the improvements being made to Clarke Plaza, you can help out by joining the City's volunteer cleanup on Saturday, June 19. Volunteers will meet on Clarke Plaza — on 3rd and E Streets — at 9 a.m. to help clean up, paint planter boxes and do some landscaping.
"Clarke Plaza is beautiful," Tyson told the Outpost. "We're really excited that this space will be living up to its potential."