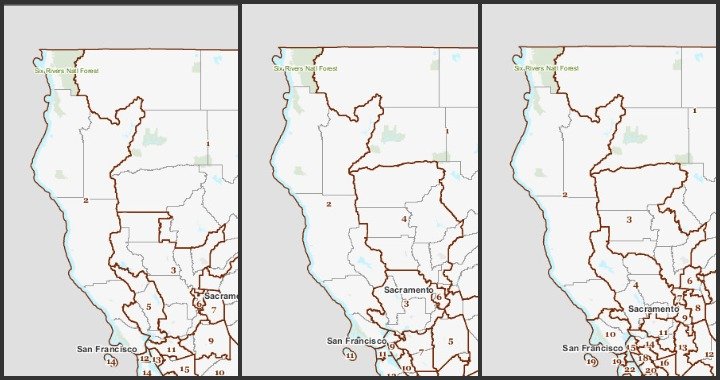 ###
Every 10 years, after the Census, California has to redraw the lines that divvy up its vast land and population into discrete political districts – Congressional districts, districts for the state Senate and state Assembly. We do this because the population of the state is ever in flux, as people migrate or die or are born, to ensure that every citizen has equal representation in the Congress or the state legislature.
And every 10 years, as the decennial redistricting effort gets underway, comes the horrible fear – or the beautiful dream! – that Humboldt County, which is not large enough to have its own representative in any of the legislative bodies, will end up lumped in with the red-state Republicans to our east rather than the true blue counties to our south.
It's never really happened in modern times, but it's not impossible! The 2020 Census counted 39,538,223 Californians this year. That works out to roughly:
494,227 people per State Assembly district
760,350 people per House of Representatives district
988,455 people per State Senate district
What prevents the line-drawers from just lopping off the top of the state, in various permutations, and just calling it a day? Not much, in theory. Since 2010, the statewide redistricting effort has been in the hands of a citizens commission – the California Citizens Redistricting Commission – that's made up of a group of volunteers that is politically balanced and randomized to take the power of the gerrymander away from politicians and parties. (Read more about how the commission is formed at this link.)
When the commission sets down to draw the lines, one thing they are required to attempt is to keep "communities of interest" intact. They are supposed to avoid splitting cities or counties into two different legislative districts, to the extent feasible, and the same is true for the "communities of interest" – places that just feel like part of the same place, with the same industries or natural resources or just overall societal tendencies. Think Santa Cruz and Monterey counties, for example, or Modoc and Lassen – if you can keep those together, you probably should.
But "communities of interest" are hard to define. Some Humboldters will feel far more fellow-feeling with residents of San Rafael than they will with residents of Redding, and some vice versa. That's why the California Citizens Redistricting Commission wants to hear from you! It will be taking testimony from residents of Del Norte, Humboldt, Mendocino, Lake, Napa, Sonoma and Trinity counties on Thursday, July 1, from noon to 8 p.m.
Which nearby major population center do you want to district up with, and why? It's not an academic question. Given that Humboldt is about a third of an Assembly district, a sixth of a Congressional district, or an eighth of a state Senate district, whoever we team up with will have a larger say over Humboldt affairs in the state legislature and Congress than we will.
"If Northwest California is broken up and we are lumped together with our friends from Shasta, Tehama or Siskiyou, our ability to advocate for important environmental issues facing our region would be weakened for the next decade," says Tom Wheeler, executive director of the Environmental Protection Information Center.
If you have strong feelings about that prospect either way, you probably want to tell the commission why! Press release from the California Citizens Redistricting Commission, with details on how to participate in Thursday's meeting, below:
On July 1, 2021, the California Citizens Redistricting Commission (Commission) will host a Communities of Interest (COI) virtual hearing to capture North Coast community specific data that will help the Commissioners respect community boundaries when drawing district lines, as is mandated by California's line drawing criteria.

WHO: California Citizens Redistricting Commission
WHAT: Communities of Interest Input Meeting (North Coast—Del Norte, Humboldt, Mendocino, Lake, Napa, Sonoma, Trinity)
WHEN: Thursday, July 1, 2021 from 12:00 P.M. – 8:00 P.M.
LIVE: http://videossc.com/CRC/ INFO: https://www.wedrawthelinesca.

When the Commission begins drawing maps using census data, they will need to follow this set of criteria, in this order, as outlined in the California Constitution.

1. Districts must be of nearly equal population to comply with the U.S. Constitution.
2. Districts must comply with the Voting Rights Act to ensure that minorities have a fair opportunity to elect representatives of their choice.
3. Districts must be drawn contiguously, so that all parts of the district are connected to each other.
4. Districts must minimize the division of counties, cities, neighborhoods, and communities of interest to the extent possible.
5. Districts should be geographically compact such that nearby areas of population are not bypassed for more distant populations.
6. Where practicable, each Senate District should consist of two complete and adjacent Assembly Districts, and Board of Equalization districts should consist of ten complete and adjacent State Senate Districts. This is known as nesting.

We can obtain the city and county information from those jurisdictions, but we need the neighborhood and communities of interest information from Californians directly.

During these input meetings, participants will be asked to describe their community and will be encouraged to consider highlighting the following:

1. Begin with your county or city.
2. Mention the street names and significant locations in your neighborhood to help us identify the parameters of your community.
3. What are your shared interests?
4. What brings you together?
5. What is important to your community?
6. Are there nearby areas you want to be in a district with?
7. Nearby areas you don't want to be in a district with? Why or why not?
8. Has your community come together to advocate for important services, better schools, roads, or health centers in your neighborhood?


Registration is not required to participate in these public input meetings. The call-in number for public input on the day of each event will be (877)853-5247.