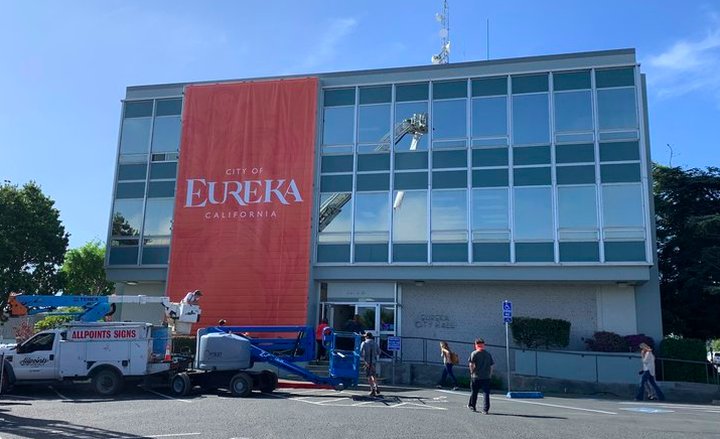 The City of Eureka announced on its website today that the Eureka City Council will resume in-person meetings on Tuesday, July 6, after more than a year of meeting virtually over Zoom.
Assistant City Manager/ City Clerk Pam Powell told the Outpost that because the sound system in the city council chambers is in bad need of repairs, the City is currently incapable of holding the meetings both in-person and over Zoom. So, at least at first, all the council members and city staff will need to be physically present for the meetings. Members of the public who are either unable to attend or uncomfortable with attending in-person will still be able to comment by calling in or having Powell call them during the meeting.

Powell said that, using COVID relief funds, the City will be updating and repairing the sound system at the end of August, after which the City will be able to hold hybrid meetings and people will again be able to attend via Zoom. For now, the meetings will still be broadcast live on the City of Eureka's website and on Cable Channel 10.

Not only will Tuesday's meeting be the first time the council, city staff and the public have come together in 15 months, it will also be the first time Councilmembers Scott Bauer and Kati Moulton — who were both elected in Nov. 2020 — will attend a meeting in the council chambers.

To welcome Moulton and Bauer to their physical seats, Powell said, the City will hold a swearing-in ceremony for them at the beginning of Tuesday's meeting, with their friends and family invited to attend.

The Eureka City Council meets on Tuesday, July 6 at 6 p.m. in the council chambers of Eureka City Hall, 531 K Street. An agenda for the upcoming meeting will be released later this week. For those planning to attend in person, masks and physical distancing are required if you are not vaccinated. If you prefer to stay home you will be able to comment by emailing cityclerk@ci.eureka.ca.gov or leaving a voicemail at 707-441-4175.

"The council and staff are really looking forward to being in-person and seeing everyone again," Powell said.