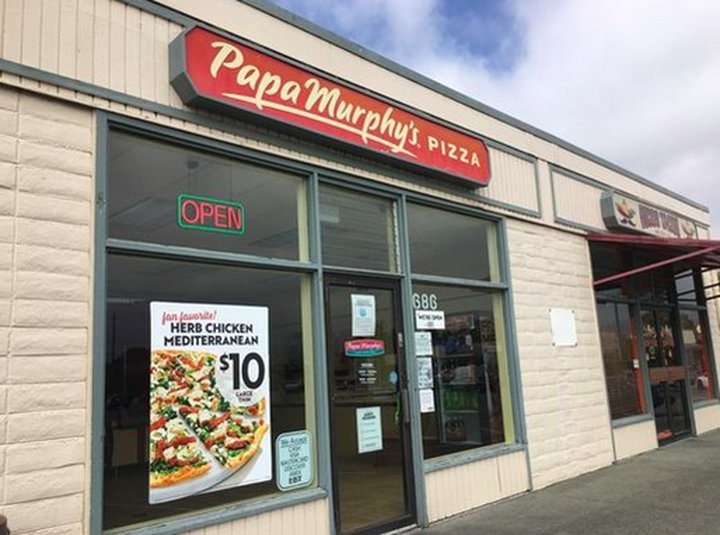 PREVIOUSLY: The City of Arcata Wonders: Should Papa Murphy's and Chester's Chicken Really be Considered 'Formula Restaurants'?
###

Following a somewhat convoluted discussion on Wednesday night, the Arcata City Council unanimously voted to introduce an ordinance that changes some of the city's regulations on chain restaurants.
During a recent review of Arcata's existing Formula Restaurant Ordinance — which was adopted nearly 20 years ago, and caps the number of chain restaurants allowed in Arcata at nine and restricts them from opening in certain neighborhoods — city staff determined that there were some inconsistencies between the definition of "formula restaurant" and the businesses that the ordinance aimed to regulate. Specifically, two restaurants included in the city's cap — Chester's Chicken and Papa Murphy's — did not technically fit under the definition.

When the issue came before the council in April, the council members agreed that Chester's and Papa's should be regulated as formula restaurants and requested that the staff amend the definition. The ordinance now regulates restaurants, cafés and coffee shops that serve "menu-ordered" food and provide counter, table or drive-through service. To be considered "formula," the restaurant, café or coffee shop must offer "standardized menus, ingredients, food preparation, decor, uniforms, architecture, signs or similar standardized features, which causes it to be substantially identical to more than 11 other restaurants," nationwide.

The ordinance now also includes a subsection about "accessory use" formula restaurants. Community Development Director David Loya explained to the council that "if the primary use isn't a restaurant and the accessory is not a franchise, it is not considered a formula restaurant." This definition excludes places like Safeway's deli, but still includes Chester's Chicken — which is inside of the Chevron gas station on Giuntoli.
There was some debate during the meeting on whether or not the number of locations included in the "formula" definition should be raised. Loya told the council that several local businesses — including Ramone's Bakery and Jitter Bean Coffee Co. — are "doing very well" and may expand to include 12 or more locations in the future.

Councilmember Sarah Schaefer questioned if there was some way the ordinance could exclude local businesses from that definition, but Loya said that that type of "blatant favoritism" would present legal issues and City Attorney Nancy Diamond agreed. Ultimately the council decided that it would be best to keep the number of locations included in the "formula" definition at 12 and will potentially revisit that number in the future.
In addition to amending the definitions, the new ordinance raises the number of formula restaurants allowed in Valley West from five to six and allows three more in Arcata's other commercial districts — including Northtown, the Uniontown Shopping Center and on Janes Road. Loya said during the meeting that a formula restaurant could also potentially open in the Creamery District, but that would require the business to obtain a use permit.

The total cap of nine will, at least for the time being, remain in effect. But there was some debate among the council members about how strict enforcement should be when it comes to regulating businesses that are in the process of opening in Arcata. City staff's review of the ordinance was sparked by some new chain restaurants trying to open. A Domino's Pizza has filed building permits for a location in Northtown, and Subway Sandwiches is trying to open a second location in the Uniontown Shopping Center and third, mystery business — which staff has refused to reveal because the permits have not yet been filed — is looking to open in Valley West.

Once the ordinance comes into effect, both Papa Murphy's and Chester's Chicken will, again, be considered formula restaurants, which will mean there would be seven total formula restaurants in Arcata. If all three of these other businesses were then to open, that would bring the total number to 10 — which is above the cap.

Councilmember Stacy Atkins-Salazar and Vice Mayor Brett Watson were in favor of allowing all 10 restaurants to be open — essentially making an exception for businesses that have already put a lot of time and money into opening before the ordinance comes into effect. Mayor Sofia Pereira, however, felt that the City should be strict about adhering to the cap and honoring the intentions of Arcata's ordinance.

Ultimately, the council voted unanimously to move forward with introducing the amendment and will discuss the gray areas at the next meeting — June 16 — when it comes back for adoption.

"I really appreciate us taking the time to talk this through," Pereira said after the vote. "We didn't have any members of the public to speak on this item, but I do know that we've received communications from folks that expressed that this policy that we've had in Arcata is really a landmark policy and sets Arcata apart. So I think the deliberations we're having here are incredibly important."