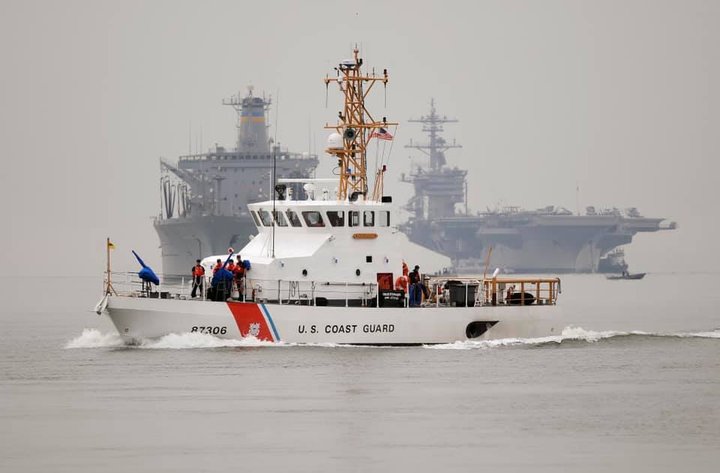 U.S. Coast guard patrol boat "Dorado" was decommissioned today during a ceremony in Crescent City after 21 years of service along the North Coast.

The Dorado was the sixth of 74 vessels built in its fleet, and passed through the Panama Canal in 1999 on its maiden voyage from New Orleans to Crescent City.
Sector Humboldt Bay Commander Capt. Mark Hiigel honored the Marine Protector Class Cutter during the ceremony with stories of past rescues carried out on the boat by U.S. Coast Guard service members.
"While in transit during its inaugural trip before making it to home port here in Crescent City, Dorado scored [its] first operational mission by rescuing two teenage boys whose boat had capsized at the mouth of the Mississippi river," Capt. Hiigel said.
In 2001 the Dorado spent three weeks in San Francisco following the 9/11 terrorist attacks to provide security and carry out anti-terrorism missions. In 2011 its crew also helped raise 15 sunken vessels and remove more than 2,000 cubic yards of oily debris from sensitive wildlife areas following Japan's magnitude 9 earthquake and subsequent tsunami.
"These are only a few of the events and only begin to scratch the surface of a long and exceptional number of events that have been completed by coast guard cutter Dorado over [its] two decades of service," Capt. Hiigel said.
Now that the Dorado is decommissioned, U.S. Coast Guard Lt. Commander Gabriel Vigil told the Outpost that its crew will undergo a quarantining process for several weeks before making the long journey back through the Panama Canal and up to Baltimore. There, the ship will be handled by the Department of Defense's Foreign Military Sales program and transferred to an allied country for future coast guard, law enforcement and defense operations overseas.
"In short, it gives [the Dorado] a second career," Vigil said.
Watch the Dorado's full sendoff in the video shared on Sector Humboldt Bay's Facebook page here.