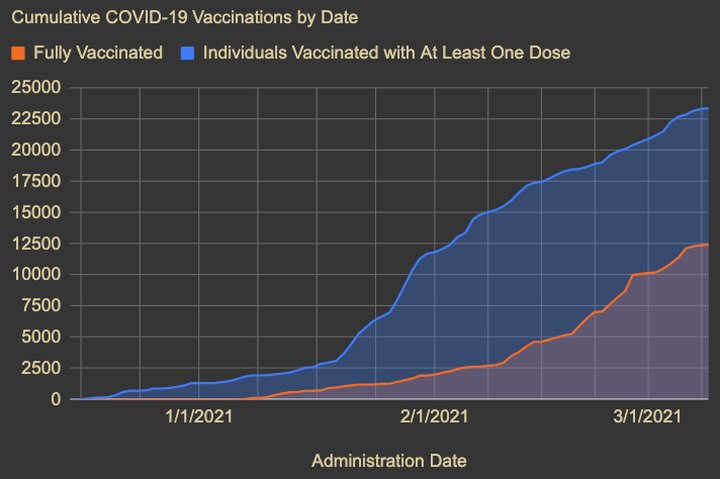 UPDATE: In Email, Public Health Director Tells Presiding Judge She's Disappointed Court Circumvented the Vaccine Process
###
Last month, roughly 50 to 55 employees of Humboldt County Superior Court managed to get COVID-19 vaccinations at a clinic in Scotia despite the fact that, per state guidelines, it was not yet their turn.
The state is currently in the midst of Phase 1B of its vaccine distribution plan. This phase includes people age 65 and older as well as employees in education and childcare, agriculture/food and emergency services.
Judges and other court workers across the state have been jostling for higher priority since early December, before the vaccine rollout began. In late January, Humboldt County Superior Court Presiding Judge Joyce Hinrichs sent a letter to Public Health Director Michele Stephens asking that court staff, judicial officers and employees of the District Attorneys Office and the Public Defenders Office all be moved up into Phase 1B, which would have made them eligible for the shots.
However, in a statement sent to the Outpost, Stephens said the state has been clear in its guidance.
"We reached out to the state officials multiple times over the last few months, and each time they confirmed that the state's vaccination plan does not include court staff in Phase 1A or Phase 1B," she said. "They remain listed under the sector Government Operations, which were in Phase C before the state moved to age-based prioritization."

And yet more than four dozen Humboldt County court employees were able to get vaccinated last month at the Southern Trinity Health Services clinic in Scotia.
In an email to the Outpost, Court Executive Officer Kim Bartleson said she disagrees with Stephens's stance and last month directed her staff to "explore all options" in an effort to avoid a COVID outbreak among court employees.
"A catastrophic event such as that could have created an additional public safety threat for the community," Bartleson said in her email. "I directed the Court HR department to make contact with various clinics and pharmacies in the area to inquire about the possibility of extra doses being available so we could get placed on a notification list to be called last minute for COVID shots."
Some court staffers who are patients of Southern Trinity Health Services heard about a vaccination clinic being held in Scotia early last month and, per Bartleson's directive, they reached out to see if "higher risk" court workers could get their shots. "Fortunately, they said yes," Bartleson told the Outpost.
The clinic proved to be a good hookup. "A couple of weeks later we were able to send additional staff down to the same clinic," Bartleson continued. "Approximately 50 – 55 individuals employed by the court were vaccinated."
This line-jumping has caused frustration at the county's Public Health Branch and also among attorneys in the Public Defender's Office and District Attorney's Office.
Last week a local resident wrote to several county supervisors asking why public defenders and district attorneys aren't allowed to get their vaccines when court staff, judges "and judges' family members" have already received theirs. First District Supervisor Rex Bohn forwarded the email to Stephens, who wrote back, saying the court employees received their vaccines "in error and not with Public Health's approval."
The Public Health branch has some flexibility in determining whom to vaccinate, but it must focus on the groups specified in the state's multi-phase rollout, Stephens wrote.
"[W]e can't go so rogue we start doing groups like all county staff, like DA and PD staff that are not in these early phase priorities the state has outlined," she continued. "It has to be based on equity in terms of who's the most impacted by covid-19, the most at risk. And without much vaccine supply, those decisions are really hard to make."
Reached by phone on Monday, Tracy Wade, an administrative assistant with the Southern Trinity Health clinic in Scotia, said a few county court staffers who were allegedly in high-risk health categories showed up to a February clinic and received their vaccines. Their colleagues weren't far behind.
"What had happened was [the court] ended up sending us another group that did not have high risk," Wade said. How did those workers manage to make appointments if they weren't officially eligible yet? "There's all kinds of ways," Wade said.
While her clinic generally fills its slots based on a mass registration list provided by the county, patients who receive email notifications about eligibility or an upcoming appointment sometimes share the link with friends and family members, despite an explicit request not to do so.
The link takes people to a website where they're asked a series of screening questions. We asked Wade if it's possible to game that system by providing false answers.
"I'd say the possibilities are endless," she replied. "It depends on how honest you are."
Clinic staffers check people's identification when they show up for an appointment, but Wade said it's just not feasible to investigate the eligibility of each and every one.
"If somebody shares a link, there's not much we can do," she said. "We're just trying to vaccinate as many people as we can."
Fourth District Supervisor Virginia Bass told the Outpost on Thursday that she has heard about court staff skipping ahead in line and also heard they managed to get family members vaccinated as well. And while she believes that Bartleson was "trying to do the right thing" for her staffers in the context of a potentially confusing and frequently shifting system, she still found the move frustrating.
"It's frustrating because we [the county] are responsible to vaccinate the most vulnerable, and we haven't been able to even get the food and ag workers fully vaccinated," Bass said. She pointed out that migrant workers, farmers and grocery store clerks have been on the front lines since the pandemic began while much of the court's business is being conducted via Zoom.
"This whole thing has not brought out the best in people," Bass added.
Bartleson told the Outpost that court staff, judges and justice partners have been granted higher priority in other counties, including Los Angeles County, though that county's guidelines say eligibility is limited to those "who are required to be in-person at court routinely and interact with clients in correctional facilities."
Still, Bartleson argued that the state's guidance to local public health directors has not been clear or consistent, and she said, "our Public Health Director has taken a very restrictive position that has not been shared by other counties."
She added that not all court staff have received their vaccinations, and until they do she'll continue pushing for them to be moved up in line.
"The Court still advocates for the Tier 1B designation for Court staff … and would encourage our Public Health to do so," she said.