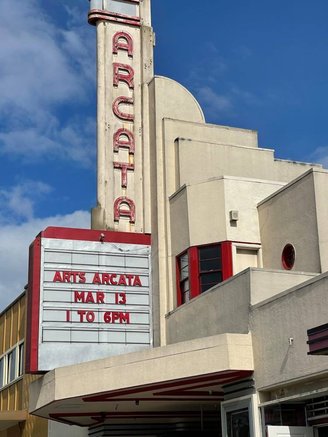 Baby steps, Humboldt. If you've driven through downtown Arcata in recent days you may have noticed the Arcata Theatre Lounge's marquee apparently heralding the return of Arts! Arcata this coming weekend, which comes almost exactly a year to the day after Humboldt's initial shelter in place orders went into effect. Can this be? The momentous claim is further supported by a post on the venue's Facebook page.

"We are so excited for our first event back! We are hosting various local artists in our space to showcase their art along with a pop-up pizza event," ATL's post reads, in part. "We look forward to seeing you guys!"
Well, OK then! And while the Outpost did receive an email from Arcata Main Street, the organization that coordinates Arts! Arcata, that the monthly community arts night would be returning, you probably shouldn't worry that an artsy super-spreader event is nigh. Very few locations are participating in the relaunch. Instead, Shoshanna Rose, who helps out with Arcata Main Street, told the the Outpost that this softest of openings is an attempt to first "bring back the spirit" of the gathering while still taking into consideration all the necessary COVID precautions.
"We're so excited to bring back some element of Arts! Arcata even if it's not fully gathering," Shoshanna said. "A lot of the venues where artists have previously been able to show their work haven't really changed their art for the last year."
While the ATL will allow a limited number of people into its space to peruse works by local artists, most of the venues hosting art and performances this weekend will continue to operate in the virtual realm, including the Arcata Playhouse, which is in the middle of its annual Zero to Fierce Festival.
"We're just trying to find those ways to remind people of some of the art that is still coming out of the downtown area even if it is online," Shoshanna said. "It just feels good to keep the arts visible."
Take a gander at some of the ways you can experience Arcata art, be it in person or online, in the Arcata Main Street release below:
Arts! Arcata is Arcata Main Street's monthly celebration of visual and performing arts, held at locations in downtown Arcata Friday to Sunday of the second weekend of the month for 2021. Due to COVID-19, there is no gathering, keep safe distances, wear facial coverings, and observe guidelines in each location. There are no extended hours. We are delighted to bring back this tradition in modified form to support our local businesses and celebrate the arts. Several events are offered online!

Visit www.arcatamainstreet.com, check out the Arts! Arcata event on Facebook and Instagram, or call 707-822-4500 for more information.

ARCATA ARTISANS COOPERATIVE GALLERY 883 H St. Vaughn Hutchins: photography, Carolyn Jones: fiber arts

ARCATA PLAYHOUSE www.zerotofierce.org. "Zero to Fierce" One Minute Dances Fri 7pm ($5), Lucy and the Bear children's book by local author Ali Freelund and illustrator Becky Grant Sat 11am, Allison Russell singer songwriter from Nashville TN, Sat 7pm.

ARCATA THEATRE LOUNGE 1036 G St. Special pop-up art gallery and food from local chefs

GARDEN GATE 905 H St. Lisa Landis, pastels

INFUZIONS 868 H St. "Step Into Sacred Space" Monica Star: visionary oil painter, Berry Love: mixed media and photography, Joe Mallory: psychedelic abstracts and surreal landscape paintings, Howling Lily: handmade gemstone jewelry

OUTER SPACE ARCATA www.facebook.com/outerspacearcata. Weekly variety show / open mic Sun 7pm. Also pop up gallery space across Arcata, including at 837 H St.

THE SANCTUARY www.SanctuaryArcata.org. Live music streaming at Mon-Fri 7-8pm