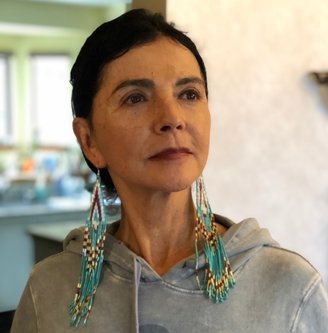 Carmen Baraka, Spirit Warrior, was born March 21, 1948 in San Francisco, and walked on the evening of February 22, 2021 in her treehouse home in the redwoods of Arcata.

Throughout her life, Carmen wore many hats (literally and metaphorically). She was deeply spiritual, beginning a lifelong journey at age seven through teachings from her Columbian Shaman and Apache Medicine Woman grandmothers, and her beloved father Chief Running Horse. Throughout her life she led many sacred ceremonies through chanting and drumming, to bring understanding, healing, and togetherness between people. She was a rebel and a fighter, always willing to stand up for the betterment of others, especially for the empowerment of women and girls, and for indigenous people's rights, their land and water, and their cultural dignity. She was fantastically playful, always dancing, or singing, or joking, or laughing, or riding her wooden rocking horse into the sunset. With her dimpled smile and contagious laughter, she was the life of the party, bringing joy with her and creating unforgettable moments wherever she went. She also appreciated solitude. Whether on a trek across New Zealand, watching countless sunrises in the warmth of Hawaii, or going on daily walks in the redwoods, she journeyed for the personal growth it brought her. She was a generous, unselfish, and beyond-loving mother and Nani to her son and granddaughter. She was a kickass drummer, and a naturally talented pianist and musician. She was a unique artist, always drawing her pen-and-ink creations on napkins and receipts, and channeling her spirit into beautiful and colorful paintings. She was a beloved wife to her partner of 35 years, a wonderful friend to many, and a one-in-a-billion kind of person whose light touched any that knew her.
Those she held close in her circle will always carry the warmth and wonder that she brought to their lives, and inspire in them the same audacity, sense of adventure, and gratefulness she exhibited in her own life. Her last days were spent at the roots of the grandmother tree in her forest, preparing for her transformation as she was being called home to continue her work on the other side. Before she passed, Carmen gathered with her wife Denise, and her babies, her son Shawn and granddaughter Kayla, to hold each other and sing "You've Got a Friend" by Carole King, to remind them that when she is needed, all they have to do is call out her name and she will come running. Carmen knew that we as energy beings don't really die, we just change form – and wherever she is now, there is no power in the universe great enough to keep her from holding her loved ones close.
Carmen is survived by her wife Denise Wreden, her son Shawn Patrick, her granddaughter Kayla Cunningham, her faithful cat who never left her side Tiger Lily Lightfoot, and her niece Denise Ruano and her children Jordan, Julian, and Sophia. She will be missed by those closest to her, those who knew her well, those that met her once, and those that only knew of her, but her legacy and spirit will shine on when we each dance, and paint, and drum, and laugh, and love, every day – because we are all related. We love you Spirit Warrior, Nani, Mummy, Auntie, Toni, Carmen.
If you wish to honor Carmen's memory, she would be touched if you would donate to the "San Carlos Apache Tribe Vice Chairman's Innovative Youth Program" at P.O. Box 0, San Carlos, AZ 85550.
###
The obituary above was submitted on behalf of Carmen Baraka's loved ones. The Lost Coast Outpost runs obituaries of Humboldt County residents at no charge. See guidelines here.