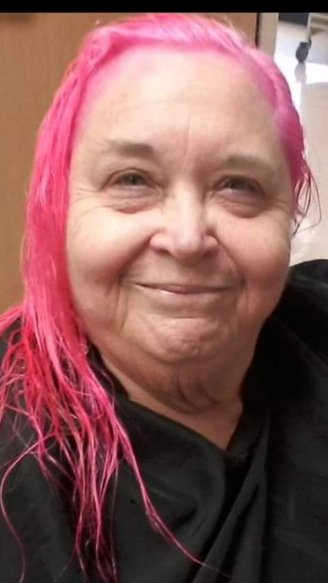 Kathrine Alice O'Neill Hernandez, a child of God and servant for Christ, passed away unexpectedly on March 2, 2021 at the age of 69 while at UCSF. She was there recovering from a successful brain surgery. Complications from necessary medications that led to infection, took her home to be with Jesus.

Kathrine, known by Kathy to her loved ones, is survived by her children, Mary and James O'Neill; her beautiful grandchildren, Michael, Alicia, Francis, Jasmin, Alani and Orion; her siblings Debra, Daniel, Lee and Jay; her niece and nephews, Clayton Jr., Justin and Rachel; and her great niece and nephews, D'Andre, Joel and Arianna. Kathrine was excited and awaiting the arrival of her first great grandchild (great grandson) expected to be born in May 2021 to her granddaughter Francis. Kathy has many non-biological loved ones that she claimed as family as well. There are so many, but to name a few, Lillian, Kristen, Tasia and her children Makai, Antonio Jr., and Airianna; LeighAnne and her son Jason, La"nayjah, Chavez and Terrell. Kathy was predeceased by her parents, Jay and Alice McCann, her husband, William O'Neill and grandson James O'Neill Jr.
Kathrine was born in Sonoma, California on November 14, 1951 and lived a happy childhood, helping to take care of her siblings, as she was the firstborn child. She was always in the field of helping others. She worked in both Sonoma and Crescent City over the years in laundry services and skilled nursing facilities.
After marrying her husband William, she moved to Hoopa as a Preachers wife. She took great joy in the Children's Ministry that she led alongside her husband. Later, Kathy became a bus driver for the Hoopa Valley Tribal Preschool and Headstart, and also drove the Activity Route for the Klamath Trinity Joint Unified School District. Kathy just loved watching the kids grow up while driving the buses and sharing the love of Christ with all she came in contact with.
In 2018, after losing her home to a fire, Kathrine went to the Eureka Rescue Mission Women's and Children's Shelter in Eureka. She came to the door expecting to be turned away due to her physical disabilities, as many other organizations had previously done. This is when she met Kristen Freeman, the Director. Kristen and Kathrine had a short conversation, and Kristen told Kathy to gather some of her belongings and come back for an intake. Kathy broke down in tears of joy and gratitude. Although there were many different barriers to overcome for her intake, Kristen and the staff quickly got to work in making a nonexistent handicap accessible room available for her. She returned just hours later to find her blessing ready and waiting for her to have a temporary place to call home. With the help of Kristen and her wonderful staff members, as well as the loving ladies at the shelter, Kathy found love, peace and stability.
Kathrine's medical conditions continued to become more serious, and was more than the shelter was capable of, so Kristen moved Kathrine into her family home. She spent a short period of time there before being readmitted to the hospital, and starting the process for the brain surgery. It was a hard hit, when she succumbed to infection from the necessary medications after a successful, major surgery. We stand in the faith of knowing that God doesn't make mistakes and He has called His good and faithful servant into the Kingdom of Heaven.
A special thanks to Kristen Freeman and her family for embracing and loving her as one of their own, and to her care providers Lori Burnside, Tanya Thomas, Tasia Homer, La'Nayjah Wilson and Kristen Freeman. Thank you to the Doctors and Nurses at Providence St. Joseph Hospital in Eureka and UCSF in San Francisco.
Absent in body, means present with the Lord. Kathrine is free and alive with Jesus.
###
The obituary above was submitted on behalf of Kathy Hernandez's loved ones. The Lost Coast Outpost runs obituaries of Humboldt County residents at no charge. See guidelines here.