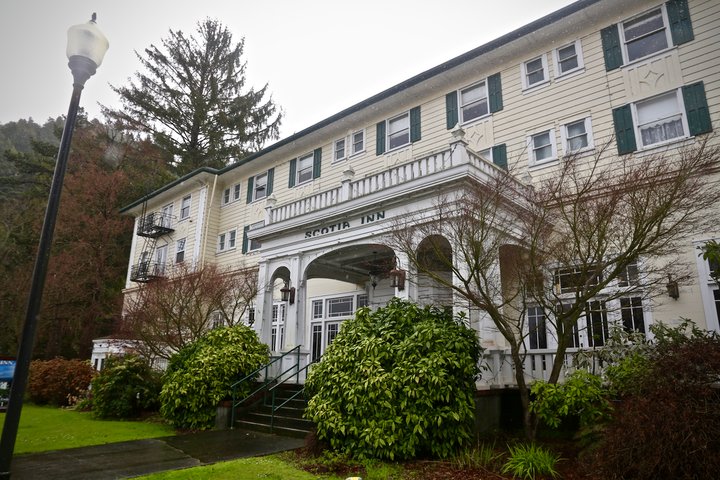 ###
When the owners of Humboldt Bay Social Club announced on social media that they'd purchased the Scotia Inn with plans to transform and reopen it, the reaction was big: 1,200 likes and almost 200 comments on Instagram, another 750-plus reactions on Facebook and hundreds of comments.
"It was crazy," said Jon O'Connor, who cofounded the Social Club with his wife, Amy Cirincione O'Connor.
"We are just shocked at the level of interest about it," she agreed.
Clad in work clothes and facial coverings, with their young sons Aiden and Jordan scampering about, the O'Connors were offering a brief tour of the stately 98-year-old building, which served as a thriving hotel and bunk house during Scotia's heyday as a company town for Pacific Lumber Co. but has since fallen on hard times.
In the interim, as the inn cycled through various owners and tenants, it served as a venue for countless special occasions, including weddings, graduation parties, class reunions and anniversaries. So maybe the enthusiasm for its reincarnation shouldn't be surprising.
"Everyone in Humboldt County has a story about this building, right?" Jon O'Connor said. "So we want people to come back and be excited about the space."
The O'Connors are looking to build on their success with the Humboldt Bay Social Club, where they've combined upscale vacation rentals with a bar, "fast-casual" restaurant and outdoor gathering space on the tarmac of Samoa Field. It's one of the few local businesses that have actually done better during the pandemic.
"The year before COVID, we had 67 percent occupancy for hospitality, and last year we had 91 percent," Jon O'Connor said. Some of the guests were locals wanting a staycation but others came from out of town. "We didn't do search engine optimization or anything. We just did social media stuff and [spent] very little money. And we were full all the time."
Before COVID hit, the couple was actually considering selling the business. Both have other jobs — Amy is a teacher and Jon works with cannabis company Papa & Barkley on real estate and compliance matters.
So, with the Social Club, they had a decision to make. "We either had to let it go or go big," Jon O'Connor said. "So we decided to go big. And that means borrowing money."
With business partners Aaron Sweat and Matt DeShazo, the O'Connors began looking for ways to build on their success.
"We just needed rooms, and this was the cheapest option per-room that we could find," O'Connor said.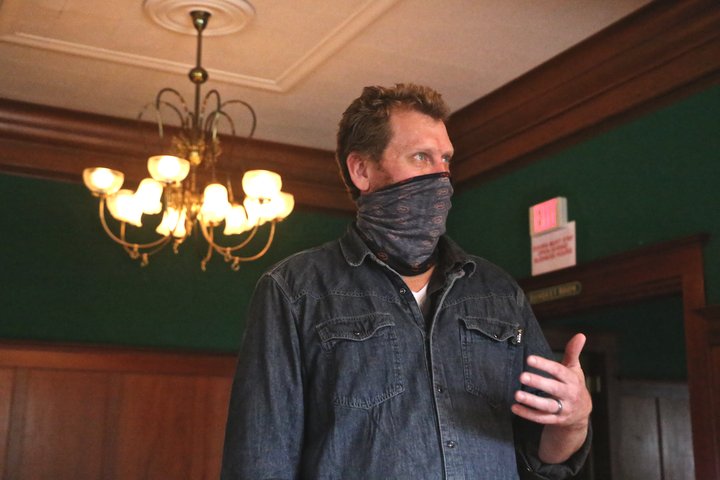 Standing in the cavernous hotel dining room, he described the vision for the new iteration of the inn, which will initially be renamed the Scotia Lodge. The aesthetic they're going for is "warm Scandinavian" with mid-century modern furniture and fixtures.
He pointed out some "frou-frou" flourishes on the chandelier above his head — twirling brass spirals and frosted-glass designs on the sconces — and said those are definitely getting removed: "You either gotta pick Victorian or mid-century. You can't do both."
The plan is to open in June with 20 rooms of lodging available on the second floor and a full spa in a now-vacant wing of the hotel. There will be a restaurant serving food "about a half-star up from the Social Club" and multiple bars. Lounging spots will be scattered inside and out. The idea is to appeal to locals and visitors alike, as they've done at the Social Club.
'If you appeal to your community and that's where everyone wants to be? That's where visitors want to be as well," Jon O'Connor said.

But that's just the first phase of their plans. The "aspirational goal" is to transform the inn into a business called The Scotia Lodge and Swim Club. O'Connor explained that he and his partners intend to launch a crowdfunding campaign in an effort to finance a pair of heated swimming pools for the courtyard, which at this point is just a gravel lot between the hotel's wings.
"And then surrounded by those pools would be six to 12 hot tubs." he said. "And you could rent the hot tubs per hour, or you get a day pass or a membership … . So it would be more social because they would all be open." He thought about that for a moment before adding, "There might be some privacy screens in between them."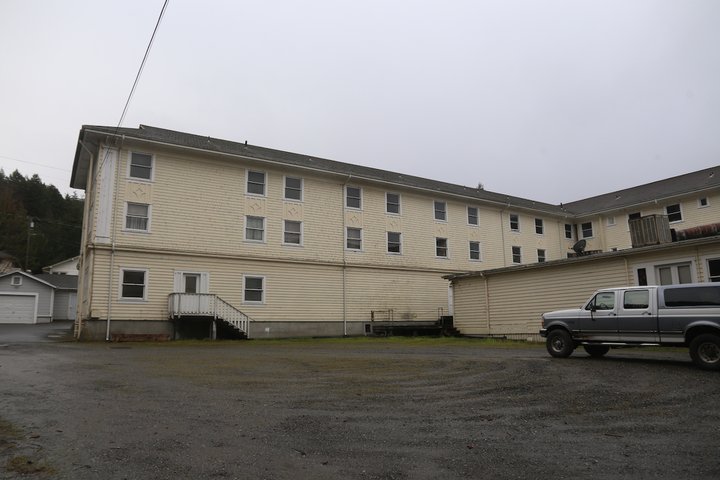 With the McMenamins hotels and restaurants as a model, the idea is to attract residents from all over Humboldt County by offering day passes and encouraging them to hang out for hours at a time, eating, drinking, lounging by the pool and maybe getting a spa treatment.
Is that what Jon O'Connor meant by "going big"?
"No," he said. "This is the first step in going big." Asked what "going big" might look like, he demurred, saying only, "Um, this is the first step."
We asked if future plans might incorporate cannabis — say, a smoking lounge or two — and he emphasized that the current business has no connection to the industry. But he believes the local hospitality industry should take full advantage of Humboldt County's legacy and the proliferation of legal and illegal weed farms here.
"We're surrounded by more cannabis than anywhere else in the world," O'Connor said. "So if you're in lodging and hospitality, we should be talking about that more … because every hotel in Napa and Sonoma, you can buy a bottle of wine there. You can drink it by the pool. You can get a massage and drink wine. You can get a winery tour. It's very clear. We have more than three times as many cannabis farms with nothing to do. So that's — that's a problem."
Might guests someday be encouraged to light up a joint poolside at the Scotia Lodge and Swim Club? "If and when regulations allow," O'Connor said, and he, for one, predicts that federal legalization of cannabis is probably only a year or two off.
"If we don't take advantage of where we are and sort of own our brand as an area, we're gonna die," he said. "I think we need to be talking about that more as a community."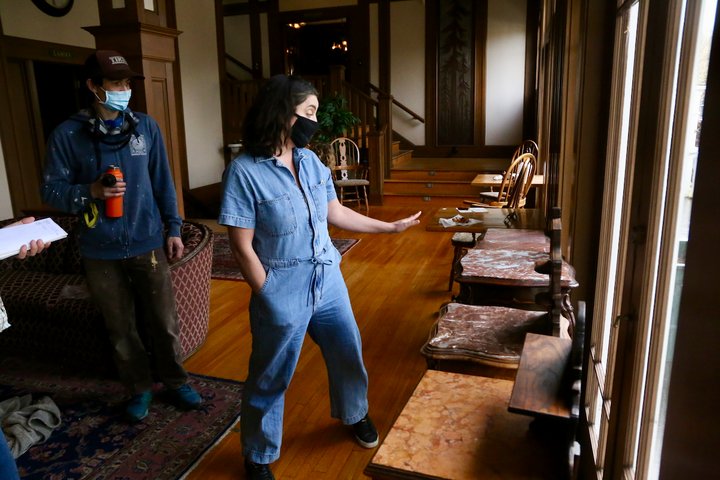 Amy Cirincione O'Connor, meanwhile, is thinking more about the immediate future. Standing in the hotel lobby, she pointed to various pieces of furniture that will be up for grabs at an estate sale scheduled for two successive weekends: March 20 and 21 and March 27 and 28. Pizza, salads, beer and wine will be available for purchase while browsing the goods.
"That will be the first time that people can actually come and see what's going on here," she said. "[They can] learn a little bit more about our story and also take a piece of history, like these pieces," she said, gesturing at some marble-topped stands that may have held phones in the inn's rooms. "Some of these pieces have been here since the very first incarnation of the building."
Cirincione O'Connor said she and her business partners were prepared for skepticism about this endeavor. They've experienced it before.
"We are used to starting a project and people saying, 'You're doing what? Where?'" she said. "We were expecting that with this, especially from folks who tend to socialize and focus in Arcata."
Instead they've been showered with enthusiasm and expressions of gratitude for stepping in to renovate such a beloved building. "It's so cool to see the memories people are posting — their weddings, proms, class reunions and their anniversaries," she said. "So to feel we have the opportunity to do that again here — we're super excited."