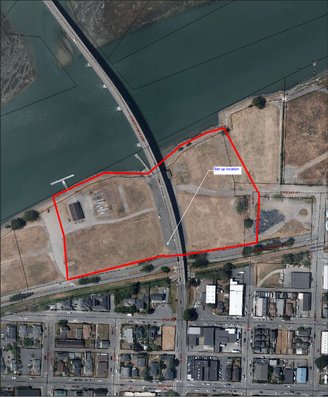 After five months without offering syringe exchange services, the Humboldt Area Center for Harm Reduction (HACHR) — a local nonprofit — finally has its mobile exchange up and running in Eureka, something that new executive director Jasmine Guerra says has been a huge relief.

"We are in a more stable place now than a few months back," Guerra told the Outpost in a phone interview on Thursday. "Trying to figure out how to get mobile services was kind of a chaotic process. We had a huge disruption in the community part of outreach, but we're starting to see more familiar faces now and we are like, 'Yes!'"

HACHR has been operating the mobile syringe exchange for about three weeks now, Guerra said. The non-profit's old Chevy Trailblazer, staffed by two or three people, has been setting up shop Monday, Tuesday and Thursdays — either near the Samoa Bridge or in a parking lot on A Street, around the corner from the St. Vincent De Paul free meal.

The Eureka City Council approved the two locations in January, as a part of HACHR's mobile exchange proposal. (A third location behind the Bayshore Mall was removed because the mall owners did not give permission.)
HACHR'S proposal was approved by the council in a split vote (3-2) following multiple meetings filled with hours of often contentious deliberations about the nonprofit and its syringe exchange program. After banning syringe exchanges altogether, the council adopted a temporary resolution allowing for mobile-only exchanges in Eureka during the COVID-19 emergency. The City hoped that other organizations would also apply to operate, but HACHR's proposal is the only one the city has received to date.
During the process, Eureka city staff has been working on drafting a new, permanent ordinance governing syringe exchange programs, but the city must first complete a California Environmental Quality Act (CEQA) review, which can be a lengthy and expensive process. The city is considering holding off a bit, Eureka City Manager Miles Slattery told the Outpost, while awaiting the results of pending legislation — AB-1344 — that would exempt syringe exchanges from the CEQA process. But the bill wouldn't come into effect until January, and Slattery says he would like to get things moving sooner than that.

At least for now, tensions between the City and HACHR seem to have calmed, and Slattery told the Outpost that the mobile syringe exchanges seem to be going well. "We haven't heard of anything out of the ordinary and haven't received any complaints yet," he said.

Before operating the mobile exchange, HACHR needed to update its auto and liability insurance, which Guerra said cost the organization quite a bit of time and money. Luckily, Guerra said, HACHR has had some donations that have helped cover the increased costs. The nonprofit is now concentrating its efforts on raising money for a new van to replace the Trailblazer, which Guerra says is in pretty rough shape. This limits the distance staff can drive for its syringe exchange delivery service, which HACHR operates outside of Eureka, as permitted by its state authorization. So far HACHR has raised over $19,000 of its $20,000 goal for donations toward the van. The rest of the cost for a new vehicle will be covered by grant funding, Guerra said.

Also: Because of limited space in the vehicle and limited staffing, Guerra says HACHR has only been able to offer "the bare minimum" when it comes to mobile outreach services, and is currently only providing the syringe exchange and overdose prevention (Narcan and Naloxone). HACHR would like to provide its other harm reduction services on the mobile sites, including HIV and Hepatitis testing and entrance into medicated assisted treatment. It does, however, still offer those and other services, including COVID testing, at its Third Street location.

Between operating the brick-and-mortar location and the mobile exchange, HACHR staff is stretched a little thin right now. Guerra said that a lot of volunteers have been coming out to help with cleanup of the mobile site. As a part of the agreement with the city, HACHR is required to clean up all paraphernalia and trash — including sharps, caps, cookers, smokers and alcohol wipes — at the sites and some of the surrounding area. For the city-owned site near the Samoa Bridge, HACHR is responsible for cleanup of about 11 acres. Guerra said that the help of volunteers has made this process much easier.

After a few weeks of operating the mobile exchange, Guerra feels that word of mouth is getting around and says the number of people HACHR is seeing at the exchange is increasing again. Although DHHS — not subject to the City's jurisdiction — has continued to operate a syringe exchange and HACHR has been able to provide its other services at its Third Street site, Guerra says that it has not been enough and the impact on the community has been devastating. Not only has HACHR seen an increase in people with abscesses due to needle sharing or reuse, but has also seen a dramatic decline in people obtaining other services, such as overdose prevention — something that is incredibly important, considering that Humboldt County has seen a recent increase in overdose deaths.

"We are happy to see people coming back and getting access to services, but I think it's important to know that there have been these irreversible consequences of not having services for those five months that we've already seen take place," Guerra said.
###