Gov. Gavin Newsom has signed an extradition warrant for triple-murder suspect Mauricio Sanchez-Johnson, who is expected to be back in Humboldt County soon to face charges of shooting three people to death Feb. 10 on the Bear River Rancheria.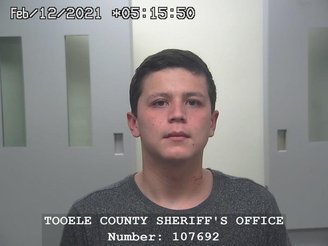 "There's been governor's warrants issued in both California and Utah," Tooele Deputy County Attorney Rob Klegg told Judge Dianna Gibson during Sanchez-Johnson's court appearance this afternoon. Sanchez-Johnson, 19, has been in Tooele County Jail since Feb. 11, when the Utah Highway Patrol arrested him as he drove east. He has been fighting extradition to California.
Klegg asked Gibson for a review hearing on June 8.
"Hopefully by that time he's been extradited based on the governor's warrant," Klegg said.
The judge set the June 8 hearing and told Sanchez-Johnson "it's quite possible you might be extradited before then."
"All right," said Sanchez-Johnson, who appeared via video from the jail.
His local attorney, Andrea Sullivan, had objected to the extradition because Sanchez-Johnson is facing life in prison without parole if convicted of murder with the special circumstance of having multiple victims. Sullivan tried unsuccessfully to persuade District Attorney Maggie Fleming to drop the special allegation in exchange for Sanchez-Johnson agreeing to be brought back to California.
Sanchez-Johnson is accused of killing Margarett Moon, her fiance Nikki Metcalf and Moon's 16-year-old daughter Shelly Moon after he was caught in bed with Shelly. All were shot in the head.
###