UPDATE, 5:30 p.m.
An anonymous county employee sends along the following photos showing County Administrative Officer Elishia Hayes, Deputy CAO Karen Clower and Supervisor Rex Bohn helping to hand out paper paychecks to county employees affected by today's payroll screw-up.
Also, in case you missed it, the Board of Supervisors will consider a vote of "no confidence" in Auditor-Controller Karen Paz Dominguez during a special meeting on Monday.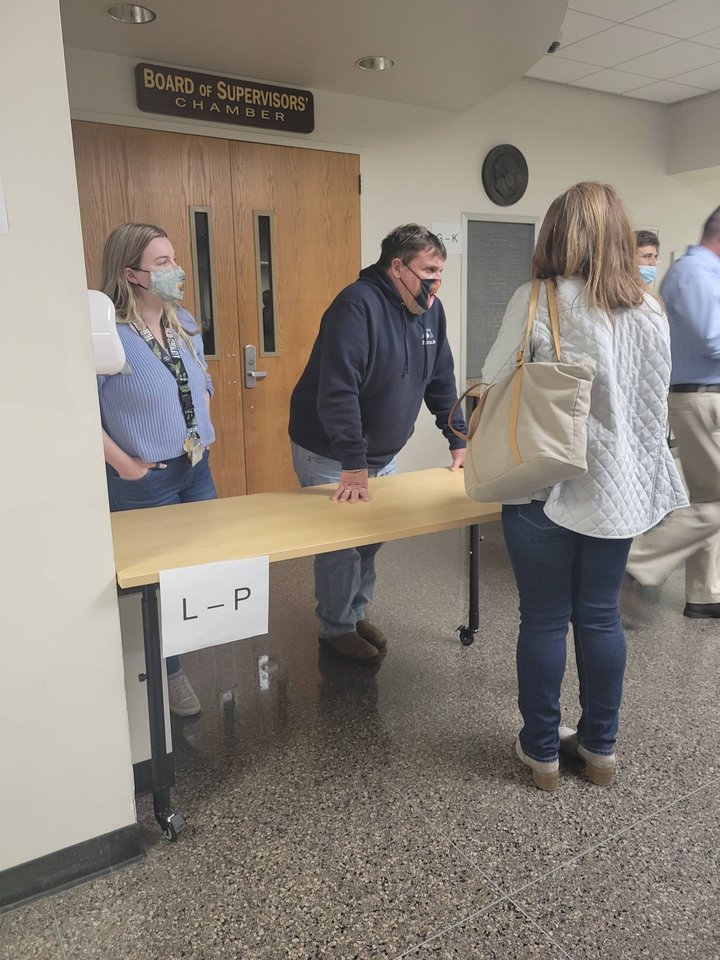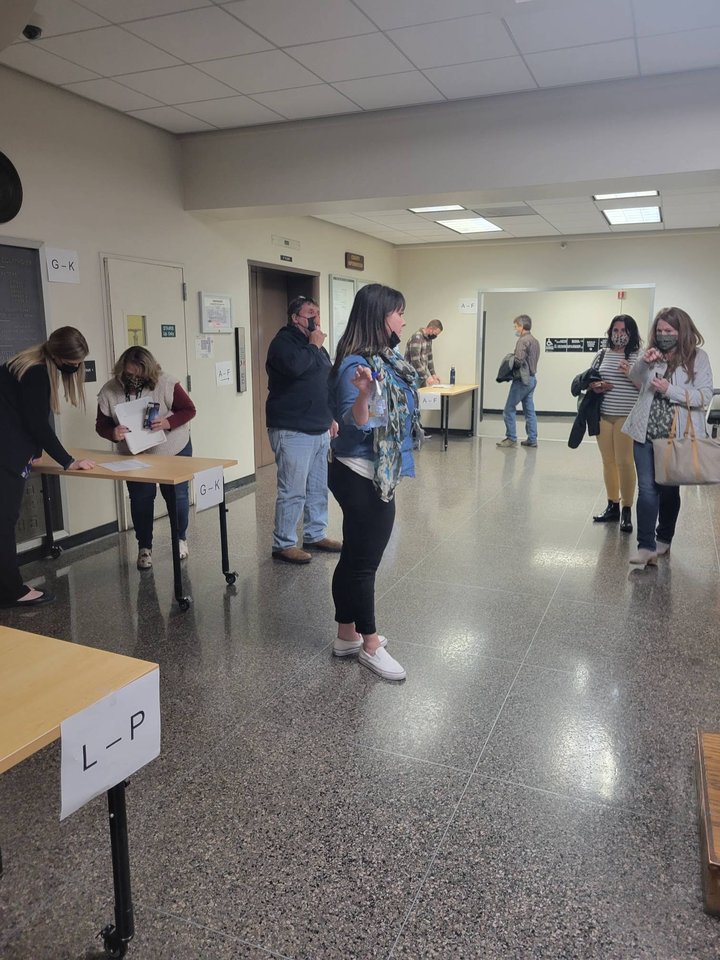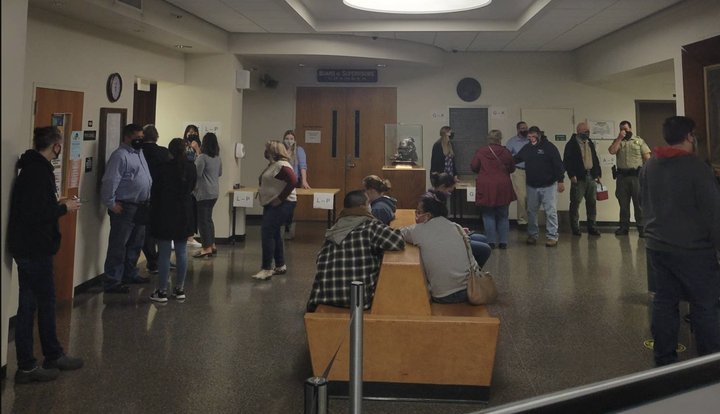 ###
UPDATE, 3:15 p.m.:

Well, we're hearing from county employees that paychecks have been issued, but many are in the wrong amount.
"A popular one is paying people $20.60 instead of $2,060," one worker told the Outpost.
Reached by phone, Deputy County Administrative Officer Sean Quincey confirmed that the county is getting reports of paychecks in the wrong amount — with many apparently seeing decimal point errors like the example above.
"We're trying to run paper checks for those people," Quincey said.
Another county employee, Chris Petersen, told the Outpost via email that he was overpaid on his check by about eight four percent.
"[N]o word on when i will see the backup paperwork to find out why," he said. "I would add that our department has been directing us to keep an eye on our paychecks since the auditor took it back over … as there has been multiple errors reported."
###
UPDATE, 2:30 p.m.:
A resolution, sounds like! The county just issued the following message to its employees:
Dear County Employees,

Our Payroll team received confirmation from US Bank moments ago that the file we sent was successful and employees using direct deposit should see funds posted to their accounts by close of business today. We are in the process of printing out paper checks for employees who do not normally receive direct deposits. In addition, a small subset of employees who receive direct deposits had errors in their banking information and those employees will receive paper checks. We will notify employees once paper checks are ready to be picked up from the Courthouse. The Courthouse will remain open until 6 p.m. to pick up checks. Any checks not picked up will be mailed Saturday morning.

We will provide another update later today with more information.
###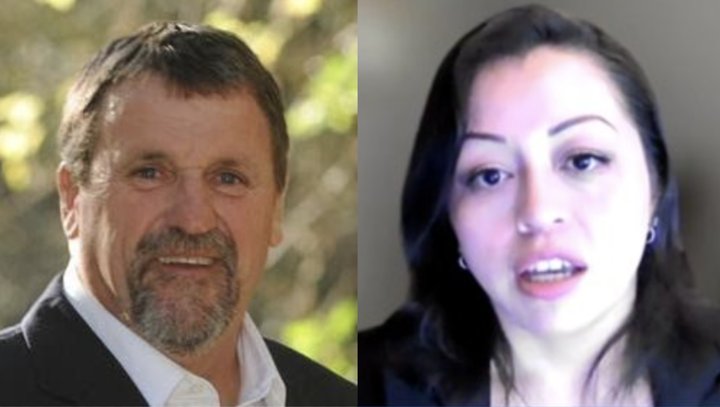 UPDATE, 1:30 p.m.:
Things are getting a bit heated on Facebook. Auditor-Controller Karen Paz Dominguez headed on over to Supervisor Rex Bohn's page to comment on his post, which we referenced (and embedded) below.
Here's what she had to say:
I have let you go on enough, Rex. I really wish you'd stop instigating unnecessary conflict with misinformation to further your political agenda and political hits. It is a disservice to all of the County staff that have been working on this since yesterday because it undermines and devalues their sacrifice and efforts. It is a disservice to County employees because it suggests that the County's central offices don't value them or work hard to serve them. It is a disservice to taxpayers by suggesting their County government does not have their best interests in mind. You know damn well that this was a system issue that nobody at the County anticipated. You know this happened previously in 2009. Step up and be a leader. If you want to talk to me, then come find me. Come to my office and sit with me while I troubleshoot the issue with the hardworking staff that have been on this for hours. Otherwise, let us work and go find something to do.
Another update: While the original memo to county staff said "around half" the county workforce has been affected by the delay, Humboldt County spokesperson Manny Machado tells the Times-Standard that, in fact, "more than 75% of county employees receive direct deposit" and are thus still waiting to get paid.
###
UPDATE, 11:45 a.m.:
The County issued this update to employees. It sort of explains what the problem was, though it sounds like they're still scrambling to ensure everyone gets paid before the end of the day.
"The automated clearing house (ACH) file that was sent to US Bank last night with payment instructions had an error in it which prevented successful upload to their system and disbursement of payments this morning … ," the update says. "We have contacted several of our local banks and are attempting to contact larger institutions to see if they can prioritize processing these direct deposits."
The memo goes on to say that there's a contingency plan: running paper checks for everyone who has yet to get paid.
###
UPDATE, 10:42 a.m.:
Auditor-Controller Karen Paz Dominguez tells the Outpost that she and others worked past midnight last night trying to get to the root of the problem but they have yet to figure it out. Still, she said she's absolutely determined to get the remaining paychecks out to employees by the end of the day, even if it means signing them all individually herself.
###
Original post:
Many if not most Humboldt County employees did not get paid on time this morning due to some as-yet-unidentified problem with the payroll system.
Employees received a memo late Thursday night or early this morning saying county workers who get paid via direct deposit may receive their paychecks "later than usual," though probably by the end of the day.
The memo is a joint statement signed by County Administrative Officer Elishia Hayes, Auditor-Controller Karen Paz Dominguez and Information Technology Director Jim Storm.
A paragraph under the headline "What we know" says this:
While verifying information in the payroll system, staff realized some calculations involved in calculating pay, benefits, taxes and withholdings were not processing through our financial system normally for around half the county workforce. The calculation errors did not appear to have any consistent theme that allowed us to pinpoint a root cause. However, we had all of the information needed to issue paychecks and knew we could manually enter information if needed.
First District Supervisor Rex Bohn posted a copy of the memo on Facebook along with an apology to county employees. He points out that the county's payroll function was moved from the Human Resources Department to the Auditor-Controller's Office in August. Bohn was the lone supervisor to vote against that move.
"In my 9.5 years here at the County this has never happened," Bohn says in his post. "My hope is we fix this for good soon. I can not emphasize enough your importance to the County and our commitment to getting you paid."
One county employee took to Facebook to complain about the string of recent issues concerning the Auditor-Controller's Office, culminating in this payroll problem. "Woke up to this in my email box this AM," he wrote, in reference to the memo. "It is unacceptable to not process vendor's payments for months, for fiscal books not to be closed in a timely fashion, and now not to pay employees on their stated payday!"
You can read the county's full inter-office memo by clicking here.