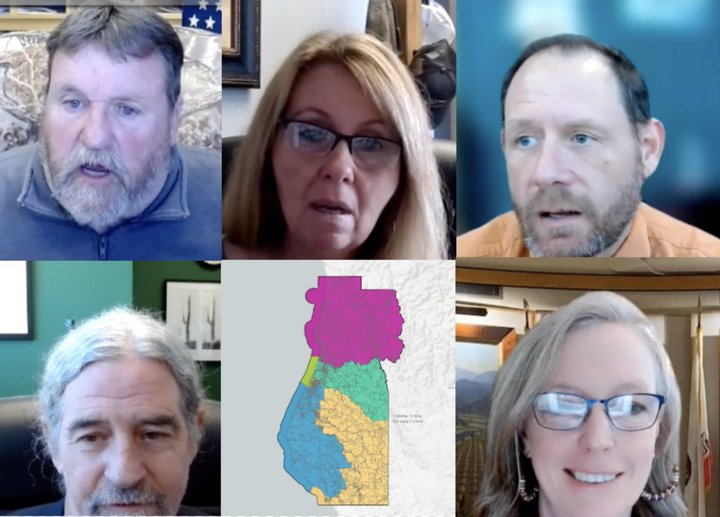 ###
Most people are pretty happy with the existing map of county supervisor districts. That has been the general consensus of public feedback to the county's Redistricting Advisory Commission, and at Tuesday's Board of Supervisors meeting it was the consensus of the five supervisors.
They voted 3-2 to move forward only one map for consideration: the one that's been in place for the past decade. The two supervisors who voted "no" — Third District Supervisor Mike Wilson and Fifth District Supervisor Steve Madrone — said they're mostly okay with the existing map but wanted to put forward two or three variations, including maps that put Blue Lake together with neighboring Glendale and maybe one putting Manila in the same district as towns farther south on the peninsula.
Madrone said he'd spent 10 hours creating his own map using the interface linked on the county website, and during the meeting he shared the map on his screen and argued his case. He noted that the other four supervisors all have a significant portion of their constituents living in incorporated cities while his district includes just one such city: tiny little Trinidad, population roughly 250.
Madrone called this "a glaring inequity in how districts are shaped." The map he created puts Blue Lake back into the Fifth District, where it was located prior to the last redistricting effort a decade ago. It also puts Scotia and Rio Dell together in the Second District, among other changes here and there.
But his map failed to gain traction among his colleagues or public speakers. First District Supervisor Rex Bohn, in particular, was skeptical.
"I don't know what — except to be self-serving — what's wrong with keeping things the same?" he asked.
That was the suggestion he'd made right out of the gate, immediately following a presentation from Paul Mitchell of Redistricting Partners, an independent consulting firm helping guide the county through the federally mandated redistricting process.
"I'm perfectly fine saying no changes whatsoever," Bohn said, and he made a motion to do just that.
With two more meetings scheduled on this matter — one on November 16 to consider any final changes and another on December 15 to select a final map — Madrone said it was "way premature" to make such a motion, and a lengthy discussion ensued.
Dawn Arledge, executive director of the California Center for Rural Policy, said 81 of the 114 comments the committee received (71 percent) advocated for minimal changes from the existing map.
Second District Supervisor Michelle Bushnell said the feedback she's gotten has also favored the status quo.
Mitchell explained that at the meeting coming up in two weeks, the board may still consider making small changes to the existing map, even if alternate maps aren't presented. Madrone took one more stab at pushing for maps that joined Glendale and Blue Lake in either the Fifth or Third district.
But with the assurance that minor tweaks are still possible, the majority of the board was ready to move forward. With a 3-2 vote, the existing supervisor map will serve as the foundation for deliberations on November 16.
###
It was another marathon meeting, stretched across seven hours, but we can summarize the main decisions made by the board.
At the outset there was the now-standard procession of COVID conspiracy nonsense, with public speakers calling in to argue that County Health Officer Dr. Ian Hoffman is a liar, as is Dr. Fauci, that masks and vaccines are somehow more dangerous than the virus that's killed more than 5 million people globally and 116 here in Humboldt, etc. etc.
Hoffman's latest written update on the pandemic was nestled into the consent calendar, but the public comment spurred some testy responses and fact checking from the board and Hoffman.
Dan Berman, who identified himself as a county employee, called in to say he wished the board had shown some leadership by requiring all county employees to be vaccinated.
"It's unfortunate that so many in this country and this county are convinced that all our centuries of health knowledge is wrong," he said. "It's fabulous that we have a vaccine that protects us from this disease."
###
In the afternoon session, the board considered an appeal of a civil penalty and abatement action on a nuisance property located on Elk River Road. Staff recounted the history of the property, saying owners Werner, Jonathan and Sara Weltsch have made the property an illegal wrecking yard filled with junk vehicles, rusting appliances, tires and un-permitted buildings and grading. They also fought back against compliance efforts dating back years and failed to live up to the terms of an agreement, staff said.
Jonathan and Werner Weltsch appeared via cell phone video from the cab of a pickup truck to argue that the county was actually in the wrong. Jonathan said he'd gotten a permit for grading and hauled away a lot of the detritus.
Bohn said he'd been getting complaints about the property since he first became a supervisor and had made many efforts over the years to work with the property owners. After some back-and-forth with the Weltsches he lost his patience, saying, "I was trying to help but I'm done. Done!"
Bushnell asked if the county could give the owners 30 days to clean up the property, but Bohn said they'd already had plenty of time to comply. The board wound up passing staff recommendations — i.e. confirming the civil penalty — unanimously. The county plans to abate the problems on the property at the owners' expense.
###
Also in the afternoon session, the board authorized staff to apply for a little over $18 million in funding from the California Department of Cannabis Control. Planning and Building Director John Ford explained that while the money is intended to help the cannabis community with permitting and CEQA compliance, Humboldt County is in a unique position, having processed so many permits, that it can focus on environmental needs.
Planner Michael Richardson said the initial idea was to create a loan program to allow growers to pursue water storage projects, but the county was notified by the state that a loan program would not be allowed. It would have to be grant-based.
So the proposal was to award a series of grants of up to $40,000 in matching funds for water storage projects and up to $20,000 for renewable energy projects.
Wilson expressed some concerns about accountability, saying people could potentially accept the grant money as, in effect, a gift of public funds, then improve their property before turning around and selling it. He proposed some language to disallow that, but Bushnell pushed back, saying the industry is too unpredictable to start putting limits on property sales.
Bushnell made an amending motion to reject Wilson's idea, and it passed by a vote of 3-2 with Wilson and Madrone dissenting. The main motion — to apply for the grant money from the state — then passed by a vote of 4-1 with Wilson dissenting.
###
Lastly, the board considered an appeal of a 4-3 Planning Commission decision to deny a permit for a new billboard south of Fortuna. Applicant Stott Outdoor Advertising, a company that has since been purchased by Lamar Advertising, wanted to build 480-square-foot, double-sided billboard near the intersection of Drake Hill Road with Hwy. 101.
Ford gave a presentation, saying the proposed sign was too large (exceeding the maximum allowed size of 300 square feet) and would be inconsistent with the county's general plan based on the land use of the parcel. He also noted that the county is hoping to get Hwy. 101 designated as "scenic" and thus should not allow new signs.
A representative of Lamar Advertising gave a PowerPoint presentation and argued his case, but after some discussion the board voted 4-1 to uphold the Planning Commission Decision and reject the billboard application. Bohn cast the lone "no" vote.
###
PREVIOUSLY: