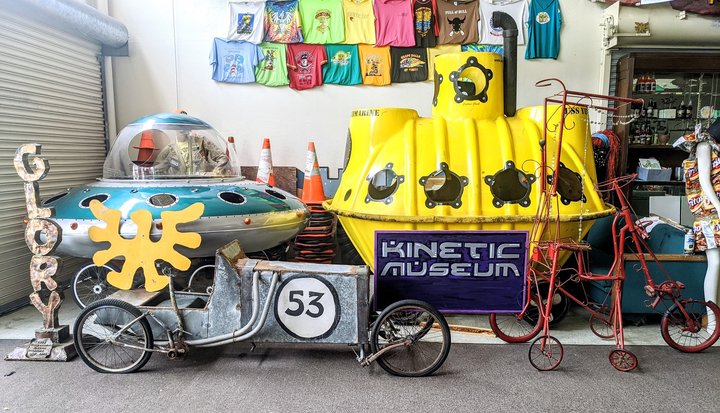 As part of coming to terms with the loss of two years of kinetic racing to the COVID-19 pandemic and subsequent mounting expenses, the Kinetic Universe — the organization responsible for staging Humboldt County's annual Kinetic Grand Championship — has announced that it will be closing the Kinetic Museum, the repository of glorious race memorabilia and nostalgia on Eureka's A Street.

In announcing the decision, Kinetic Universe President Steve McHaney wrote about the challenges the organization has experienced recently in trying to keep kinetic racing alive in Humboldt during these uncertain times.
"It takes the monumental effort of many people to bring this beloved signature event to fruition," McHaney said. "It also takes money, which has proven to be increasingly difficult to raise to cover our numerous expenses, one of those being rent and utilities for the museum."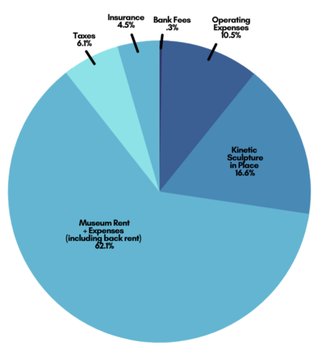 Those museum-related expenses accounted for nearly two-thirds of the KU's budget over the last race-less year. McHaney noted that the owner of the building the museum currently resides in has been understanding and even allowed a year and a half of back rent to accumulate, but said that continuing to finance the space is unsustainable as the organization shifts its focus to planning for an in-person race in 2022.
"The next chapter in the history of the museum will be to create a financially self-sustaining operation," McHaney wrote. "A future museum will not only honor the history of the race, but will be built on the values expressed by the kinetic community: youth engagement, hands-on activities, outreach to schools, STEAM education, special events, and more."
In the meantime, the museum's contents are slated to be put into storage or be returned to their creators.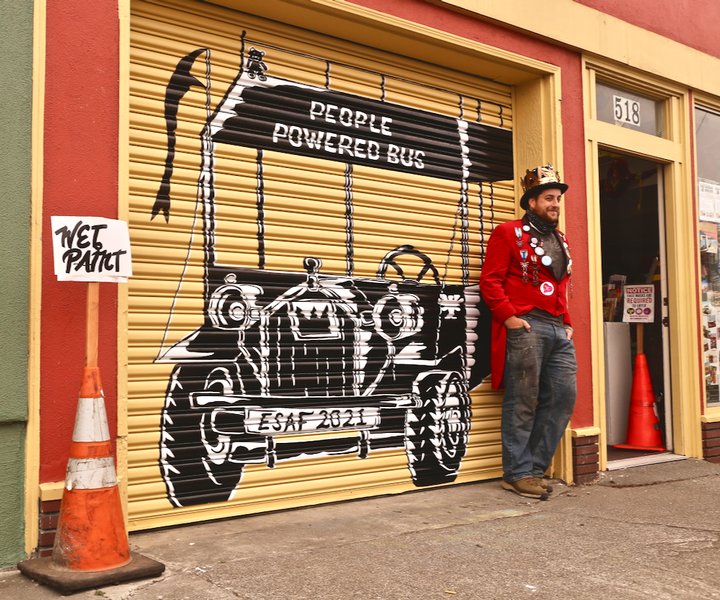 The loss of the museum will surely be most felt by its curator and archivist Robert "Robot" Adams who told the Outpost he's upset to see countless hours of his labor and passion discarded without having a say in the matter.
"Five years of my life is closing before the end of the year and I wasn't a part of the decision," Adams told LoCO. "The people who volunteered to help when I was tired and begging for it after the 2020 Kinetic Shelter-in-Place think this is the right decision because it isn't their hard work closing. Most don't live here, they aren't in the community and they don't see the work I do."
Looking at an imminent end of this era of his kinetic experience, Adams surprised the Outpost by sending us his a lengthy, heartfelt essay on his thoughts on the museum's closure and why kinetics have been important to him. Read that below:
I've been a kinetic volunteer for the last 20 years and have curated the museum for the last five.

I was a S.T.E.A.M. kid before the ideas had a unifying name. I was always building freakbikes and large art in my backyard with whatever I could find in free piles around McKinleyville. I was brought to my first race by the older brother of a neighbor who knew I would enjoy it. What he couldn't have predicted was how he was introducing me to a family I never knew I had.

My first race in 2002 was a homecoming. That race had 44 entries. Of course Flatmo had his giant art — in the shape of Tide Fools that year — but the winner was a little guy, Curt Welsh, on a playing card/donkey trike, There were machines that looked like they were built with a NASA sized budget, and there was Granpa, the oldest racer on the course, whose machine was rust held together with duct tape and prayer. Outside of the machines there were ACE Judges, Queens, and Ted Suggs - people with elaborate costumes, and personality bigger than all the machines, who soaked up all the attention.

Racing looked like it was for everyone. It was a place where imagination and hard work were valued more than the size of your wallet or actual skills. I was 10 years old and poor and imagination and hard work were all I had.

The Ferndale Kinetic Museum was the first museum I had ever gone to and nothing like the ones you'd see on public access TV. It was free! And you were allowed to touch everything (at your own risk) and you were encouraged to ask questions, and even question the "adults" in charge — just because they were older, didn't mean they were right. I wanted to come back every weekend. I rode from McKinleyville to Ferndale as often as I could, part by bus and part by bike.

Every month, while curating the Eureka Kinetic Museum I meet at least one kid that reminds me of how I got started in all of this. Now no 10 year olds are traveling 33+ miles to ask me questions — the internet and books are easily available — but I can spot the STEAM kids when they walk though the door.

There are a few specific types of youth visitors who get me excited to give a tour:

Backyard artists & engineers who just discovered how large their family is;
Kids who can't breathe because they ask so many questions;
And teenagers who think they know everything — because I get to ask them questions.

I was all of those kids a some point, and sometimes I still am.

The Kinetic Museum is free magic, there is no other way to describe what a space like KME does to your brain, imagination and heart - its a gallery, a workshop, a library, an amusement park, a theater stage, and a memorial, but most importantly it's fun with no barriers to participation.

Closing the doors is going to have a huge impact on our community and the future of the Kinetic Grand Championship. KME is a physical location that acts as a year round marketing tool for the KGC, we are in the community everyday having fun while inviting and inspiring others to participate in a future race.

Future Kinetic Grand Champions and Rutabaga Queens could be someone who get inspired by the Kinetic Museum next Friday — it was true 20 year ago when 10 year old Robot walked through the doors in Ferndale.

There is this idea that you should try to be the type of adult that you needed when you were younger, and that's what I try to do through KME. I needed some to show me how to used tools, stick metal together and explain why some things float, but also I needed safe people to tell I wanted to be a Queen, or dress up as a yeti or a dragon without laughter.

The Kinetic Museum is a place that tells you that, despite all the reasons not to, you're allowed to follow your silliest dreams, and you deserve to have fun.

Children don't grow up to be Robot Queens or, let's say, build giant flaming octopi without spaces like the Kinetic Museum.