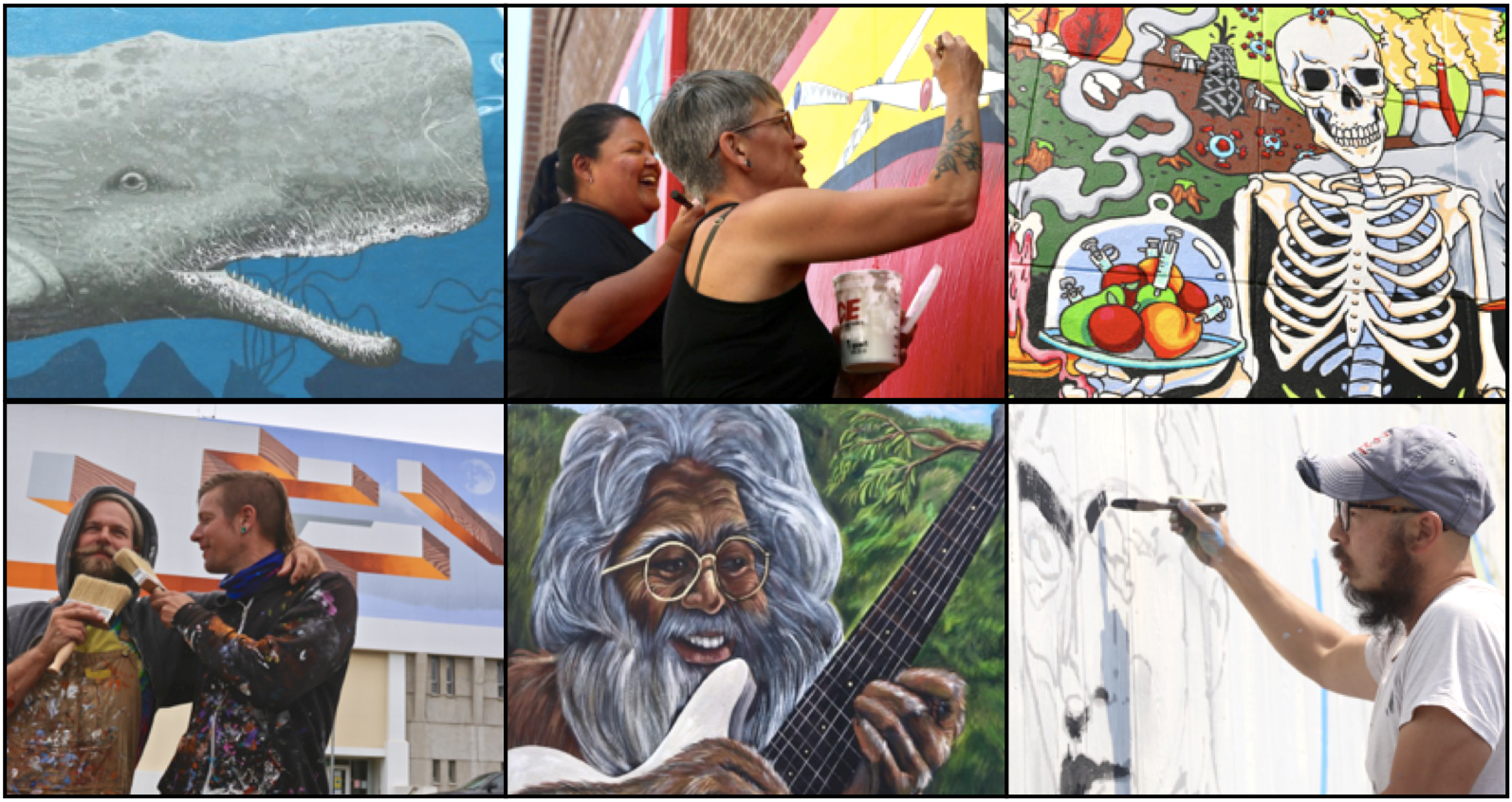 While some finishing touches are still being applied, the 2021 Eureka Street Art Festival is mostly in the books, meaning the city has a bunch of new colorful walls for you to peruse (if you haven't already). Plan to take a walk, maybe. It's a mostly good time to be outside.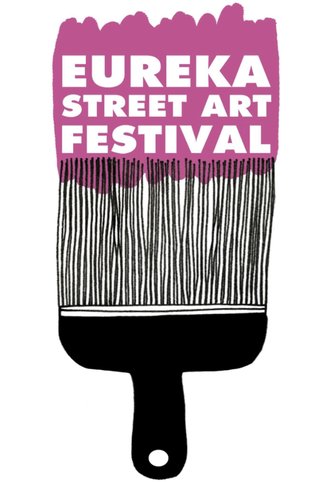 The event was another exercise in learning to adapt. For the second straight year the COVID-19 pandemic caused organizers to dash plans for their wrap-up community block party, among other adjustments. But as numerous other local events canceled in the face of rising infection rates, ESAF benefitted from being both outside and spread out which allowed art-seeking attendees to safely take small group strolls and appreciate the work of this year's mostly local crop of talent. A few artists noted that they had to contend with smoky, orange-tinged lighting while mixing their paints, but they made it work.
Centered mostly around Eureka's Fourth and Fifth streets corridor, 11 new works were approved for downtown walls this year in a process that pairs artists with local property and business owners. While that's the fewest number of murals completed during any of the previous individual events, this year's festival covered more square footage than any of its predecessors, according to organizer (and participating artist) Jenna Catsos.
"We realized from an organizing perspective that working with larger murals is less work on our part but a bigger impact," Catsos told us. "So it kind of just makes sense."
Another new approach this year: The festival launched its Mural Apprentice Program "designed to help aspiring Humboldt County mural artists gain experience, network, and build their resumes." Thus, several of this year's muralists were assisted by paid aspiring muralists, many of them, as Catsos wanted to acknowledge, people of color or members of the LGBTQ+ community.
The Outpost took a few walks around the festival as it was happening and took a few pictures, as we do. So, without further delay, below you will find your 2021 Eureka Street Art Festival artists and their entries. Enjoy.
###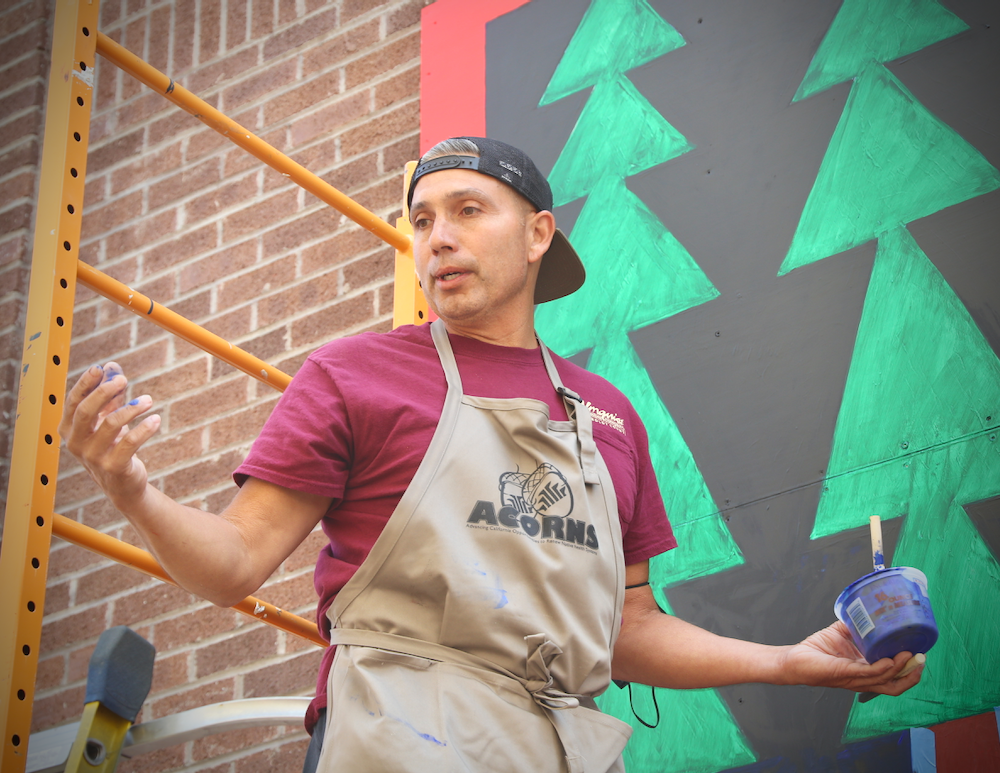 -ALME ALLEN-
McKinleyville
"The Sun Set Twice on the People That Day" is a mural first painted by Native artist Brian Tripp over two decades ago which was moved to its new home on the side of the Clarke Museum for this year's festival. Alme Allen, who assisted in its initial creation, was aided by family members in restoring it and Tripp himself, who is currently in hospice care, made it to the mural's dedication to again sign his work.
The piece takes its name from a line in a poem written by Tripp about the 1860 massacre on Tuluwat Island.
MORE: Mural by Native Artists Brian Tripp and Alme Allen to Be Restored at Its New Home Outside the Clarke Museum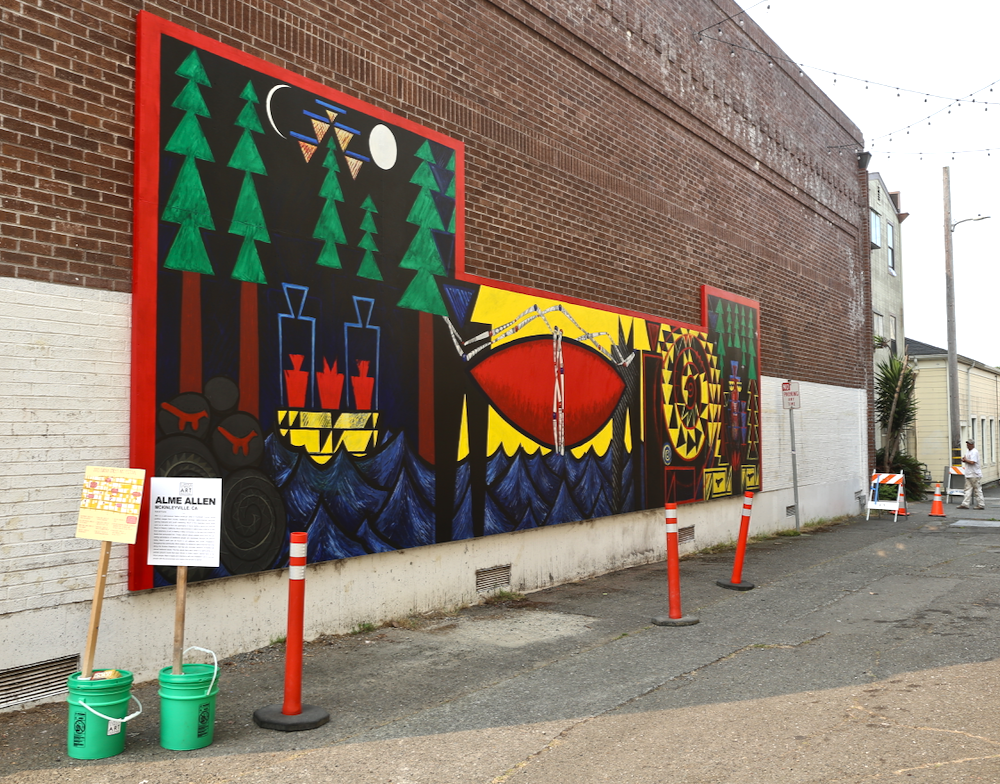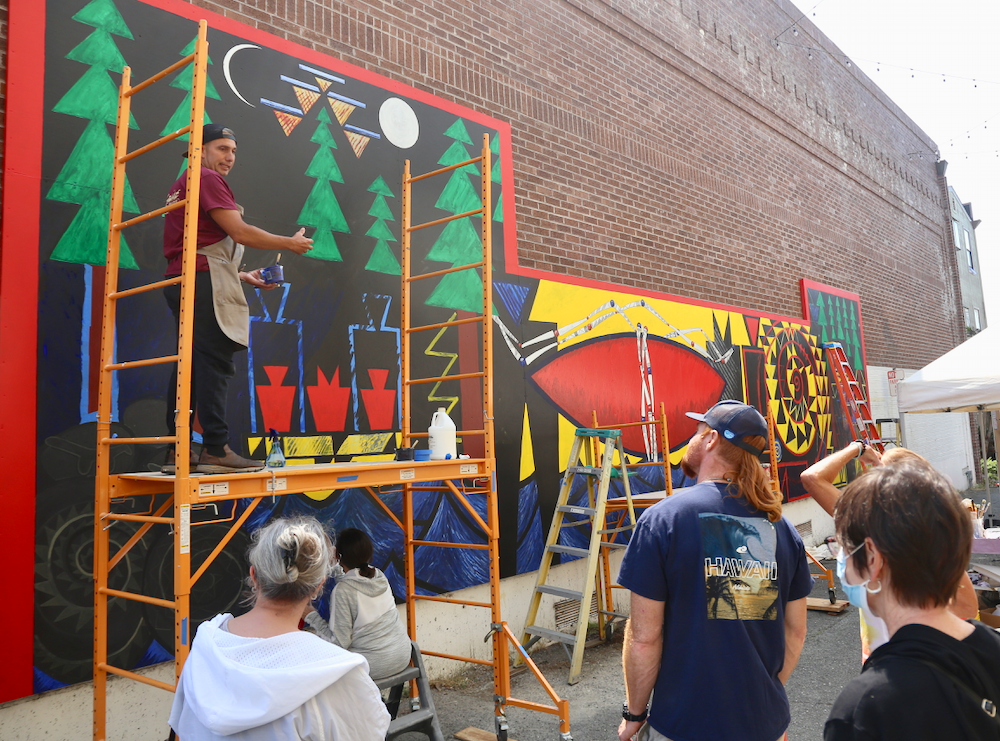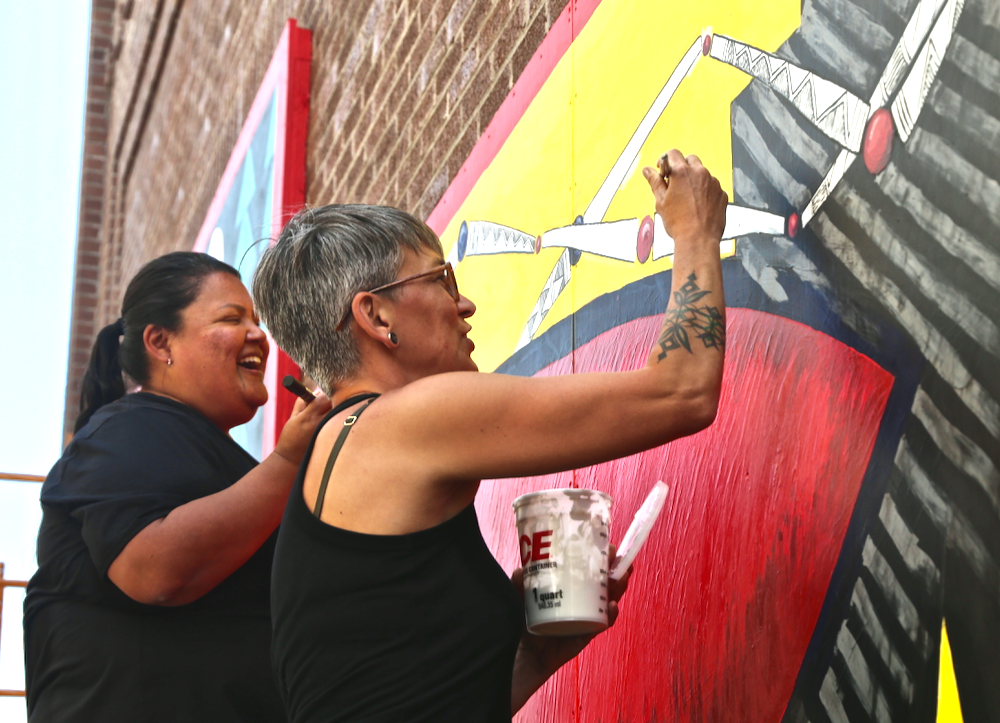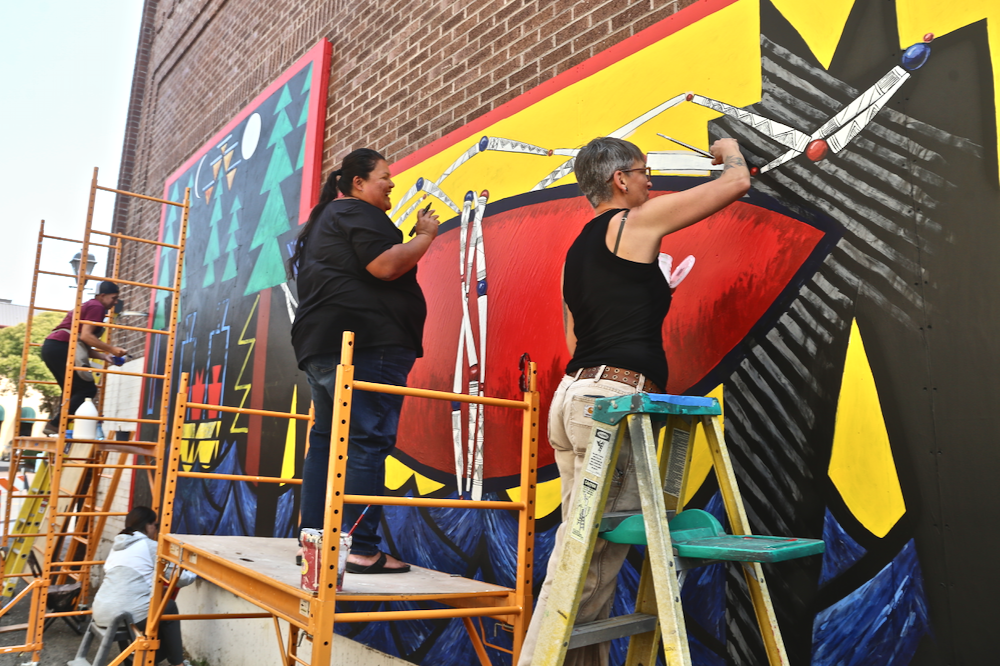 ###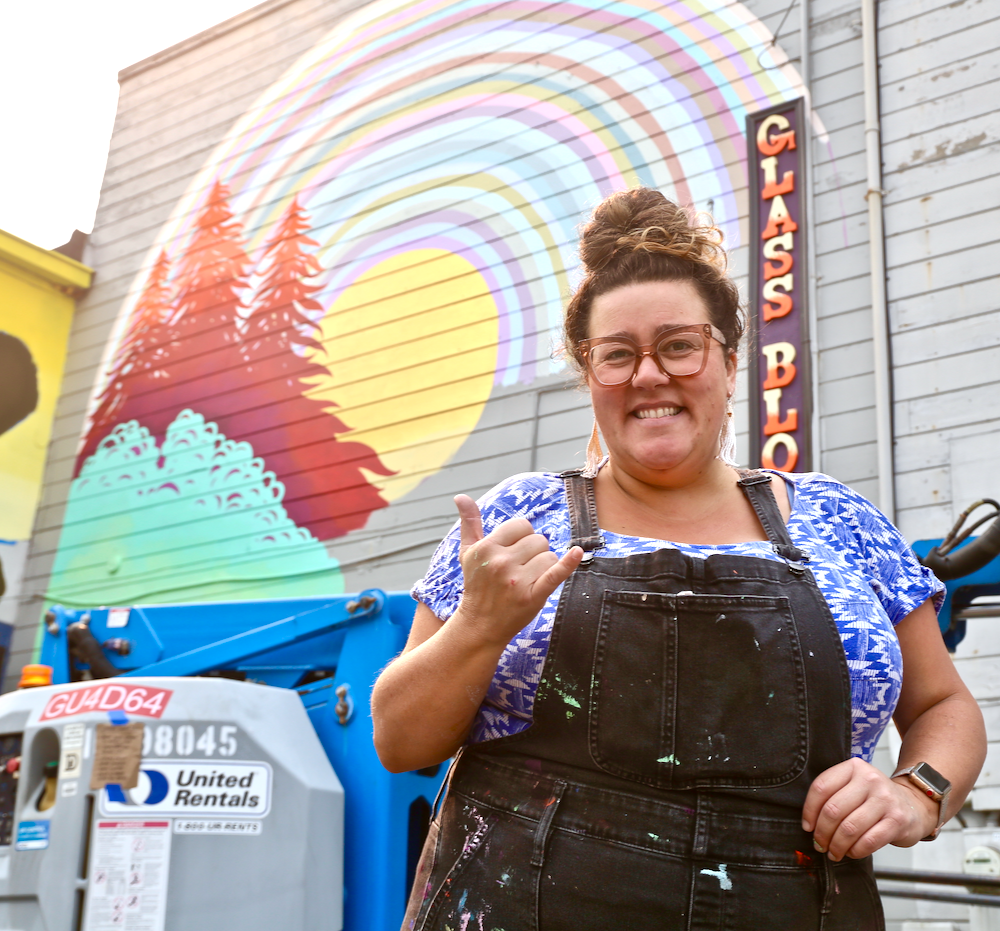 Blue Lake
Returning festival artist Gina Tuzzi decided to celebrate one of her favorite outdoor spots in this colorful mural located in the alley behind Soulshine Arts Glassblowing Studio on Fifth Street. The scene depicts a section of the South Fork of the Trinity River which was burned by wildfire as part of the August Complex in 2020.
"My friends and I have been camping out there for almost 20 years now," Tuzzi said. "It's our sanctuary. It's our safe space."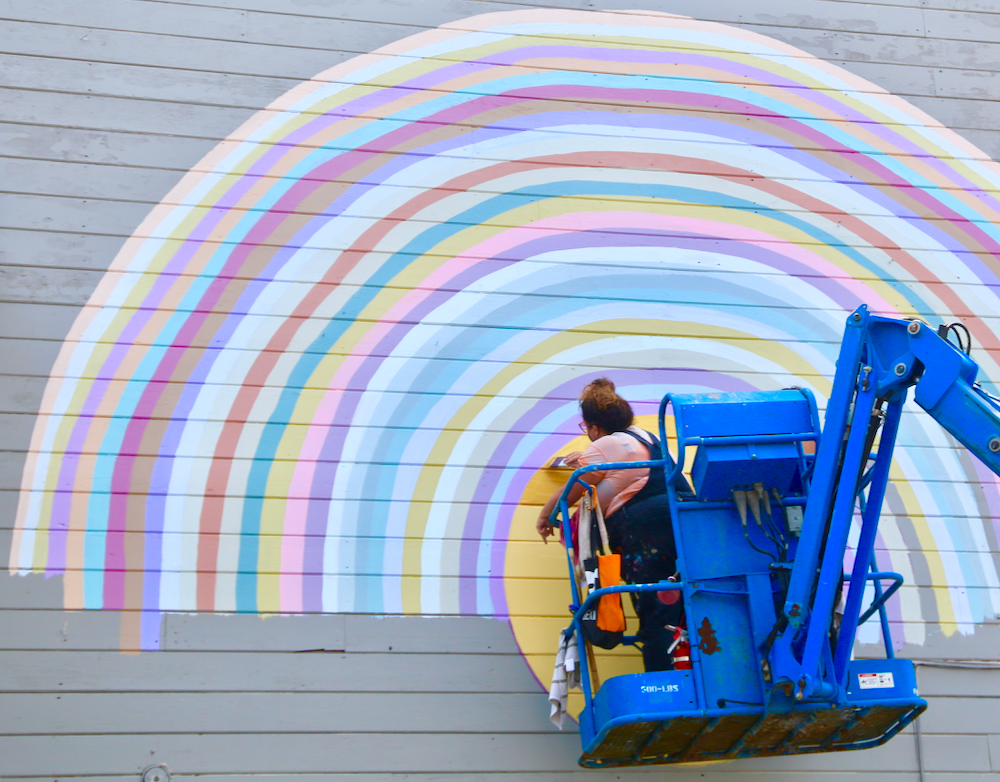 ###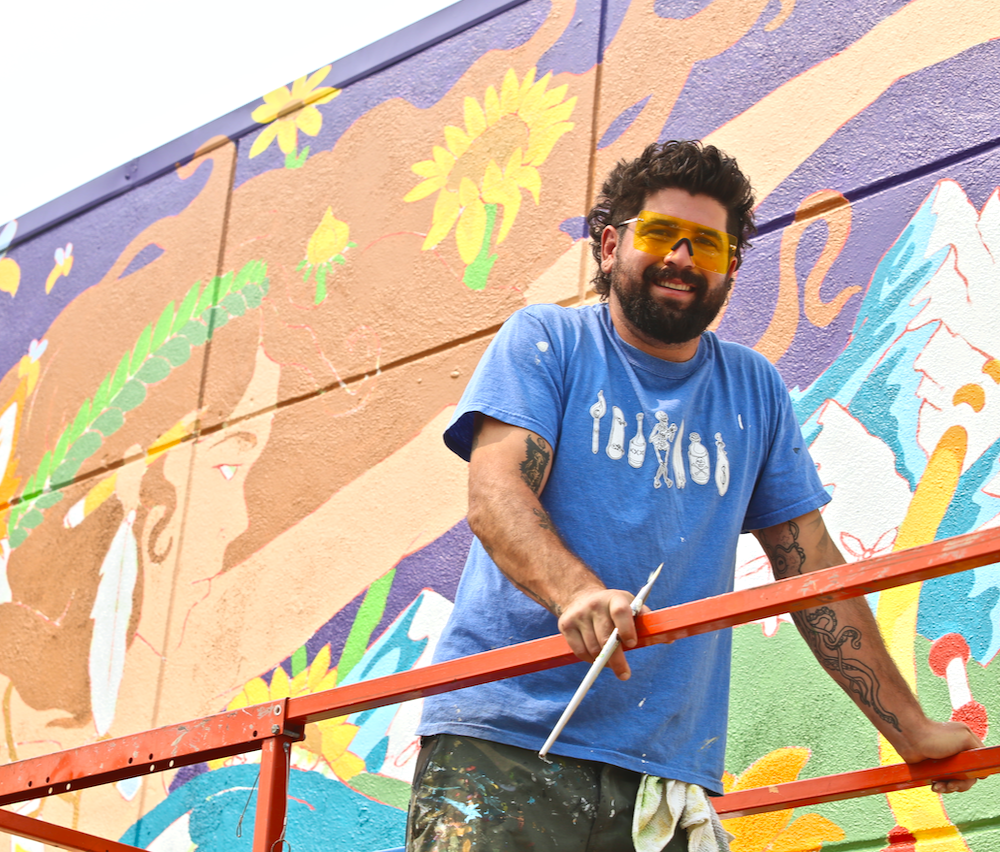 Arcata
Another artist returning to the festival this year is Tony Diaz, whose work you may recognize from the back of the Arcata Theatre Lounge (or if you've happened to take a trip to New Zealand). This new eye-grabbing piece, titled "The Trade Off," now adorns a building near the corner of C and Fifth streets.
Tony had little time to celebrate the completion of his latest work — he was scheduled to start another piece in Portland directly following this year's fest.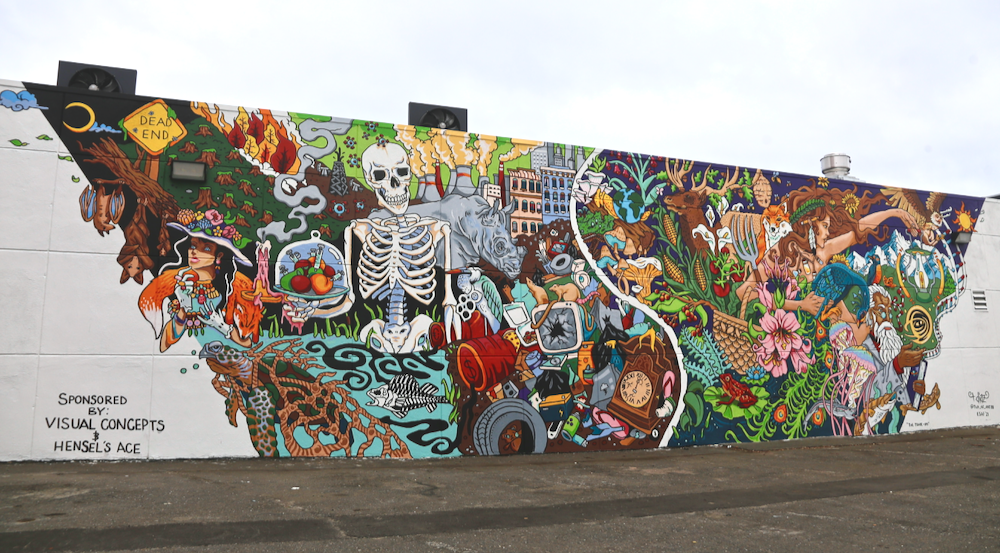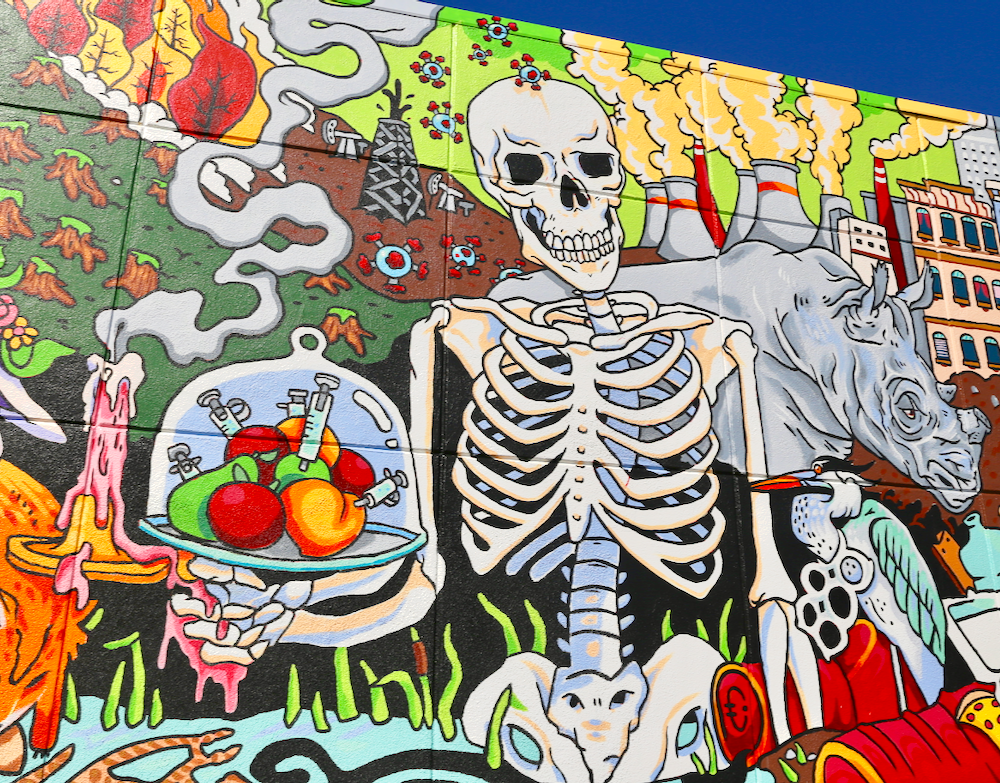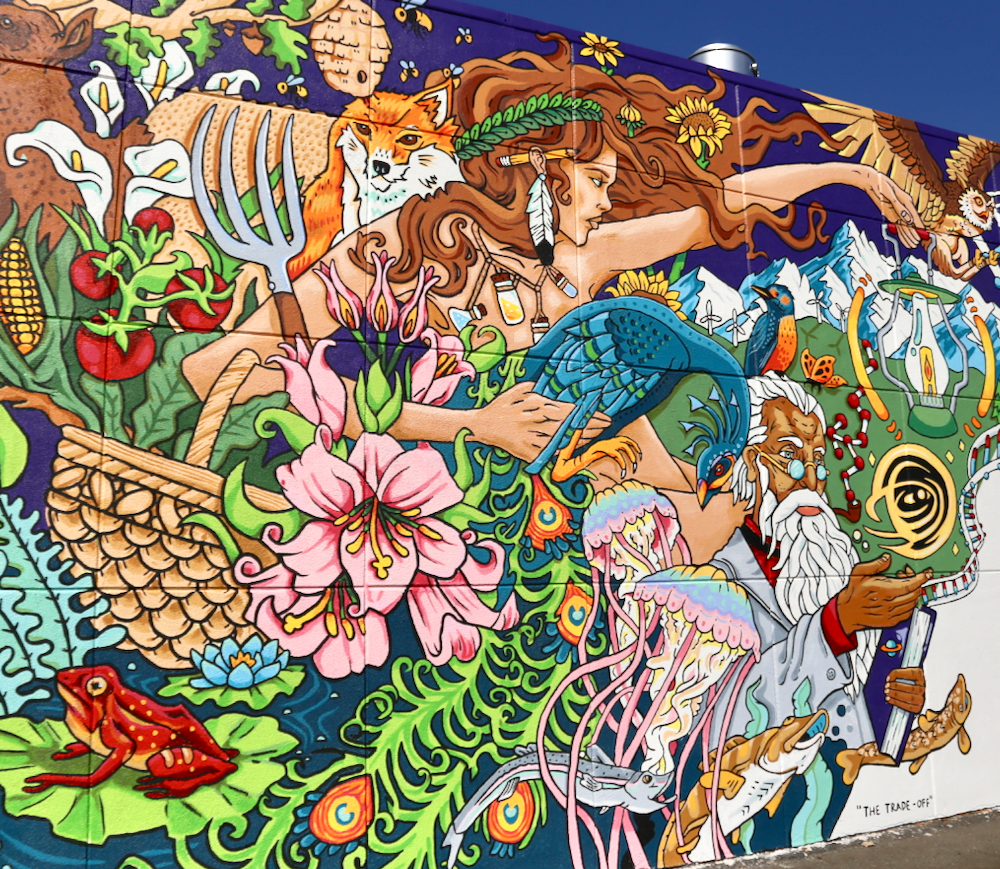 ###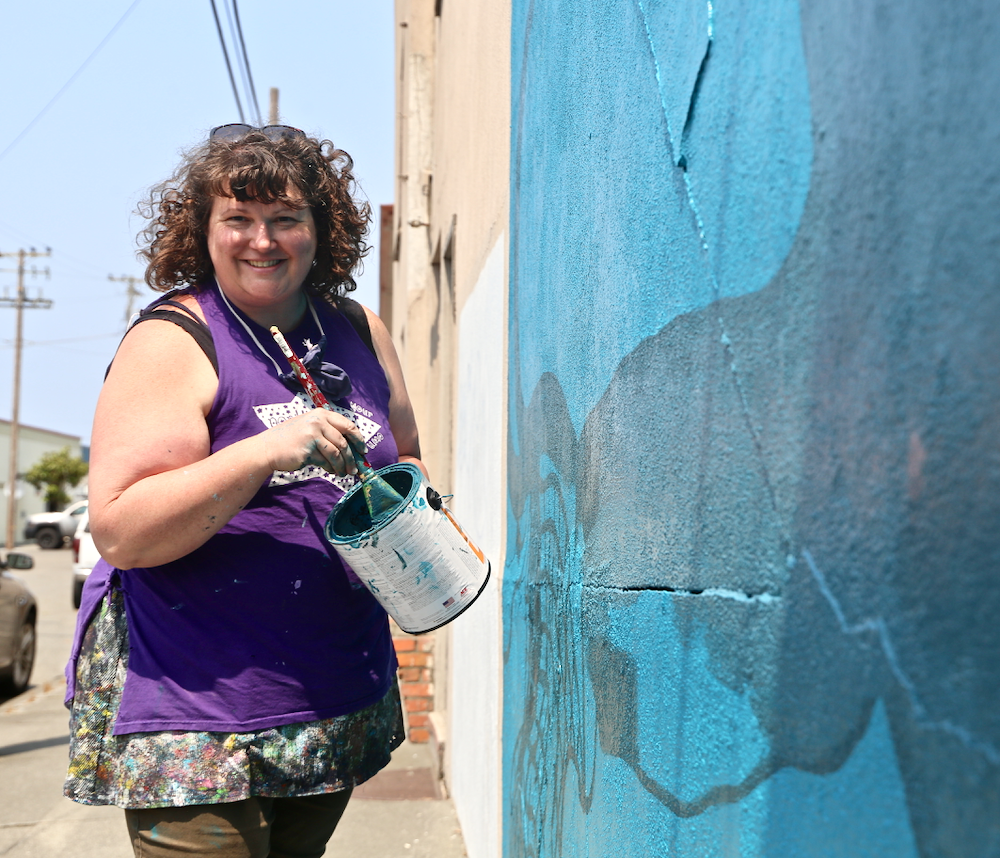 Eureka
Current Eureka City Councilmember and forever Rutabaga Queen Kati Texas (AKA Kati Moulton) took on the task of refurbishing a mural of a sperm whale mother and calf that has long-adorned the wall at the corner of Fourth and A streets. This is actually the second time Kati has been called upon to touch up this piece — she first tackled the job right after she moved to town almost two decades ago.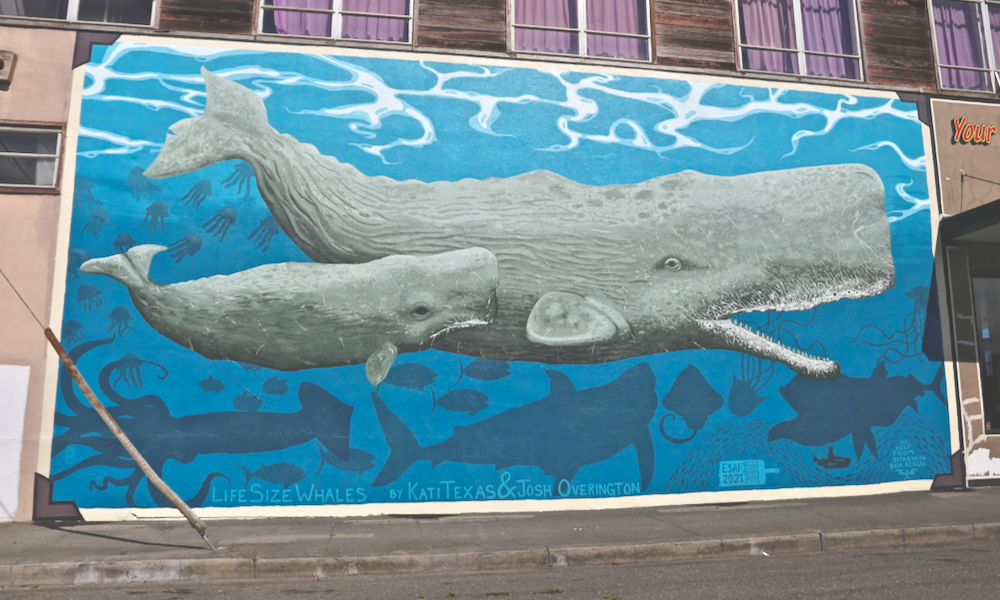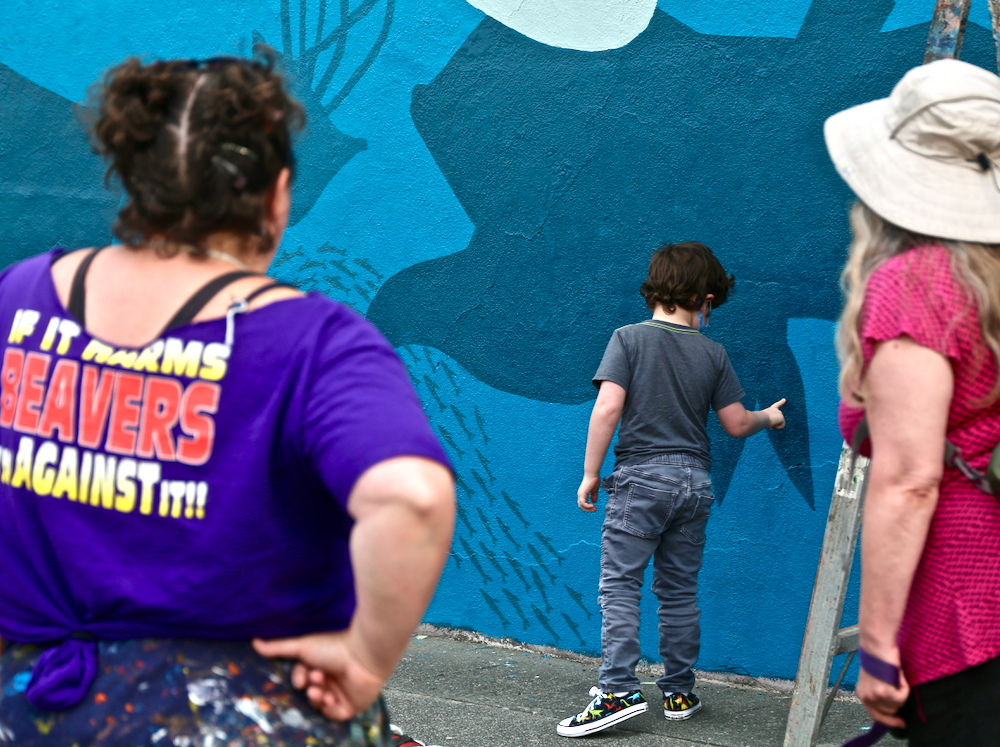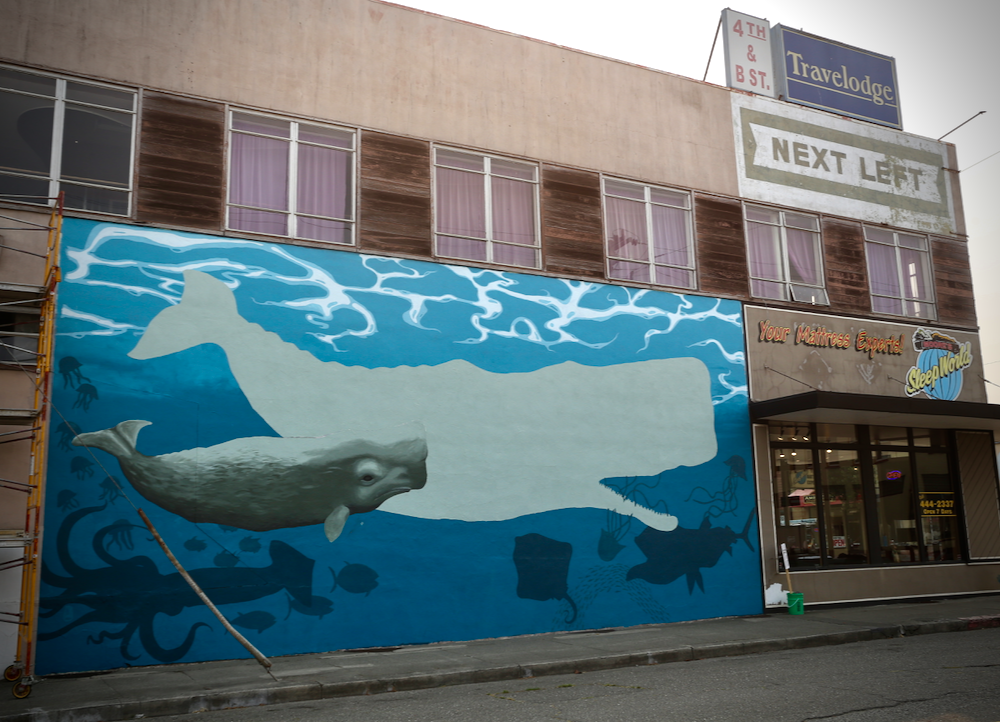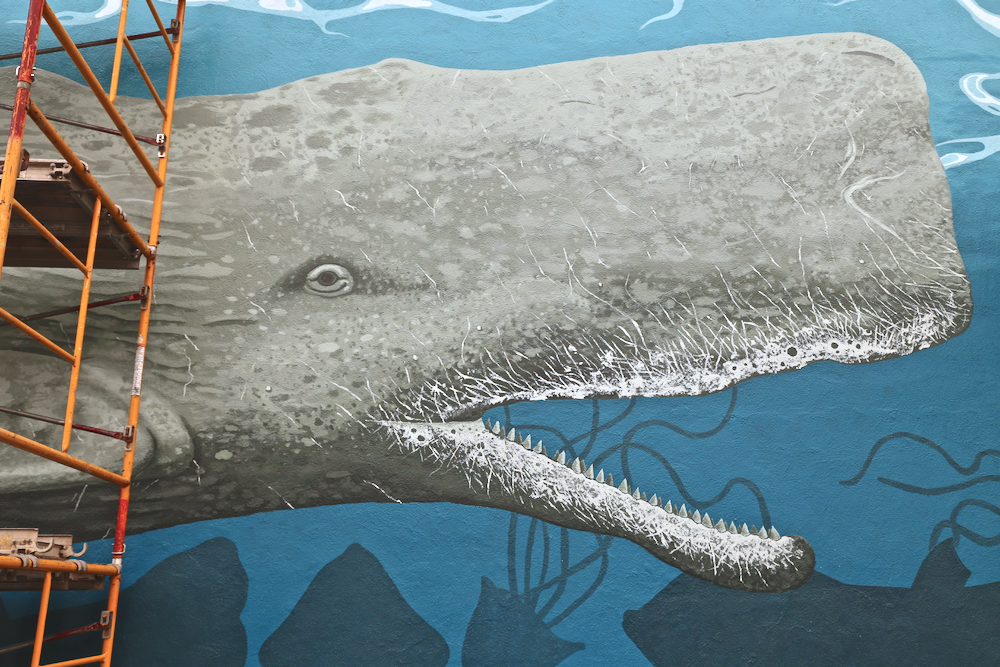 ###
Arcata
Combining two figures beloved in Humboldt, Julia Morgan's Fourth Street piece on the side of the building that will soon be home to Kuda, a cannabis distribution company, was not the design officially approved for the festival, but she got permission from the building's owners last minute to expand her piece. Thus, "Hairy Garcia" was born. Long may he keep truckin'.
MORE: Behold 'Hairy Garcia': New Eureka Mural Combines Two Beloved Legends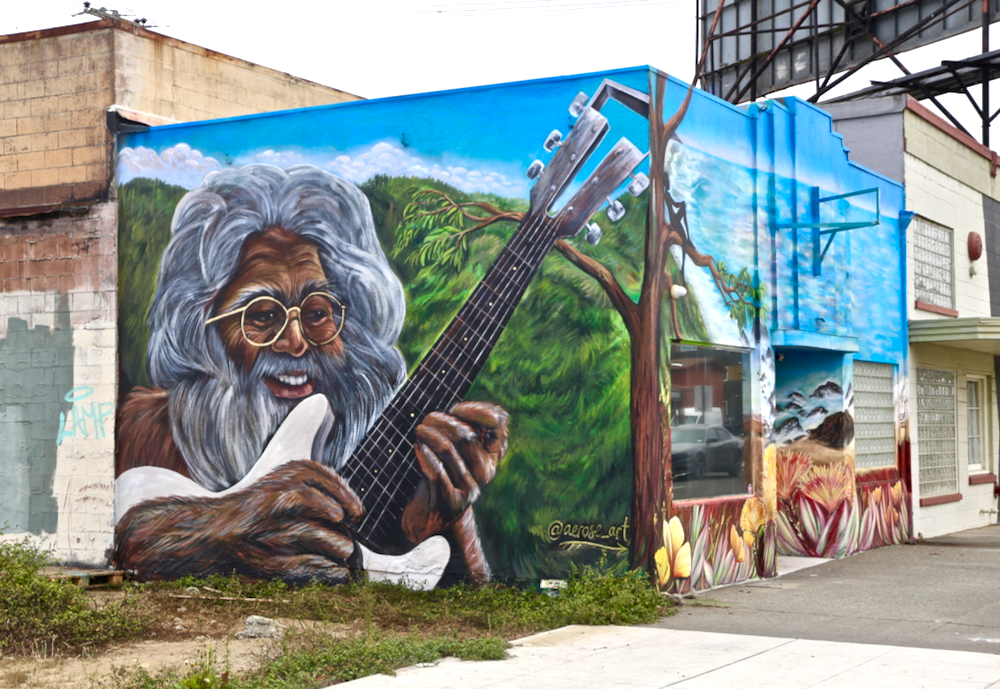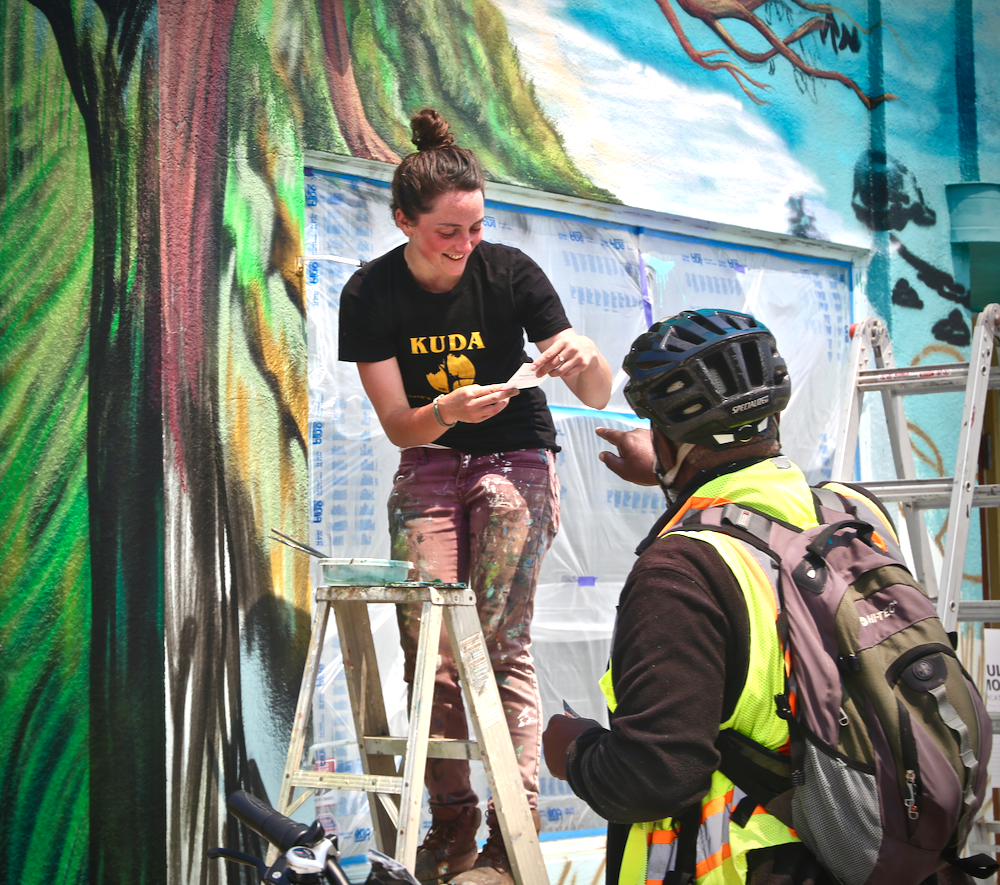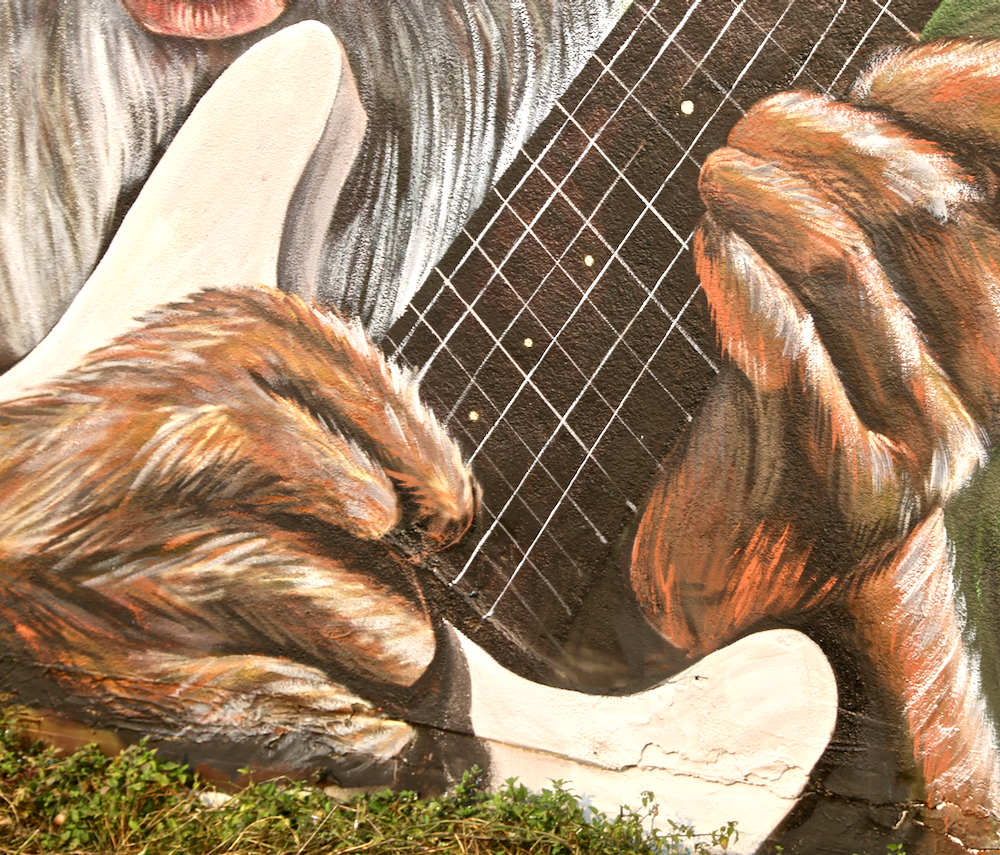 ###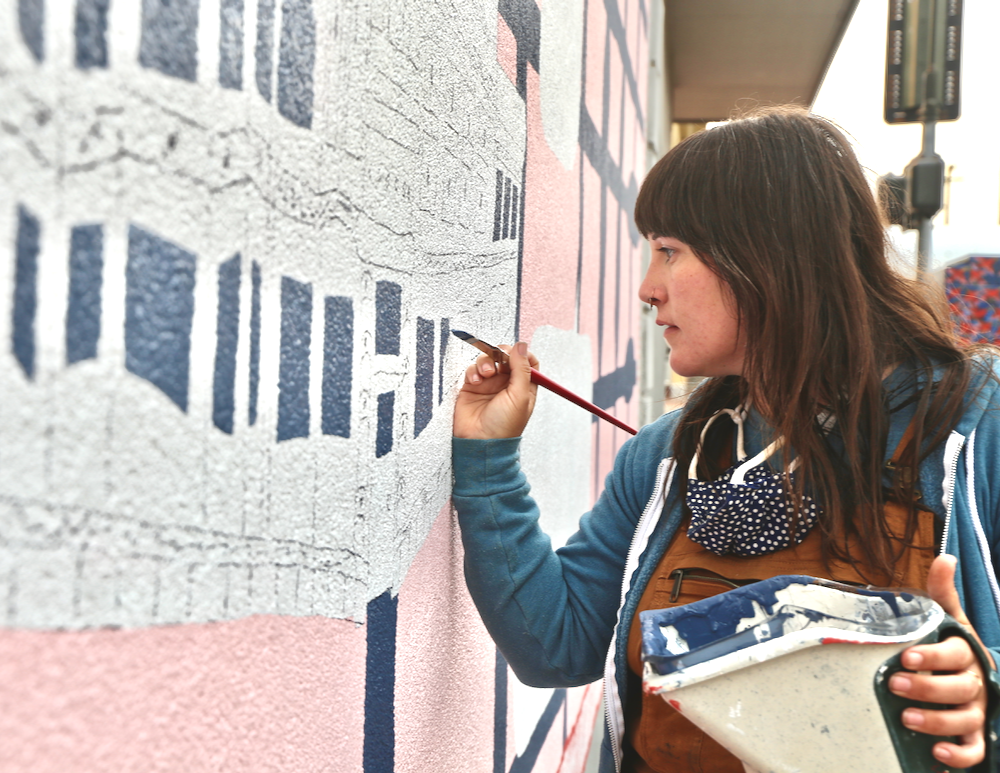 Eureka
Gettin' her hands dirty! Eureka Street Art Festival founder Jenna Catsos opted to take up brush as a fest participant for the first time this year for this map-based mural located on the Ellis Art and Engineering building at the corner of E and Fifth streets. Assisted by a team of the aforementioned mural apprentices — including Tess Yinger and Kayla Lopez, pictured below — the piece encourages travelers to "Turn Here for Old Town," a solid suggestion.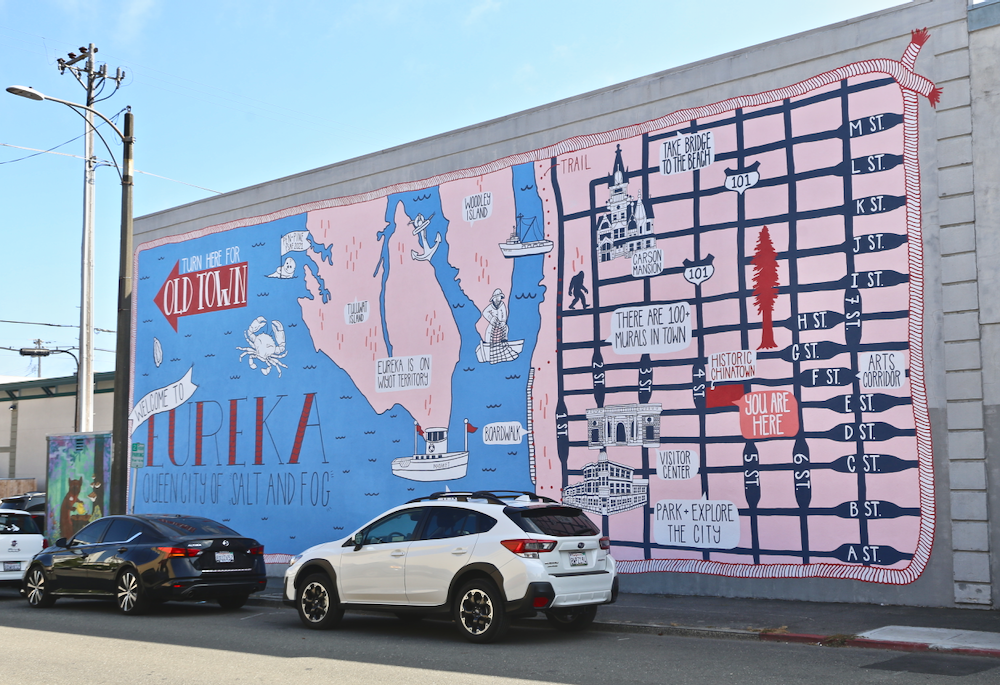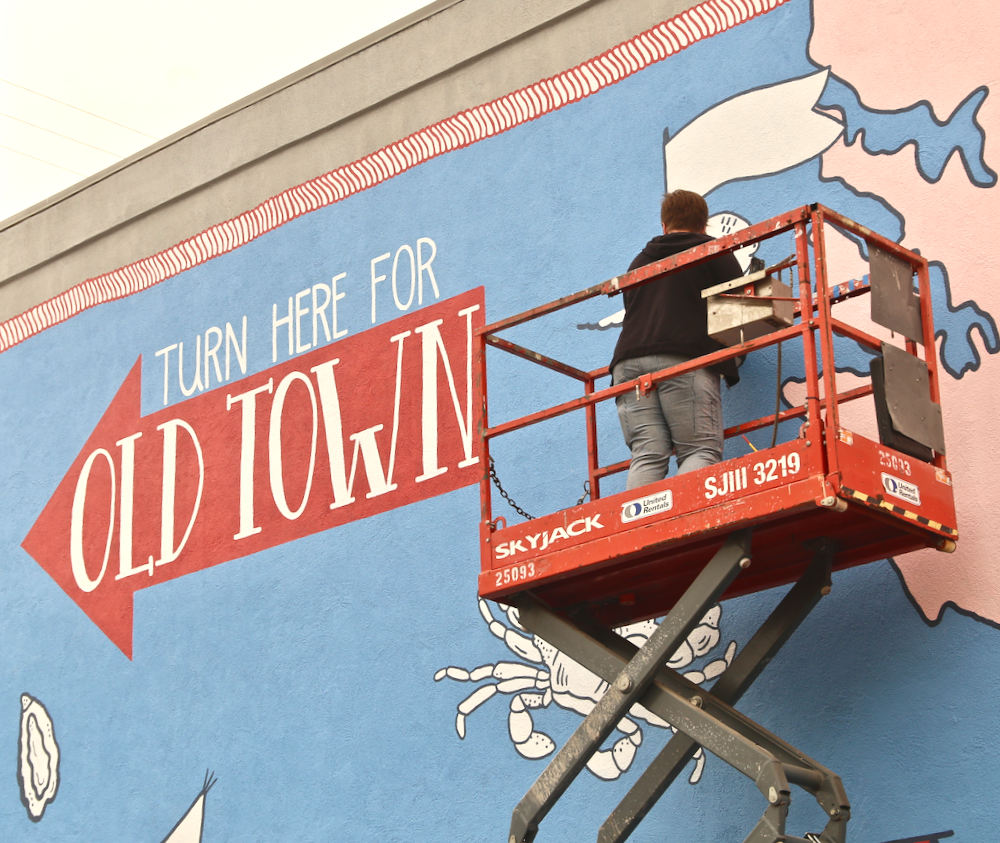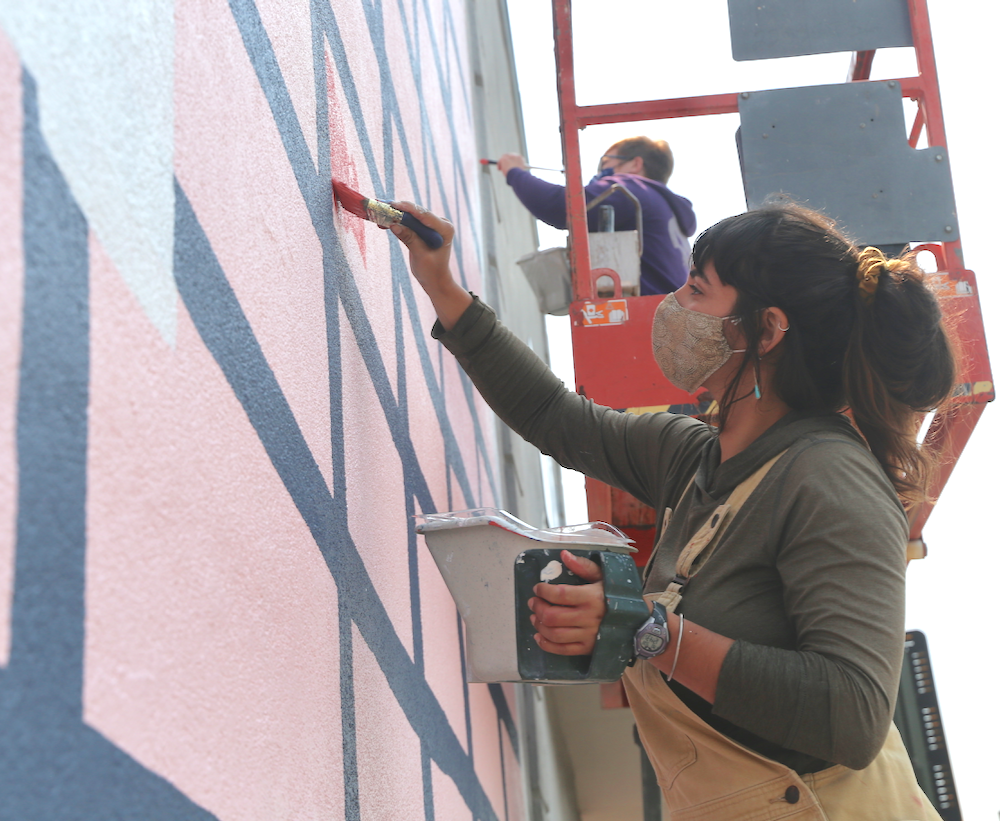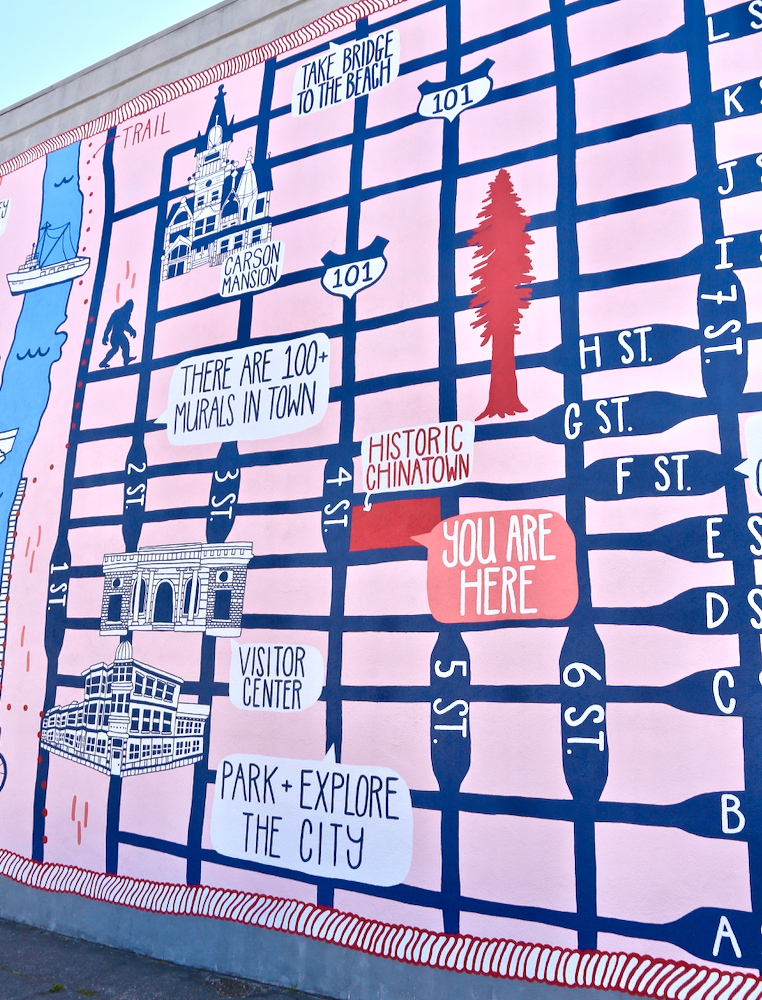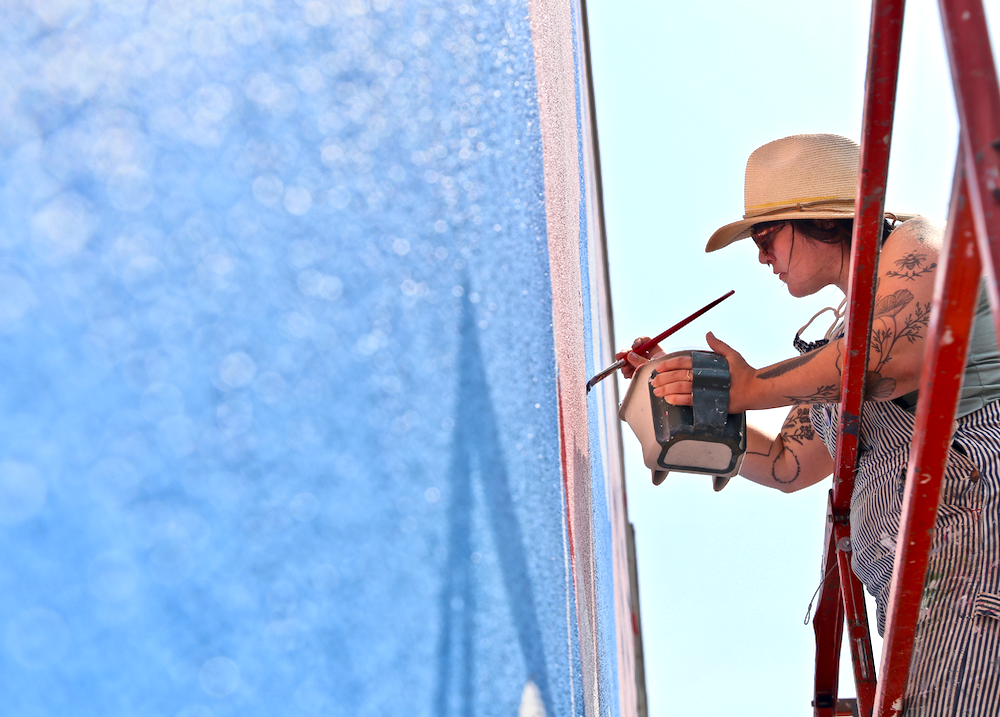 ###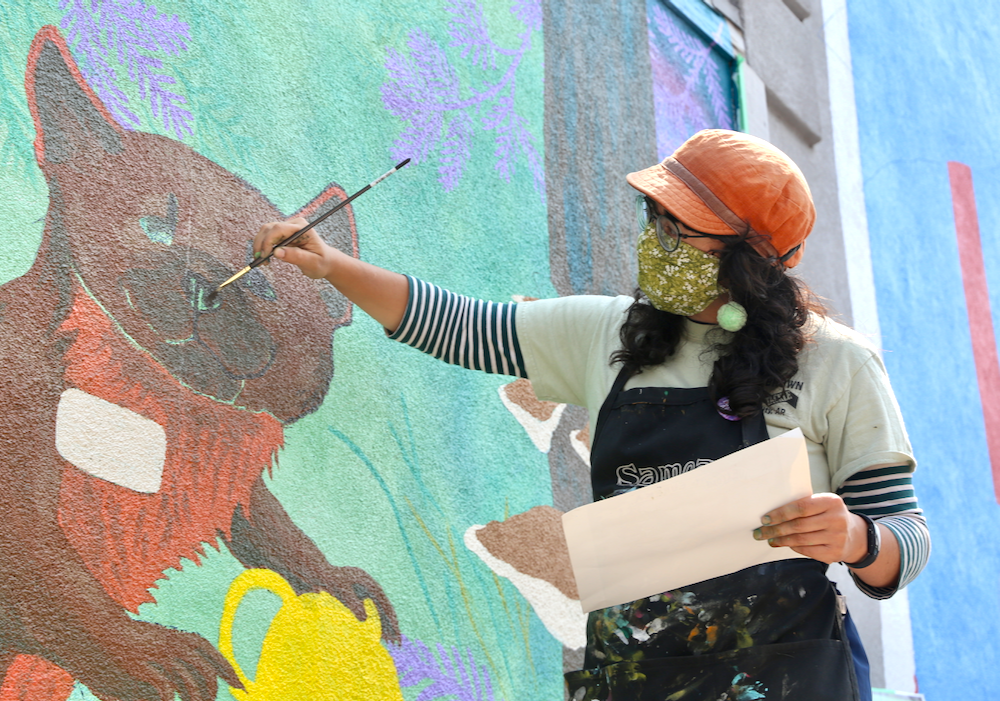 Eureka
Returning festival artist Mir de Silva invites you to have a cup of tea with a friendly and hospitable Humboldt marten in this piece on E Street between Fourth and Fifth streets. So speedy was Mir in getting her piece up that she got permission to double its size and wrap it around the side of the building.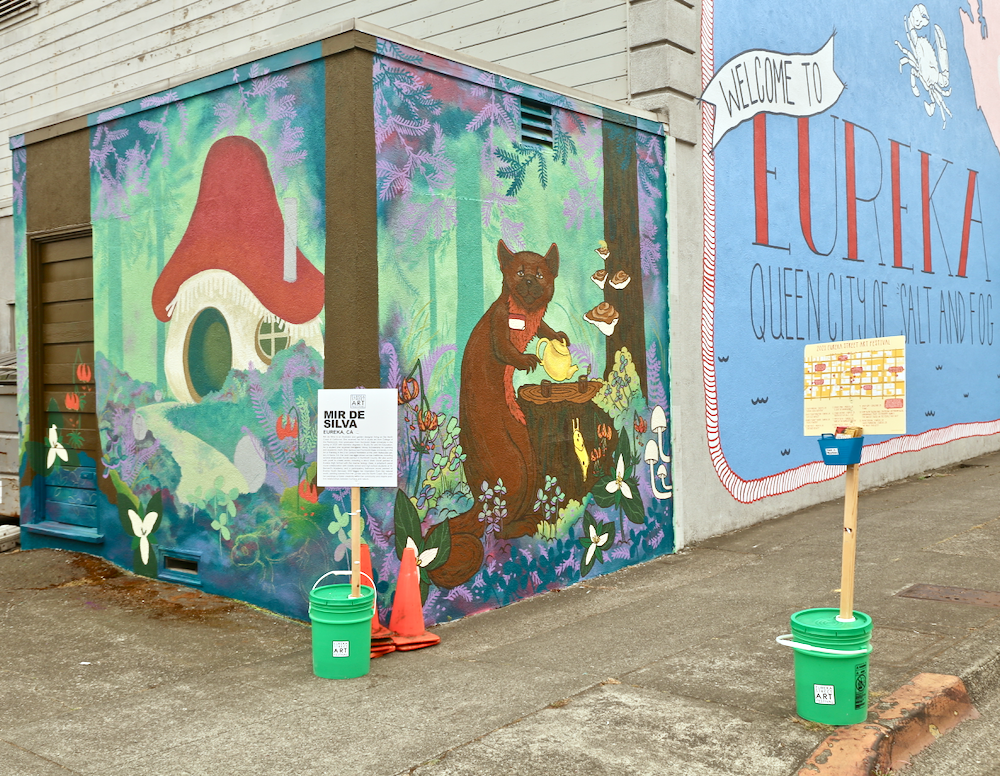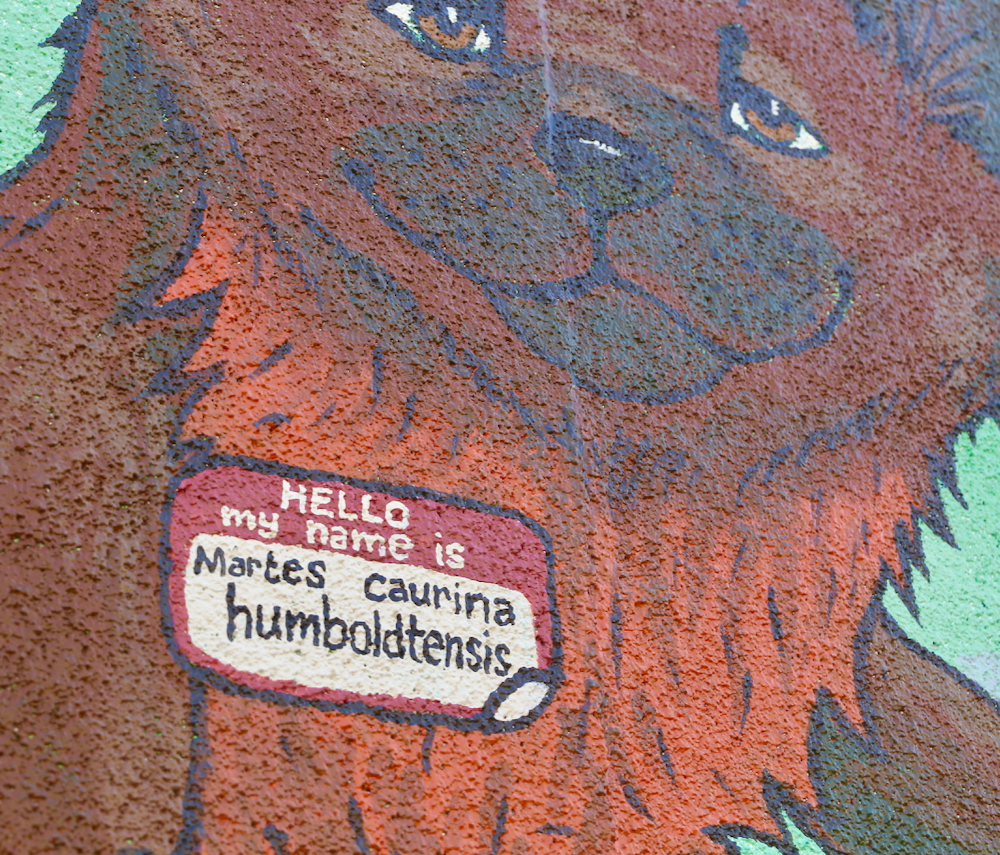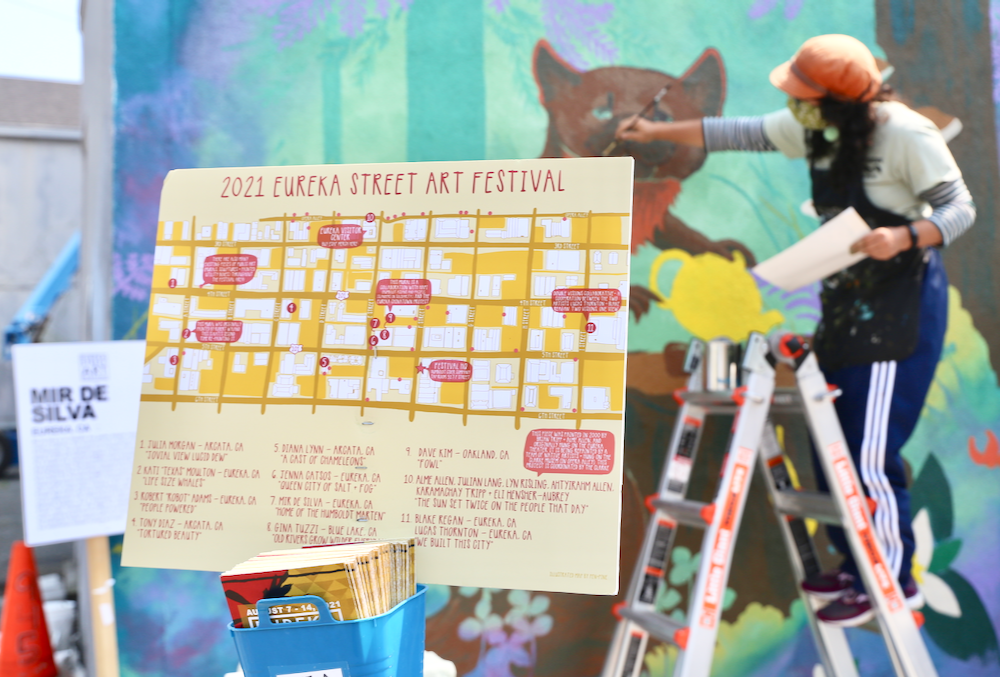 ###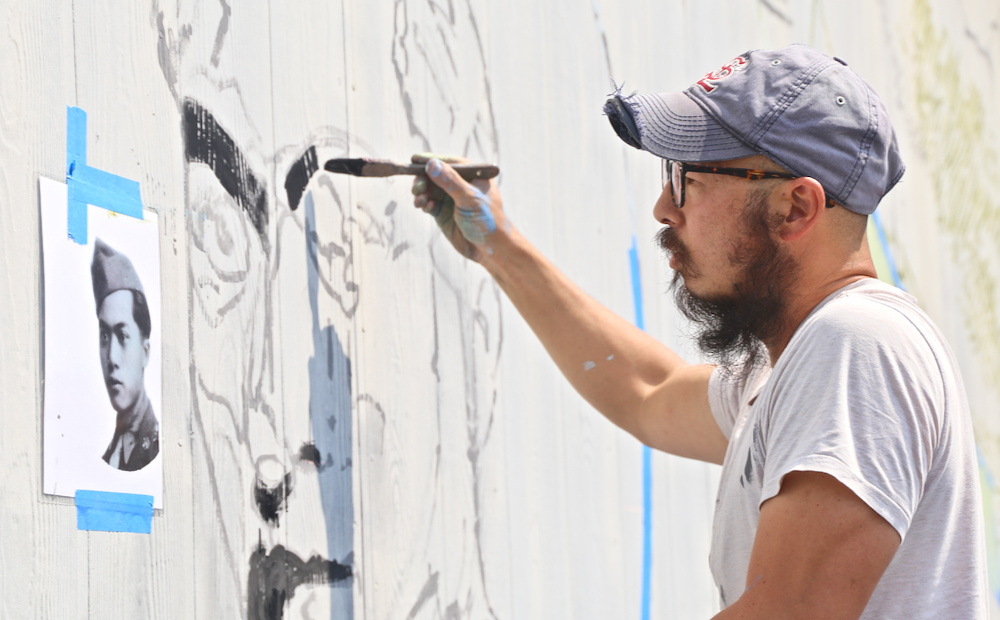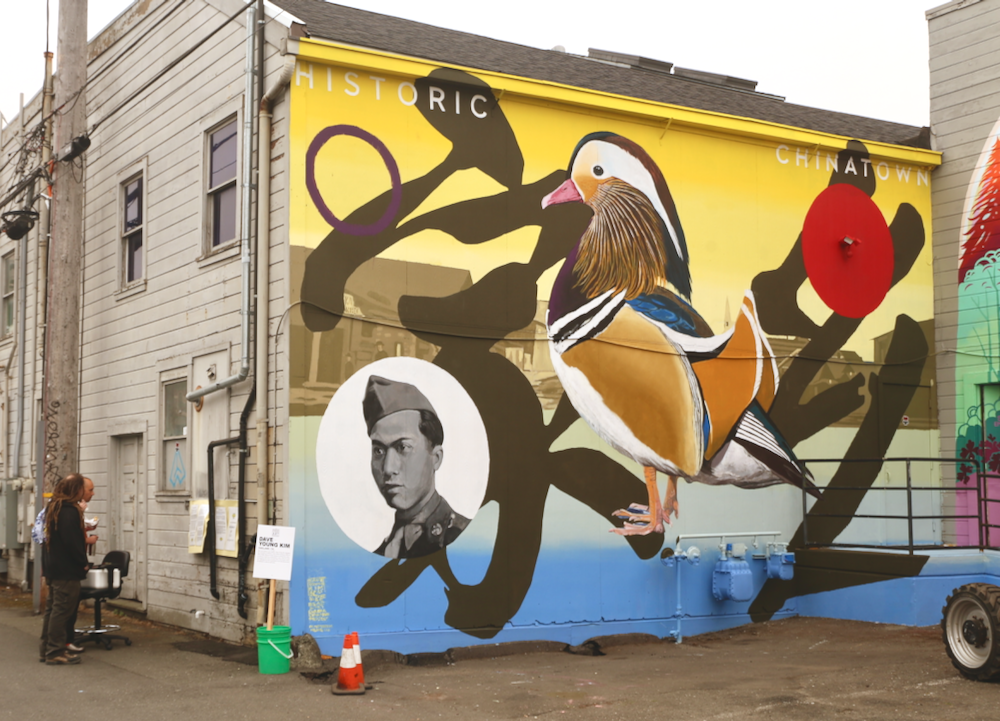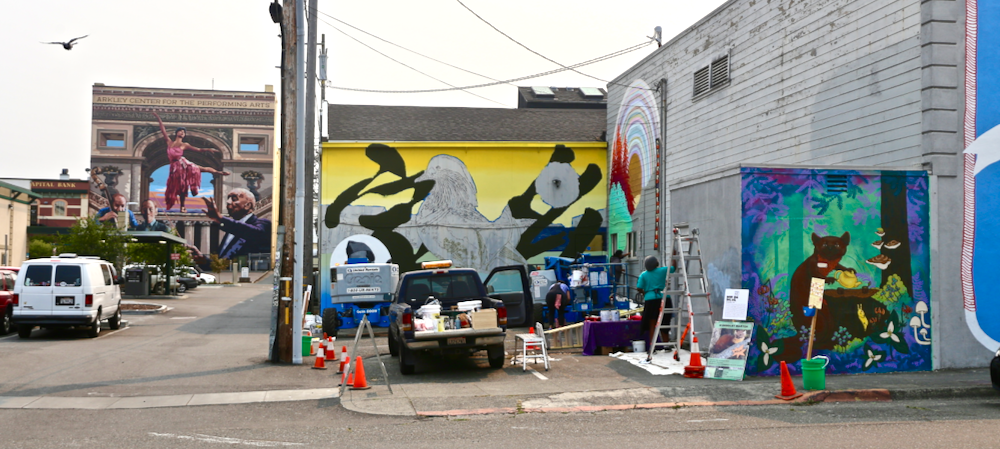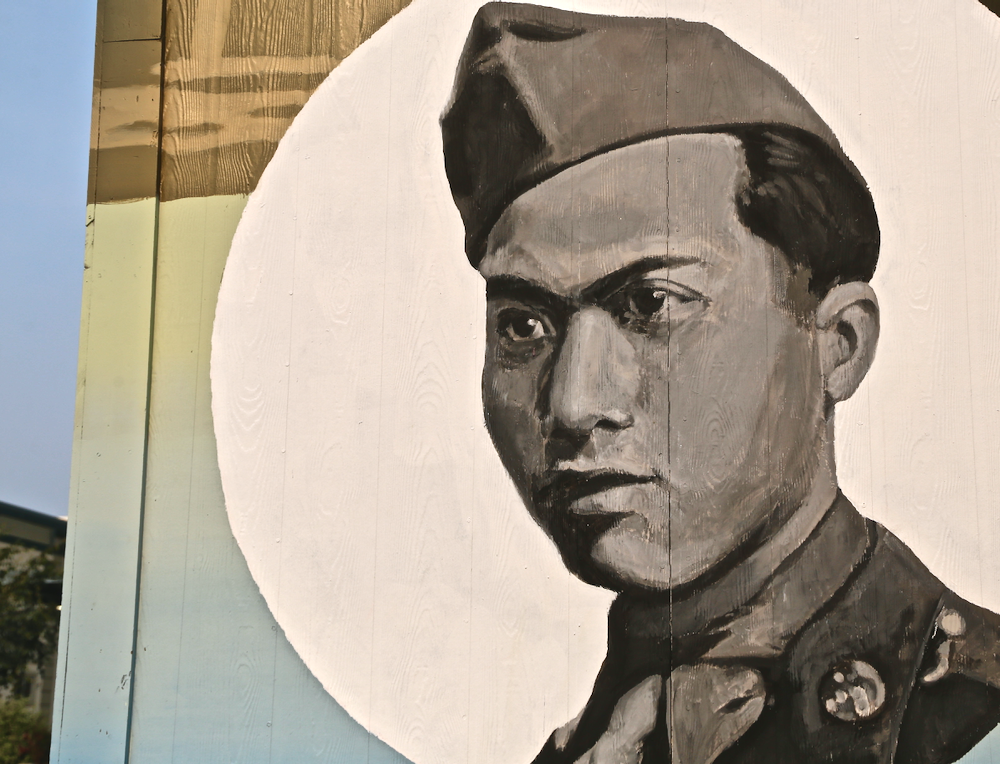 ###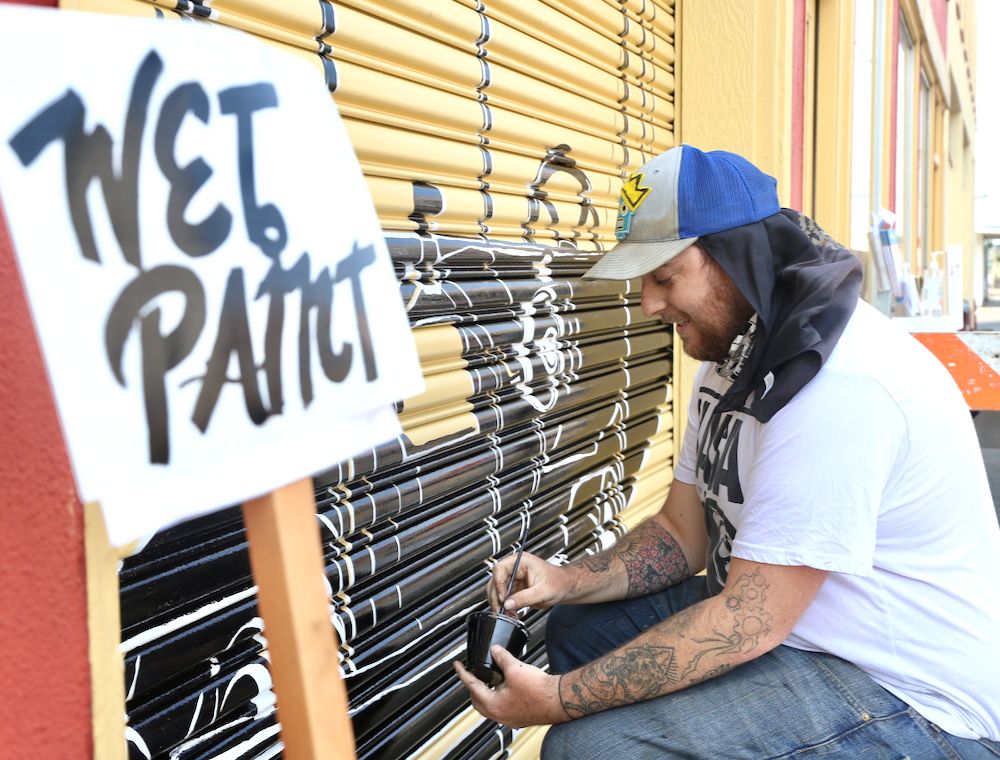 Eureka
Longtime fans of the Kinetic Sculpture Race will recognize the contraption depicted in Robert "Robot" Adams' piece on the difficult-to-paint-on corrugated metal door at the Kinetic Museum. That's glorious kinetic founder Hobart Brown's People Powered Bus, of course. For the glory.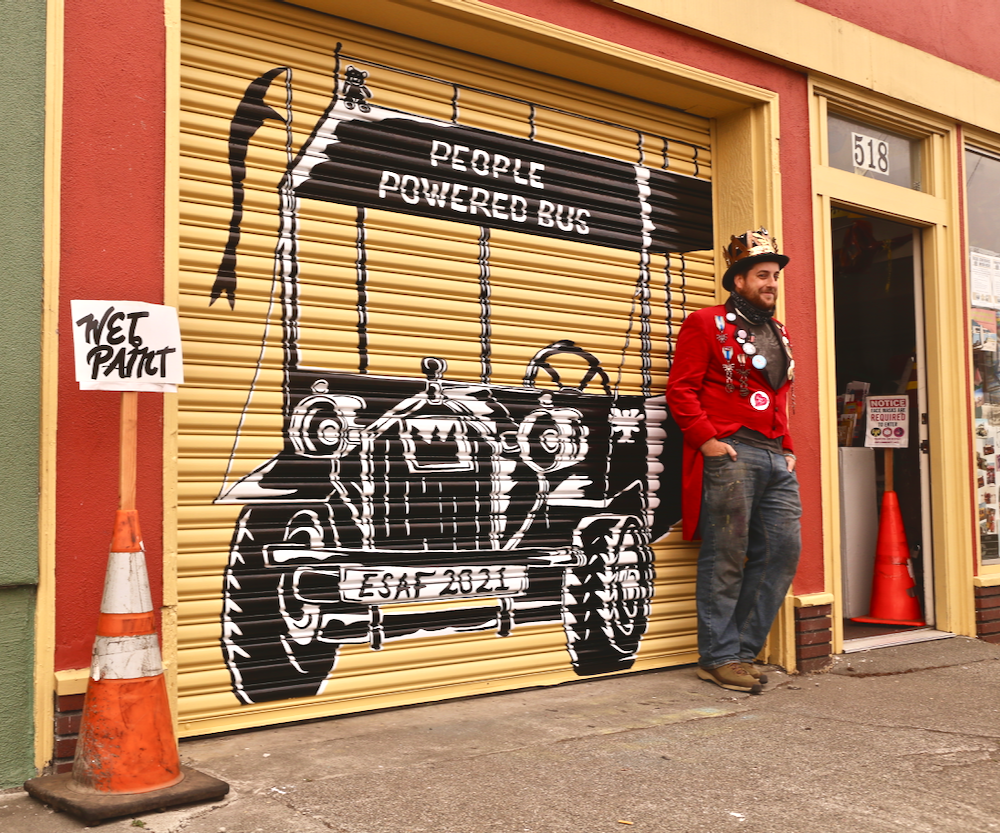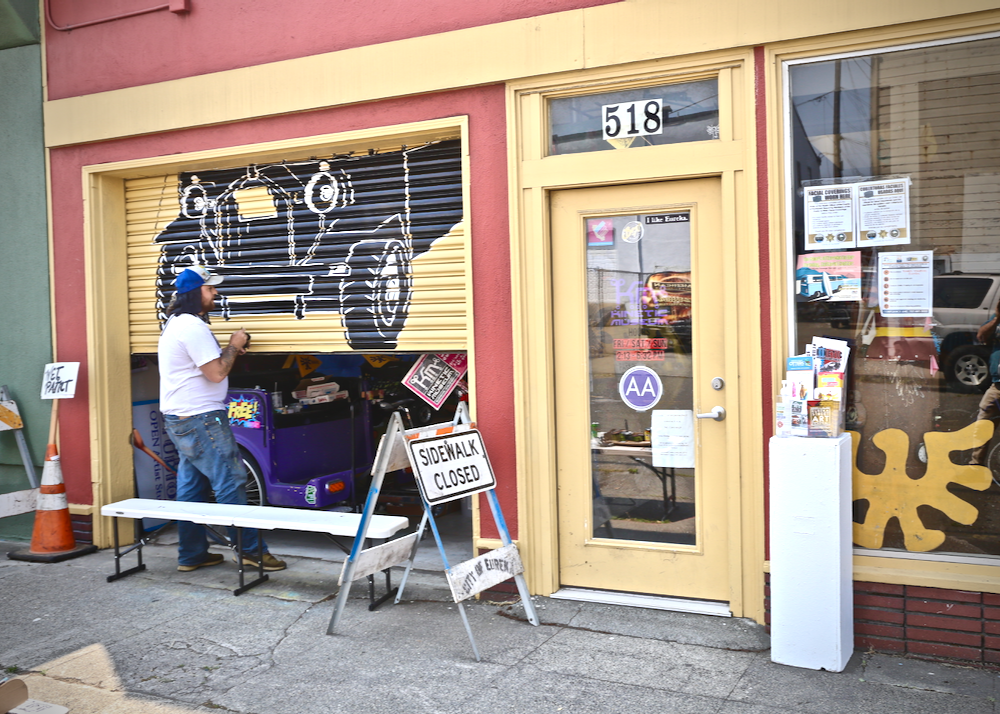 ###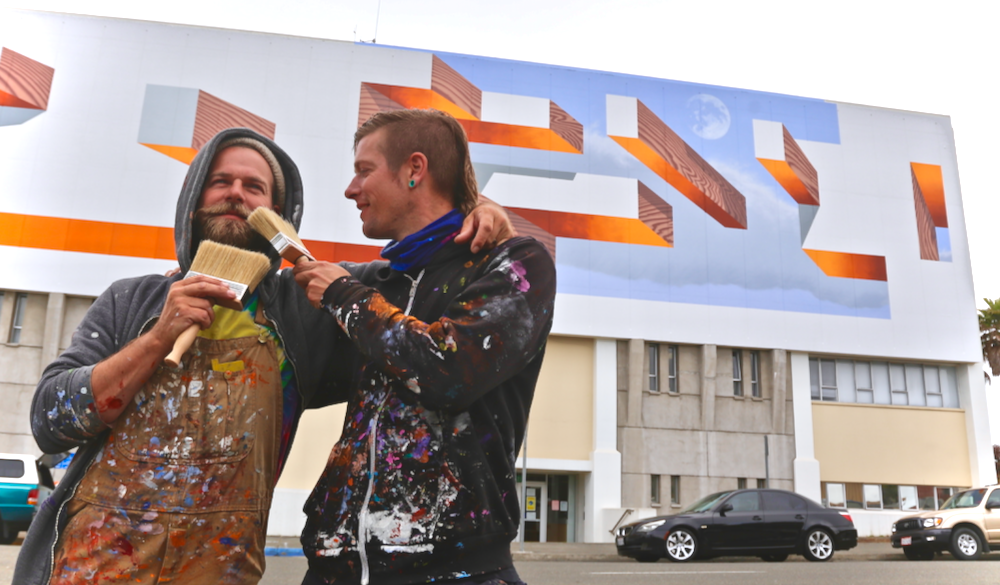 -LUCAS THORNTON and BLAKE REAGAN-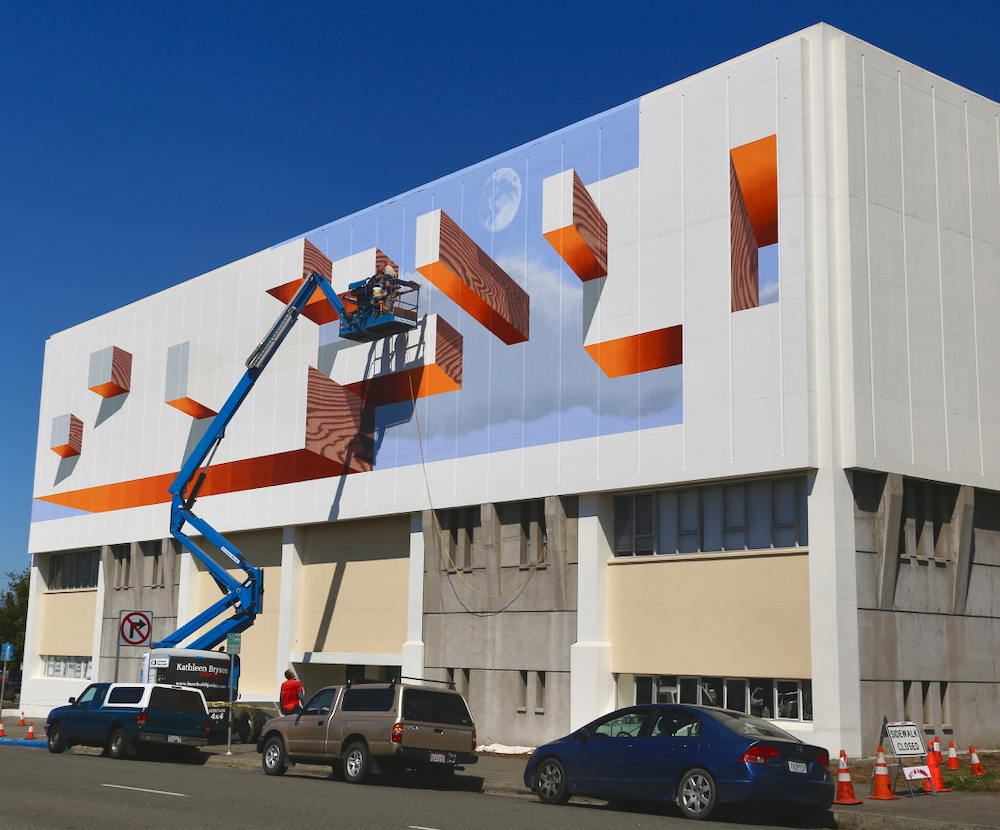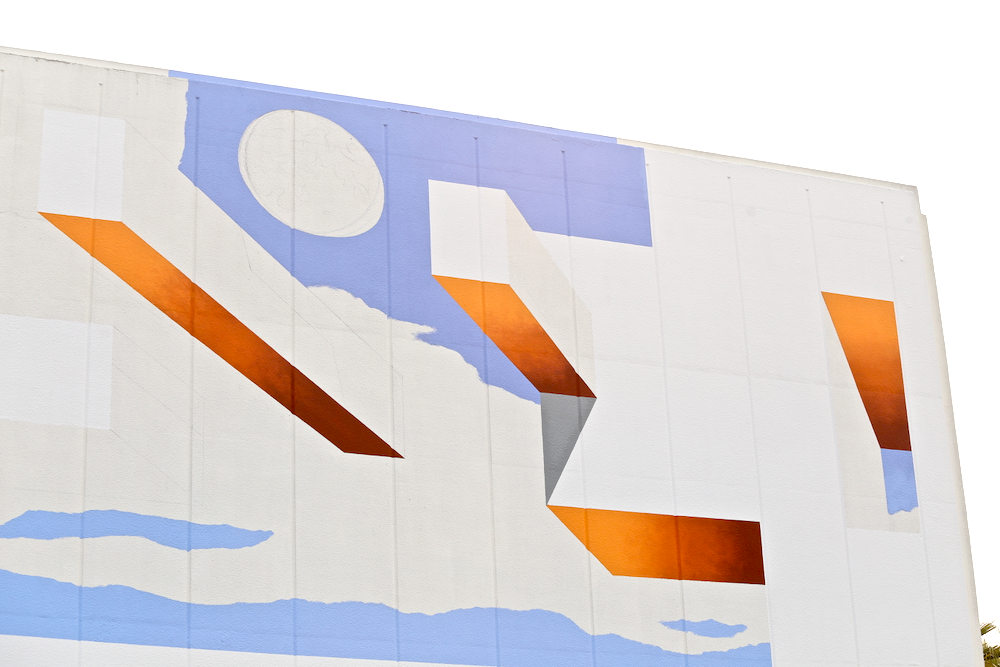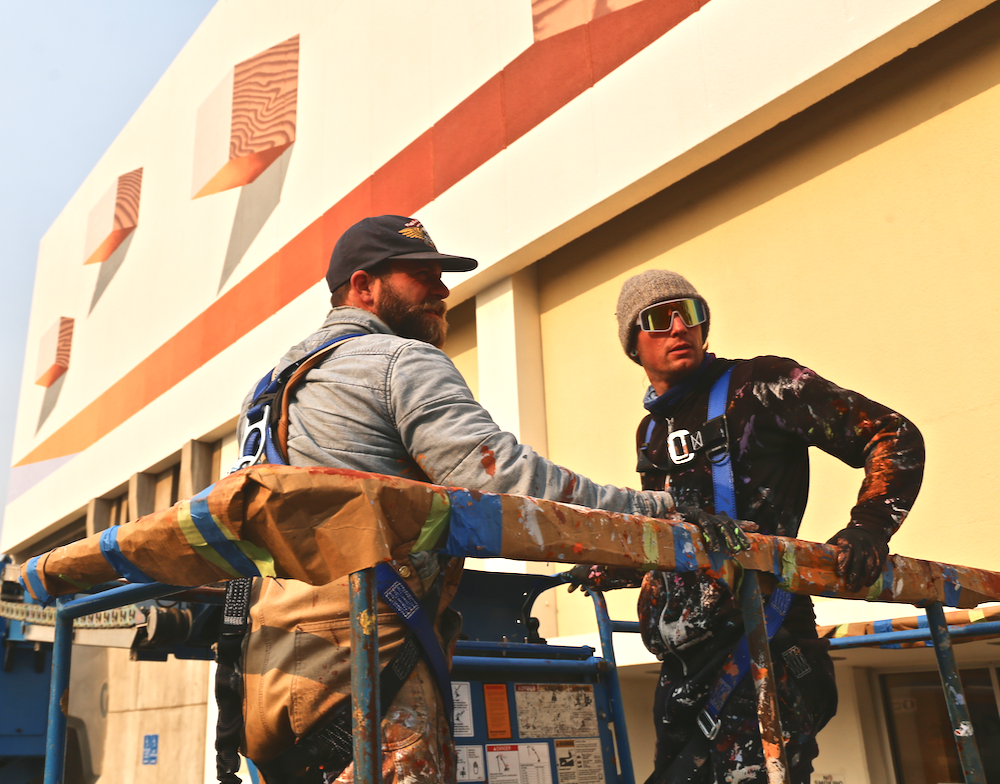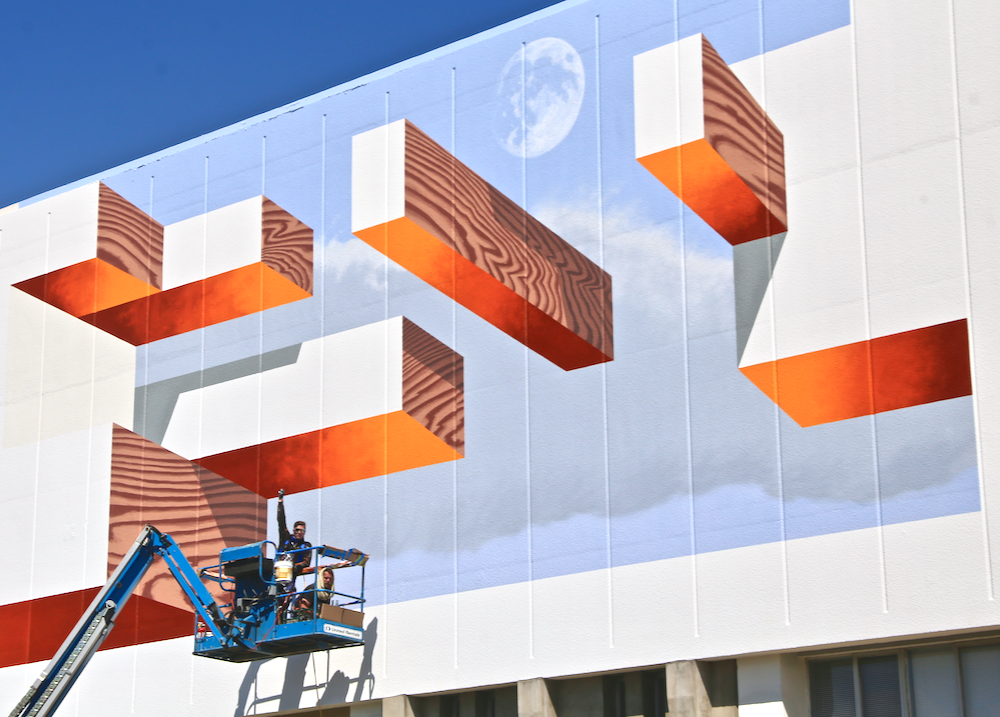 ###
(Note: An eleventh mural by Diana Lynn and Calder Johnson that is slated to be affixed to the side of the North Coast Repertory Theatre is being produced offsite. LoCO will photograph it and add it here whenever we finally encounter it.)
PREVIOUSLY: