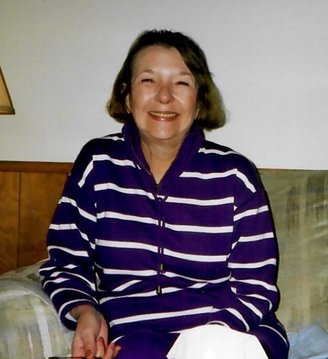 Linda Sue Arata, 78 of McKinleyville, passed away on Tuesday, Oct. 2, 2021, due to cancer. She was peaceful, and surrounded by family and friends.

In the early 1940s, Linda was born on the second floor of the Scotia Inn, in Scotia. She was the second-born daughter of Ann and William (Bill) Chenoweth. Her father was a lumberman who worked for the local sawmill before he was called to war. Linda, her mom and her older sister Nancy stayed with family while Bill was away. Upon his return, the family reunited and stayed in Santa Rosa until 1952 when they settled in Bodega. Linda's father Bill, his father and brother, together started Chenoweth Lumber Company. The mill was along the Salmon Creek, and, about a mile past St. Theresa and the old creamery. The family built a modest house on the mill's property, and they called it home for the next 30 years. There was always a fire burning in the fireplace and lively conversations.
Linda attended elementary school at the historical Potter Schoolhouse, and high school at Analy High in Sebastopol. Linda's family home was filled with laughter and love, and the girls were never a problem or unkempt. In 1952 Debbie was born, completing their family of five.
The Chenoweths enjoyed getting away to Clear Lake, where they spent many summers. They had a beautiful, rustic home located at the base of Mt. Konocti where they fished and spent hours of the day swimming and learning to water ski. Family and friends were always around.
Linda's father, Bill, was a Shriner, and her mother, Ann, a member of the Eastern Star. The three sisters were honorable Rainbow Girls, meeting weekly, and doing many hours of service in the community. Linda was installed as Worthy Advisor in 1964, and ultimately earned her place as a member of the Grand Cross of Color, the highest honor for a Rainbow Girl.
Linda briefly attended college at Sacramento State studying fashion and art, but found her true calling at Empire Business School. After graduating, she started her professional journey as a Kelly Girl, typing 78 wpm, working her way up to human resources. Linda was a personnel manager for Campbell Chain, Mack Trucks and Libby's Cannery, she ended her professional career at Diablo Solar. She was always sharp, never forgetting a date or time. Linda had a way of getting her point across respectfully and genuinely. She loved clothes, always having a great sense of style. She was timeless and timely, arriving anywhere at least 15 minutes early. She worked long hours in a male-dominated workforce, earning the respect of her coworkers. Linda's professionalism and intelligence couldn't be denied.
Linda showed bravery and courage by obtaining her pilot's license in 1975. In the late 70s she bought a brand new 260Z, and quickly put a plate holder on it that said, "The best man for the job is a woman." She was incredibly stubborn, but preferred to say she was determined. Her strong work ethic and her independent drive made her a role model for women of all ages.
Linda had her only daughter, Robin Dunlavy, in 1967. She was a loving and progressive mother instilling the same family values and morals she was raised with. Together they spent a lot of their free time in Bodega, eating out and swimming at Clear Lake.
In 1986 Linda met the love of her life, John A. Arata, and they married in 1987. They shared 29 years together before John passed in 2015. In those years they retired and enjoyed gardening, crafting and becoming grandparents. Grams and Pops created a lasting impression on their grandkids through love and laughter. Linda adored all her grandkids, always having a place for them to share their life and adventures.
Linda was a politically minded conservative, and proud member of the Republican Women's Assocition, in both Contra Costa and Humboldt County.
Linda will be remembered mostly for her kindness, and sound advice, She was charming with a wonderful sense of humor. Linda lived very independently at home until she passed.
She was small yet mighty, and an all-around amazing woman.
Linda will be greatly missed by her daughter Robin Dunlavy, her "rock" Doug Foster, her sisters Nancy Chenoweth and Deborah Munoz and Peter. her amazing grandkids Sophia and Miles Dawes, Kayla and Brett Murrell, John Foster, Scout Buendia, Emilio Zuniga, Terrapin Buendia and Shilo Kunkle. She will also be missed by many people whom she loved and welcomed into the family. She was a beautiful soul, and we all miss her very much.
At Linda's request there will be a private memorial, on a beautiful sunny day, along Titlow Ridge.
The family would like to express their love and gratitude to Hospice of Humboldt. Their care and compassion gave Linda peace of mind when she needed it most.
###
The obituary above was submitted on behalf of Linda Arata's loved ones. The Lost Coast Outpost runs obituaries of Humboldt County residents at no charge. See guidelines here.