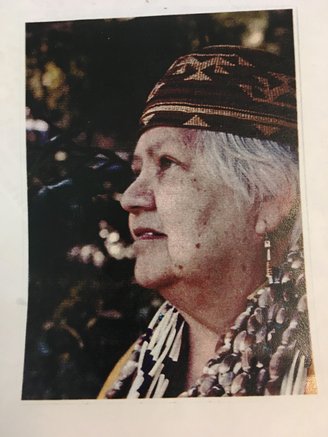 Mavis McCovey passed away peacefully on October 20, 2021 at her home in Orleans. She was born June 4, 1933 in Hoopa to William Smither and Beatrice Violet Ferris. She was a proud member of the Karuk Tribe and was the first non-Hupa tribal member to be born at the Hoopa Valley Hospital.

Mavis was an honored elder of the Karuk Tribe who cared deeply for her family and her community. Mavis went to live with her aunt Caroline Ferris, with the death of her parents, at the age of six. As a teenager, she met her husband Darrell while walking along the road in Hoopa. They were married and she gave birth to five children. She used to say, "I am an orphan and an only child but somehow I came up with 453 nieces and nephews." Mavis' home was always open to those who needed it. In the summertime, it was common for her home to have as many as 14 extra children. She volunteered countless hours driving and picking up her children and others for school activities. When her aunt Caroline fell ill, Mavis took care of her. Her home was open to many others throughout the years.
Community involvement was a way of life for Mavis. She worked tirelessly to get a medical clinic in Orleans. Age was only a number to her and not a deterrent. At age 54, she graduated with Honors from the College of the Redwoods Nursing Program. She worked as an LVN/CHR for the Karuk Tribe for many years. As a senior she worked as a Cook Aide for the Karuk Senior lunch program. In 2009, at the age of 76, she published a book titled "Medicine Trails; A life in Many Worlds," a look at her journey in life.
When she finally retired, she enjoyed having her children take her to visit her family and friends. Doors were always open to Auntie Mavis.
Mavis was preceded in death by; her parents, William Shirley Smither and Beatrice Violet Ferris; her husband of 56 years, Darrell Delme McCovey; her sons, Darrell Dean and Daryl Delle (Day-Pay) McCovey; her daughter, Carol Lynne McCovey; her grandchildren, Misty Amber Dawn Alvarado, Skye Alexander Huddleston, and great-grandson Brenan Otis Waukel McCovey.
Mavis is survived by her children; BeaVi McCovey, Loren (Long Gone) McCovey, Robert (Chucker) McCovey, Terrance McCovey, and Robert (Bobby Pete) Erickson. Her grandchildren; Gabriel (Cogy) McCovey, Curtis (Kit) McCovey, Bianca Alvarado, Nolan Colegrove McCovey, Lauren Alvarado, Telena McCovey, Robert (Cash) McCovey, Daryl (Tuck) McCovey, LaVone McCovey, Howard (Howie) McCovey, Julian (Juju) McCovey, Lila McCovey, Violet Taylor. Her Great-Grandchildren; Jonathan (Buster) Gastongay, Mardi Attebury, Dolli McCovey, Issac Scott, Sarah Scott, Carol McCovey, Alison Osceola, Vivian McCovey, Melvin McCovey, Callista Colegrove, Ashlyn Alameda, Hayley Peters, Darrell McCovey, Wilhelmina McCovey Wilson, Eugene Goodwin, Issac McCovey, Brock McCovey, Leroy Pearson, Tillie McCovey, Cherish McCovey, Dean McCovey, Anthony McCovey, Kaylee McCovey, Madison McCovey. Great-Great Grandchildren; Aria McCovey, Dean Davis, June Davis, and Stella McCovey. Also included; Hundreds and hundreds of nieces, nephews, cousins, and dear friends.
Pallbearers; Gabriel (Cogy) McCovey, Curtis (Kit) McCovey, Nolan (Noles) Colegrove McCovey (standing in Darrell McCovey), Robert McCovey II(Kash), Daryl McCovey (Tuck), Howard McCovey (Howie), Julian McCovey (Juju).
Honorary Pallbearers; Charles Alfred McCovey IV, Ronald Reed, Lenny (Butch) Reed, James McCovey, Richard Moon Sr, Greg Trimble, Kelly Bryns, Bradley (Bro) Amos (standing in Eric Amos), Rick Roubidoux, Kenneth Roubidoux, Marion McCovey, Gordon McCovey, Michael McCovey, David Reece, Greg Readen, Kelly King Fletcher, Dan King, and Ray King.
Services will be Saturday, October 23, 2021 at the Karuk Tribe Natural Resource Building (DNR) in Orleans at 1 p.m., with burial following at Old Orleans Cemetery. Dinner will follow at the DNR.
Please follow COVID-19 measures. The family is encouraging distancing and face masks.
###
The obituary above was submitted on behalf of Mavis McCovey's loved ones. The Lost Coast Outpost runs obituaries of Humboldt County residents at no charge. See guidelines here.